Ice on Pimples: Does it Help Get Rid of Acne?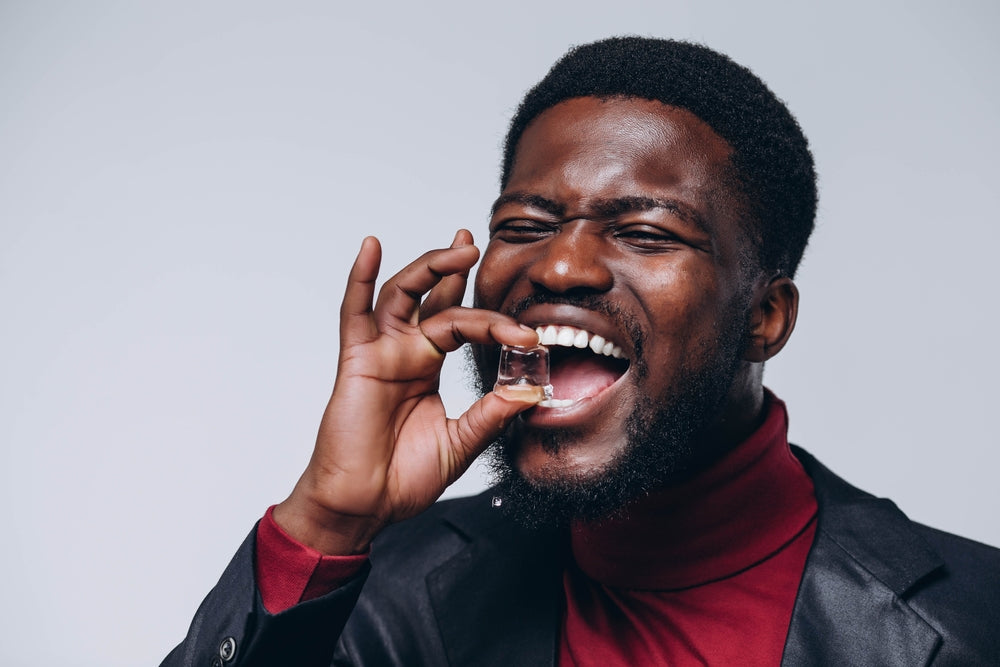 You've likely heard of plenty of tips for getting rid of pimples on the fly. From applying toothpaste to zits to getting a tan to make the redness go away, people will try almost anything.
There's even the advice that you should apply ice to pimples to get them to go down. Is this a worthwhile home remedy, or should you look elsewhere? 
Can You Treat Acne With Ice?
Amazingly, ice can help with certain types of acne, whether it's on the forehead or chin. It can also help with the symptoms you experience, such as redness and irritation.
How it Works
First, it's important to understand what acne is. Pimples form when sebum and skin cells trap debris, bacteria, and excess oil in a pore. When the walls of the clogged follicle rupture, the contents can spill out into the surrounding skin tissue.
This can cause more pimples and trigger inflammation. With ice, you can help treat inflammatory pimples that formed this way. This is the standard acne most people are familiar with where you have zits filled with pus. 
Ice can help decrease redness, swelling, and pain affiliated with pimples. It can also aid with cysts and pustules. 
However, ice will not be as effective on non-inflammatory acne, which includes whiteheads and blackheads. And it's important to note that ice will not remove the contents inside the pimple, so you still need to abide by a skincare regimen to clear acne for good. 
How to Use Ice on Different Body Parts
When attempting ice to reduce the aesthetic of acne, it's important to go about it safely. That means applying the correct way on different parts of the body.
Above all else, you want to cover the ice. You never want to apply an ice cube directly to the skin for fear of damaging the tissue. Additionally, you want to apply ice in 30- to 60-second intervals. 
Face
Pimples can appear anywhere on the face. They can form between your eyebrows or even within your beard. Regardless, you'll want to begin by washing your face with water.
After you've washed and dried your face, place a wrapped ice cube on the pimple for one-minute intervals. Wait a few minutes between sessions so that you don't damage the skin further.
You can incorporate ice into your morning and/or evening skincare regimen. You can also apply ice throughout the day provided you wash the skin first. 
Back
You may not be able to reach your back with an ice cube, so you may need to rely on a cold compress. You can lie down on your back or use a compression wrap to keep it in place.
Chest
Chest acne may form in clusters. To treat a larger area, use a commercial ice pack and then wrap it in a clean cloth or thin fabric before applying to the skin.
Benefits
Ice has been proven effective at reducing redness and swelling with acne. It can also make pimples less noticeable, which is good if you plan on taking pictures. 
Ice can also offer temporary pain relief if your zits are particularly troublesome. This is helpful if they're in a problematic spot like around the mouth.
Risks
It's important to remember that ice is not a cure for acne. It won't treat the underlying cause, so you'll still need an acne remedy to get rid of pimples completely. 
You also don't want to leave ice on your skin too long. And you should never fall asleep with an ice pack on your body. 
Should You Try Using Ice Today? 
As long as you apply ice correctly, it certainly can't hurt. It can even help in a pinch if you need to reduce the signs of pimples quickly. 
However, ice shouldn't function as a replacement for a more detailed acne treatment. And if over-the-counter remedies don't help, talk to your dermatologist about a prescription. 
References:
London, Bianca. "This genius ice hack will help treat your acne in under five minutes." Glamour UK, 16 Mar. 2020. https://www.glamourmagazine.co.uk/article/ice-on-spots
Valenti, Lauren. "The Best Skin Secret? Try Putting Ice on Your Face (Yes, Really)." Vogue, 30 May 2022. https://www.vogue.com/article/ice-cubes-best-skincare-trick-pore-shrinking-acne-cure-beauty-benefits