The Ultimate Chest Hair Removal Guide for Men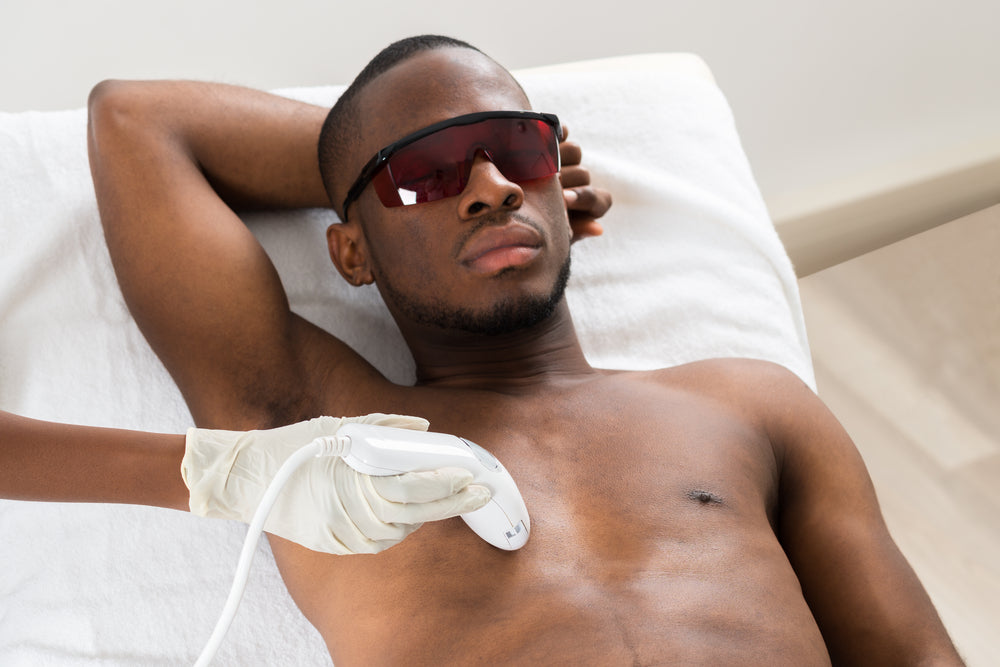 In a well-groomed world, you may find yourself itching to get rid of that pesky chest hair. It's totally a matter of personal choice, but if you do decide to indulge in some grooming, you want to make sure you go about it the right way. 
After all, you don't want your chest to be bright red, especially if you like wearing V-necks. Fortunately, you can follow this guide to get the smooth chest you've been dreaming of.
Should Guys Remove Their Chest Hair? 
Removing chest hair is completely a matter of preference. If you've been working on your pecs at the gym, you may feel like you want to show them off. In that instance, it may be in your best interest with the ladies to start shaving. 
If you're on the fence about shaving your chest, consider there have been studies that have shown women prefer guys with hairless chests. Of course, if a matter of preference, so if you already have a special lady in your life, talk with her about what she'd desire. 
The Best Ways to Remove Chest Hair
You need to be mindful about how you remove chest hair, especially if you're prone to acne in that area. Aside from that, you want to be comfortable when you shave. 
Shaving improperly could lead to dry skin or worse: ingrown hairs. Follow these tips for the best results. 
Trimming
In the event you don't want a completely shaven look, you can always trim your chest hair. This will make your hair look less unwieldy while still providing much-needed manscaping. 
Shaving
Outside of trimming, you may want to simply shave the area. A wet razor shave should most of the hair for a couple of days. It won't be a long-term solution, but it's fine if you'll only have your shirt off for a limited time. 
Waxing
For a more long-term solution, consider waxing. It can be painful, just think of that scene from The 40-Year Old Virgin. But it will make your chest smooth for weeks. 
Hair Removal Treatments
By far the most effective way to remove hair is through laser treatment. Not only will it get rid of hair for weeks, but the lasers damage the follicles to prevent hair from growing back later. 
Depilatory Spray/Cream
Depilatory sprays contain chemicals to get rid of pesky hairs. While it's effective, it may not be suitable for certain skin types. Before applying it all over the chest, apply a small patch to the skin first to see how it responds. 
What Else to Know About Chest Hair Removal
Clearly, you have a lot of options for removing chest hair. When deciding which one would be preferable for you, here are some factors to keep in mind. 
Your Hair Texture and Color Matter
It can be tough to shave coarse, dark hair. A regular razor may not get the job done. In that case, you may need an electric trimmer to get through the hairs. 
Exfoliate to Prevent Ingrown Hairs
Exfoliation should always be part of your skincare regimen. It's the process of removing dead skin cells and oils from the skin, preventing ingrown hairs in the process. 
For best results, you should exfoliate the day before you shave your chest. It'll prime the area for shaving later. 
Moisturizing is Key
Irritation can occur if you shave without proper moisturization. Apply an oil-free body lotion, not a tinted moisturizer, to your chest to soothe the skin without causing further acne breakouts. 
Get Your Clean-Shaven Chest Today!
Shaving a chest really isn't all that different from shaving your face. You just need a few preventive measures to make sure no troublesome bumps pop up, and you're good to go. 
References:
Dixson BJ, Rantala MJ. The Role of Facial and Body Hair Distribution in Women's Judgments of Men's Sexual Attractiveness. Arch Sex Behav. 2016 May;45(4):877-89. doi: 10.1007/s10508-015-0588-z. Epub 2015 Aug 21. PMID: 26292838.
Hurly, Adam. "The GQ Guide to Body Grooming."
GQ
, 27 Apr. 2022.
https://www.gq.com/story/gq-mens-body-grooming-guide