Chest Acne | 8 Causes & How to Get Rid of It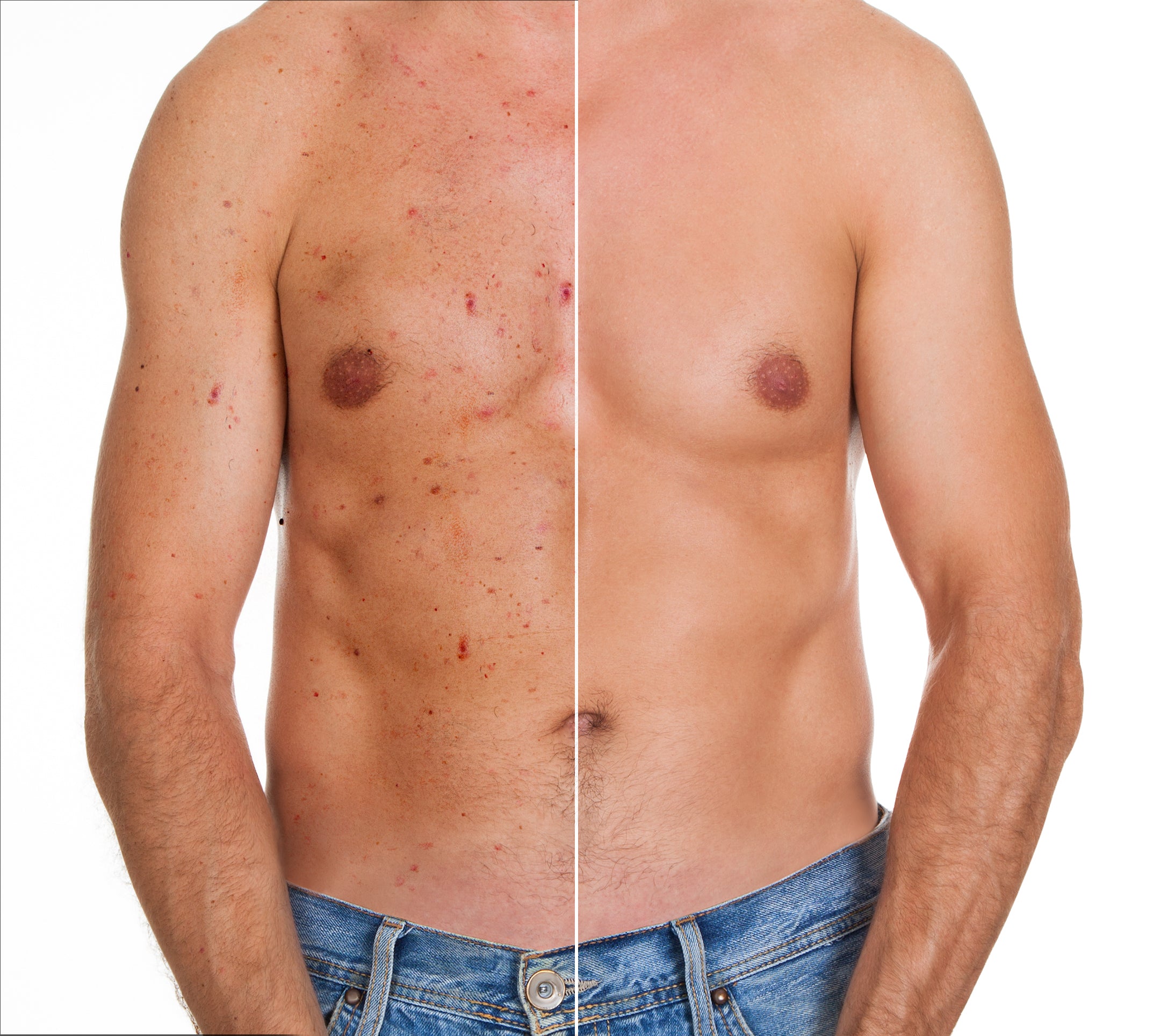 Acne tends to be associated with the face. That's where it's most noticeable after all. 
However, pimples can form practically anywhere on the body, including the chest. This may present a problem if you're a fan of V-necks and want to show off your pecs. 
Fortunately, there are ways to keep chest acne at bay so that it's less of a problem in your daily life.
What Causes Chest Acne?
Chest acne is no different from any other form of acne. There's nothing other than location that differs it from facial acne, and the sources remain the same. 
8. Sugary Foods
There's a reason why excessive soda and chocolate are affiliated with higher acne levels. Foods with higher sugar content are more likely to lead to pimples. 
The reason for this is that high sugar content causes your body's insulin levels to increase. This further increases the oil production on your skin, meaning sebum can trap bacteria and debris in your skin's pores. 
Your chest secretes sebum, too, so pimples can form there as a result. 
7. Excessive Sweating
On its own, sweat doesn't cause acne. However, it can trap makeup and anything else on your skin in your pores, resulting in inflammation. 
Therefore, you should make sure you wash your skin and remove any makeup prior to a workout. With clear skin, sweat will actually clean your pores, reducing your chances of having a breakout. 
6. Friction from Clothing
When clothing is the culprit, it leads to a very specific type of acne called "acne mechanica." This occurs when clothing or sports equipment traps heat and sweat on the skin. 
Through this, skin suffers irritation. And if you already have acne-prone skin, the new irritation can cause new pimples to develop. 
5. Dehydration
Water helps keep your skin clear in addition to other benefits. You should make sure you drink at least eight glasses of water daily to keep your body happy and healthy. 
Additionally, you should supplement your water intake with a high-quality moisturizer. Make it part of your skincare regimen to keep your skin vibrant. 
4. Hormones
You don't always have control of your hormones. When imbalances occur, such as during puberty, there's an increase in sebum production, which leads to pimples. 
You should be mindful if you're on any medications that upset your natural hormonal balance. You also want to watch what you eat as sugar and processed foods can upend your hormonal state.
3. Dry Skin
When your skin overly dries out, it creates more sebum than needed to help replenish it. You can keep your skin in check by drinking enough water and maintaining a good skincare routine. 
2. Oily Moisturizers
While a moisturizer is good to have, you want to ensure you have the right one for your skin. Some moisturizers are overly oily. If you already have oily skin, it can cause more problems than it solves. 
1. Working Out
Working out causes you to sweat. The movements also result in your clothing rubbing up against your skin, both of which can cause acne. 
You should still exercise, but make sure you are wearing form-fitting clothing and shower after an intense workout. 
How to Treat Chest Acne
In the event zits have already formed, you have options for getting rib of those troublesome bumps. 
Shower Regularly
You need to shower once a day at least, potentially more if you shower in the morning and then work out later inthe day. 
Use an Anti-Acne Body Wash
Certain body washes are specifically formulated to target pimples. You should be able to find these at your local pharmacy. 
Exfoliate Once a Week
Exfoliation needs to be part of your skincare routine. Once a week, you want to exfoliate your skin to remove any dead skin cells and other debris that accumulate on the surface of your skin. 
Stay Hydrated
Drink plenty of water to cleanse your skin. Bring a water bottle with you to work or wherever you go during the day so that you can sip periodically. 
When Should You See Your Dermatologist? 
In the event you try over-the-counter acne treatments and they yield no results, you can see a dermatologist. Some acne is more persistent than others, and you may need prescription creams and medication to deal with it. 
References:
Mayo Clinic Staff. "Acne." Mayo Clinic. https://www.mayoclinic.org/diseases-conditions/acne/symptoms-causes/syc-20368047
"How to Treat Different Types of Acne."
American Academy of Dermatology Association
.
https://www.aad.org/public/diseases/acne/diy/types-breakouts