Does Sun Exposure Cause or Help Acne?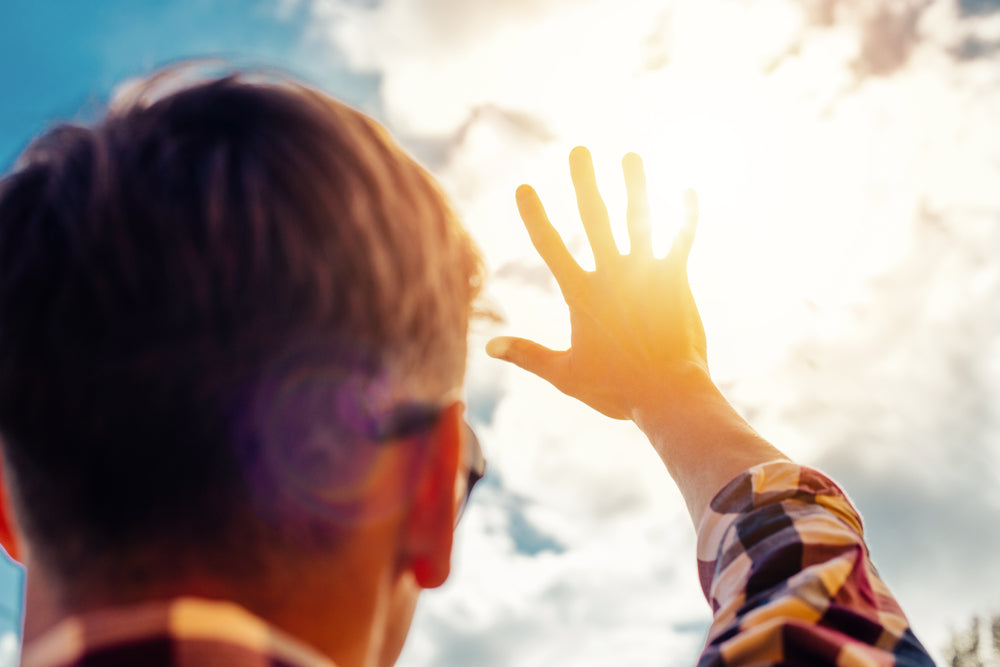 For the betterment of your skin, it's generally recommended to stay out of the sun. Naturally, a little sunlight is good. Plus, it gives your body the Vitamin D is needs to thrive. 
However, without sunscreen to protect your skin, sunlight can cause serious damage. And while a little tanning may help acne initially, it's probably for the best to limit UV rays when you're in the midst of a breakout.  
Are the Sun and Acne Related? 
Acne is an inflammatory skin condition that occurs when follicles get clogged by sebum, dead skin cells, and/or debris. This gives bacteria a chance to populate, resulting in inflammation, including redness, swelling, and zits. 
The sun beams down on the skin, and over time without protection, it can damage skin cells. It can make skin appear red, and in severe cases, it can even make it peel. Enough exposure can lead to sunspots and discoloration.
Suffice it to say, when you're dealing with acne, you don't need other skin problems that exacerbate the condition. 
Does the Sun Help Acne?
A lot of people think sunlight can aid acne. Sunlight can dry out the skin, initially clearing up sebum, and a slight tan may make the redness from acne less apparent. But by and large, sunlight and acne don't mix. 
What the Science Really Says
Sun exposure does dry out the skin, but not in the way you want. This overdrying causes the skin to overcompensate, resulting in even more sebum getting produced. 
Not only do you have to worry about drying, but sunlight can cause other issues. Pimples on a sunburn is never a fun thing. On top of that, sunlight can also lead to wrinkles and hyperpigmentation. 
Why Do I Break Out After Being Out in the Sun?
After being out in the sun, you may have a tan on your skin, which can be bothersome if you have a beard, as well. But you may even notice you're more susceptible to acne breakouts. There are several reasons why the sun may be hurting you more than you realize. 
The Sun Can Dry Up Your Skin
The sun dries out your skin, which is also what certain acne medications do, like tretinoin. However, with the sun, there's no way to control the dryness. 
If too much takes place, your skin will create more oil to compensate. This further increases your odds of sebum getting into your pores and creating pimples. 
The Sun Makes You Sweat
Sunlight also makes it likely you'll sweat, and sweat can be a major contributor to breakouts. Sweat can get various debris caught in your follicles, which is why it's important to always shower after excessive sweating.
Sweat can cause additional problems if you wear headbands or hats. Sweat can take debris from that clothing and bring it straight to your pores. 
Sun Exposure Can Stop Healthy Cell Turnover
Your skin cells naturally turn over on their own. Think of it as natural exfoliation, and it's crucial for healthy skin. 
But sun exposure makes it harder for your cells to accomplish this. This makes it more likely your pores will get clogged. 
What Should You Do?
First and foremost, you should limit the amount of time you're out in the sun. If you don't have a choice, make sure you wear a hat and apply plenty of sunscreen. 
When it comes to sunscreen, make sure it's as natural as possible and limit the number of chemicals in it. With enough foresight, you can prevent your skin from breaking out and developing fine lines for quite a while. 
References:
"Back Acne: How to See Clearer Skin." American Academy of Dermatology, 10 Dec. 2021. https://www.aad.org/public/diseases/acne/DIY/back-acne
Parker Magin, Dimity Pond, Wayne Smith, Alan Watson, A systematic review of the evidence for 'myths and misconceptions' in acne management: diet, face-washing and sunlight, Family Practice, Volume 22, Issue 1, February 2005, Pages 62–70, https://doi.org/10.1093/fampra/cmh715