12 Ways to Get Rid of Forehead Wrinkles for Men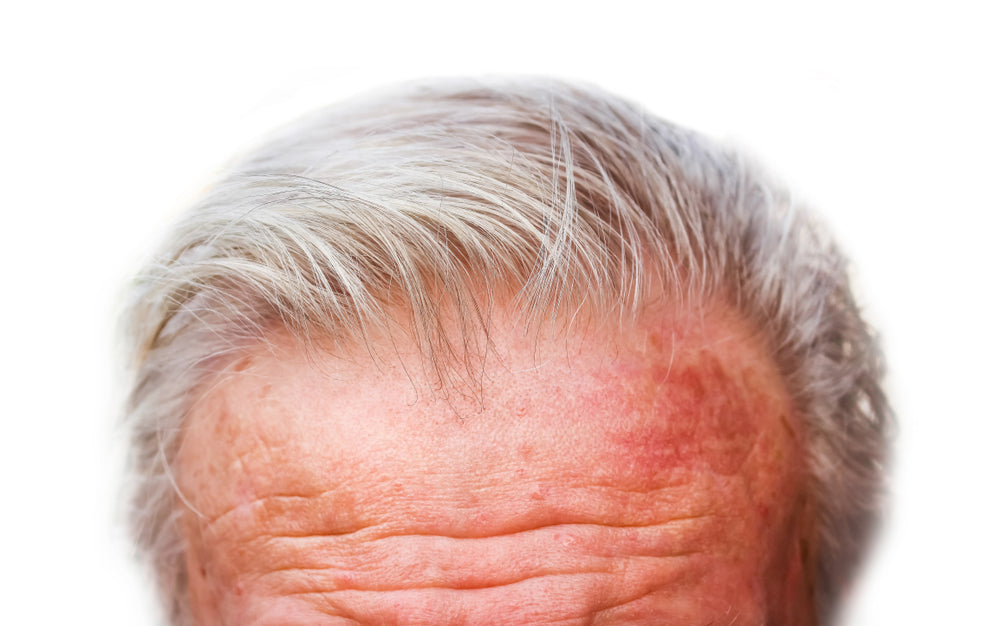 Wrinkles are an inevitable part of getting older. However, that doesn't mean you have to deal with them when you're still in your 20s. 
There are steps you can take to prolong your smooth, clear skin. And don't wait until wrinkles form to start these steps either. You can do a lot of good by practicing good skincare health when you're still young and resilient.
What Causes Forehead Wrinkles? 
The forehead is the most prominent place on the face for wrinkles to develop. Think of it as a giant canvas for lines to form. And there are many reasons why you may begin to see cracks take shape.
Genetics
First and foremost, some people are simply more prone to wrinkles due to their genetic makeup. There's not a lot you can do in this instance, but pay attention to how people in your family get wrinkles. 
It should be a sign of what you can expect as you get older. 
Aging
Unsurprisingly, people get wrinkles as they age. This is due to your skin not producing as much collagen, which is the material that keeps your skin elastic.
Your Lifestyle
Numerous factors influence your proclivity for wrinkles. Smoking dries out the skin, and repeated sun exposure can also make you more prone to wrinkles later in life. 
Repeated Facial Expressions
You should be careful of how often you raise your eyebrows. When you do a lot of facial expressions when you're younger, your skin can bounce back.
As you get older, your skin tends to stay with the lines.
How to Get Rid of Forehead Wrinkles for Men
No, you don't immediately have to resort to Botox when wrinkles form. There are plenty of steps to take before and after wrinkles develop to help your skin look its best.
1. Apply a Retinoid
Retinoids are a class of chemicals that derive from Vitamin A, which plays a vital role in skin health. There are both over-the-counter and prescription retinoids available, so talk to your dermatologist about which one is right for you. 
2. Use a Moisturizer
Your skincare regimen should already include a high-quality moisturizer. It's even more important if you're using retinoids because your skin requires the extra hydration. 
3. Exfoliate Your Skin
Exfoliation is the process of removing dead skin cells from your skin, revealing newer skin underneath. It promotes turnover and softness, and over time, it can help reduce the aesthetic of fine lines and wrinkles. 
4. Reduce Your Stress
Stress does more to cause wrinkles than just make you scrunch your face up. It also leads to high levels of cortisol in the body, which breaks down the skin's collagen and elastin.
Stress also makes you more prone to inflammation, which prevents the skin from healing itself.
5. Hydrate With Glycerin
Glycerin is great for your skin. It cleanses the skin, pulling moisture from the bottom layers of the skin to the upper ones to allow the skin to effectively moisturize itself.
And you can commonly find it in the following foods:
Condensed milk

Processed fruits and vegetables

Precooked pasta

Gelatin
6. Ditch Your Bad Habits
Habits you may not even think about could be doing a lot of harm to your skin. For starters, smoking is a major trigger, and yes, that includes weed and vaping. 
A poor diet high in fats and sugars can also make it harder for your skin to bounce back over time. And you need to make sure you're getting enough sleep every night. 
Seven to eight hours is recommended. This helps not stress you out as often, keeping cortisol levels at bay.
7. Try Micro-Needling
Micro-needling is the process where a dermatologist uses thin, sterile needles to puncture the skin. This helps boost collagen production, and studies have found it can help reduce fine lines and wrinkles in people who already have signs of facial aging. 
8. Cleanse Your Skin
It's paramount to cleanse your skin daily. Use a soap-free cleanser that won't dry out your skin too much. 
It's also important to avoid over-washing. You don't need to splash water on your face multiple times a day. 
9. Use Sunscreen Daily
UV rays can damage the skin, so whenever you go outside, you want to wear sunscreen. It only takes 15 minutes for the sun to do long-lasting damage, so apply even if you won't be outside for long.
10. DIY Facial Massage
Regular facial massages can work wonders for your skin. It improves circulation, releases muscle tension, and stimulates the lymphatic system. All of this is crucial for keeping wrinkles at bay.
11. Try a Peptide
Peptides work similarly to Botox. It relaxes facial muscles to prevent lines from forming by telling the body to produce more collagen.
12. Consider Botox
Botox injections freeze facial muscles to prevent them from contracting. In this sense, Botox works just as well as a preventative measure as a remedy.
Final Thoughts
It's important to start thinking about wrinkles even if you're young. Fine lines and crow's feet can age you several years, so try a variety of skincare techniques to keep your skin looking youthful.
References:
Delgado, Carla. "7 ways to get rid of and prevent forehead wrinkles, according to dermatologists." Insider, 13 Aug. 2021. https://www.insider.com/guides/beauty/forehead-wrinkles
Jeong S, Yoon S, Kim S, Jung J, Kor M, Shin K, Lim C, Han HS, Lee H, Park KY, Kim J, Chung HJ, Kim HJ. Anti-Wrinkle Benefits of Peptides Complex Stimulating Skin Basement Membrane Proteins Expression. Int J Mol Sci. 2019 Dec 20;21(1):73. doi: 10.3390/ijms21010073. PMID: 31861912; PMCID: PMC6981886.
West, Mary. "What to know about retinoids."
Medical News Today
, 28 Jul. 2021.
https://www.medicalnewstoday.com/articles/retinoids