Does Drinking Water Help With Acne?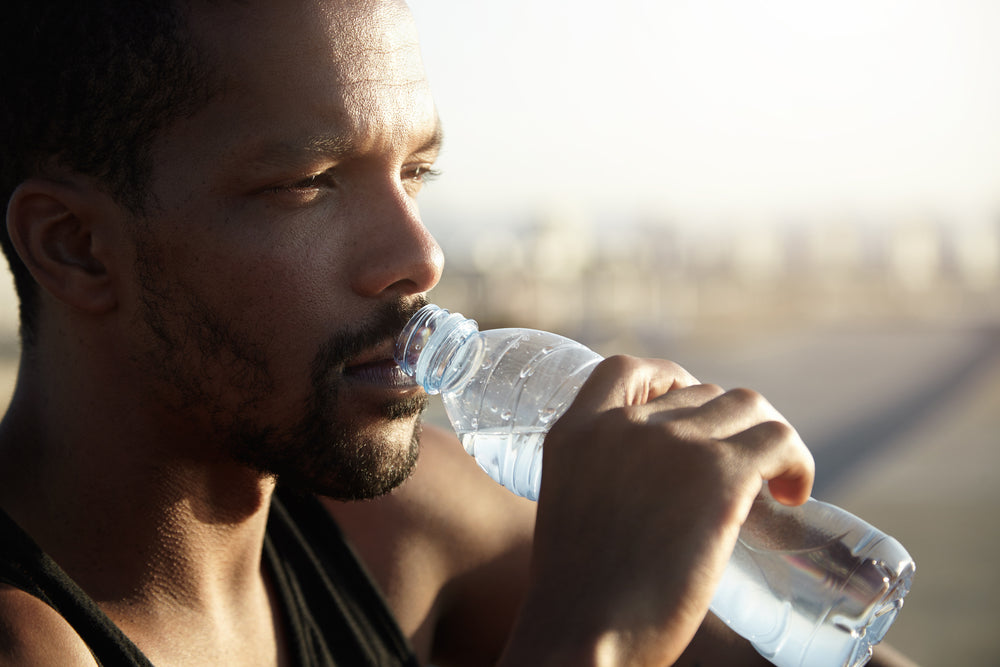 You've probably heard since you were a little kid how important it was to drink water. And it is! You need to stay hydrated to live and to take advantage of the myriad of benefits.
At the end of the day, you'll simply feel better if you drink enough water, and if you're feeling sluggish, you may just need to pour yourself a glass. And if you suffer from consistent skin problems, drinking sufficient water can actually help keep your skin clear. 
The Benefits of Drinking Water on the Body
Before getting into how water impacts your skin, it's critical to look at what it does for the rest of your body. Water serves many functions, so consider this your reminder to drink a glass if you haven't already today.
Helps Maintain Blood Pressure
Dehydration causes blood to become thicker, resulting in higher blood pressure. The blood vessels constrict, leading to a condition known as high vasopressin.
Fortunately, when you drink enough water, your cells and organs stay hydrated, drastically reducing the risk of vasopressin secretion. In turn, this decreases your risk of high blood pressure. 
Supports Immune Function
Water also plays a big role in keeping you healthy in the long run. It supports your immune system by flushing away toxins and other debris that could otherwise cause you to get sick. 
To get scientific, water plays an important role in lymphatic fluid, which contains specialized white blood cells. These help fight bodily infection, and in the process, it gets rid of waste products, toxins, and impurities from your body. 
Helps Regulate Blood Sugar Levels
Similarly, water also flushes away excess levels of sugar from the bloodstream. It's why water is so often recommended as a drink of choice for those with diabetes. It will not raise your blood sugar levels, and it supports a healthy metabolism. 
Helps With Weight Loss
A good metabolism is also critical for weight loss. Water also serves to suppress your appetite, making it a good choice if you find yourself hungry between meals, while making exercising easier. 
Additionally, water is a great beverage in lieu of sodas and juices. It's easy to drink more calories than you realize with those substances, so stick with water as a refreshing drink.
Reduces Kidney Damage
Your kidneys function to remove waste from the blood through urine. Water assists in this effort, and it also keeps your blood vessels more open. 
This allows blood to travel more freely to the kidneys, and in the process, the organs get essential nutrients delivered to them. 
Benefits of Drinking Water For Your Skin
The benefits of drinking water don't end there. If you drink regularly, you can even see an improvement in your skin in the following ways. 
Fewer wrinkles and fine lines

Decreased puffiness

Smaller pores

Reduced itchiness

Limited skin problems,

including rosacea

Clearer acne
Yes, if you're prone to breakouts, water can help keep pimples at bay. 
Can Drinking Water Help With Acne? 
Acne is ultimately an inflammation of the skin. It occurs when sebum traps debris and other materials in your follicles, causing an outbreak to occur. This is when pimples form. 
As mentioned earlier, drinking sufficient quantities of water helps your immune system, making you more resilient in fighting off infections. Since acne is basically an infection of the skin, you may notice reduced redness if you drink plenty of water. 
While some people recommend all kinds of crazy treatments for acne, such as drinking chlorophyll, all you may really need to do is drink some water. 
Most people hear how you should drink eight ounces of water daily, but the true amount depends on several factors, such as weight, age, and gender. Just make sure you get in a few glasses so that you feel hydrated and healthy. 
References:
Water Science School. "The Water in You: Water and the Human Body." USGS, 22 May 2019. https://www.usgs.gov/special-topics/water-science-school/science/water-you-water-and-human-body?qt-science_center_objects=0#qt-science_center_objects
"Water and Diabetes." Diabetes.co.uk, 15 Jan. 2019. https://www.diabetes.co.uk/food/water-and-diabetes.html