Acne Between Eyebrows | How to Fix Eyebrow Acne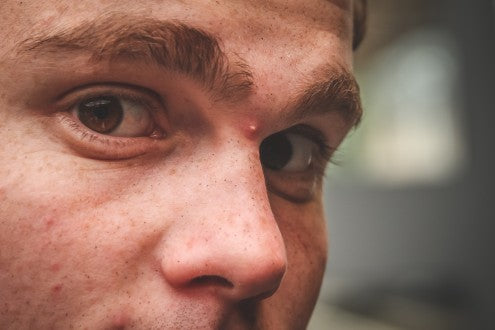 Acne has a tendency to get everywhere. From your face to your back, no patch of skin is safe.
When it comes to clear skin, you just hope the acne's in a place that's easy to treat. That makes any zits that pop up between your eyebrows particularly troublesome.
You can at least monitor your beard's growth stages to treat acne before the hair gets out of hand. Your eyebrows have to stay intact lest you look silly for a big date. Luckily, there are some tips for getting any pesky pimples on your brow.
What is Eyebrow Acne?
Credit: Ask Men
Eyebrow acne occurs the same way as any other pimples. The pores in your skin become clogged with dirt, oil, and bacteria. 
For the most part, acne develops wherever there's the most oil. This tends to be places like the forehead, nose, and chin. However, it can also make its way to the eyebrows.
Types of Acne Between Eyebrows
Credit: Maxim Online
Regular pimples aren't the only thing you have to worry about when it comes to redness. Other bumps can accumulate can appear due to clogged follicles.
Some other conditions to potentially see your dermatologist about include:
Seborrhic dermatitis

Milia

Keratosis pilaris

Folliculitis
It's paramount to determine the true source of any skin problems. It will help inform the best treatment to take.
What Causes Acne Between Eyebrows?
By examining the causes of eyebrow acne, you can help lower your odds of developing pimples elsewhere. 
Oily Skin
Every pore on your skin produces sebum, which is a substance that helps wash away debris. However, too much sebum can actually trap irritants in your pores. 
Some people naturally have oilier skin due to genetics. However, diet also plays a role. Sugary, fried, and salty foods can make your skin produce more sebum than normal. 
Washing and exfoliating your skin can also have adverse effects. When you dry the skin out too much, it actually produces more sebum to accommodate.
One of the easiest ways to deal with oily skin is to use a gel cleanser. This cleans out your pores and washes away any debris on your skin.
As a result, your pores won't produce as much sebum which, in turn, won't create oily skin.
Gel cleanser is so useful that we made one just for men with all-natural ingredients. Check it out! 
Ingrown Hairs
When you pluck or shave your eyebrows, you increase your chances of having an ingrown hair. This is a hair that becomes trapped in its follicle due to growing sideways or backward.
This can also result in dirt and bacteria becoming trapped, too. You'll find mild irritation at the source of the ingrown hair. In addition to pimples, it can also lead to a cyst.
Shaving won't make hair grow faster, but it can lead to ingrown hairs if you don't shave properly. Make sure to always use a clean blade and wash thoroughly.
Diet
What you eat can certainly affect your skin. While the science is out on specific substances that lead to acne, you should steer clear of consuming too many fatty foods and sugars. 
How to Treat Eyebrow Acne
Credit: Rocky Mountain Barber Company
When pimples have already developed around your eyebrows, you have plenty of options for treatment. First and foremost, you can opt for over-the-counter remedies.
As you search for products at the pharmacy, you should look for items that contain benzoyl peroxide and salicylic acid.
In the event OTC methods are ineffective, then you should see your dermatologist. Your doctor can prescribe antibiotics, corticosteroids, and retinoids. 
No matter what topical treatment you use, you need to make sure to apply it carefully. You don't want to risk getting any in your eyes.
How to Prevent Eyebrow Acne
It's much easier to prevent acne than treat it, especially on your eyebrows. You should avoid touching your face, and you want to make sure you wash your face once daily, especially after you've sweated significantly. You don't want to overdo it, but a thorough skincare routine can work wonders.
Any time you plan on waxing or tweezing your eyebrows, you should wash your face with warm water first. This will reduce the likelihood of ingrown hairs.
Finally, make sure you only wear clean hats and headbands. Dirty materials can transfer bacteria to the brow area, leading to zits. With some proper actions, you can make eyebrow acne a thing of the past. 
References:
Eske, Jamie. "What causes pimples on eyebrows, and what do they mean?" Medical News Today, 7 Apr. 2020. https://www.medicalnewstoday.com/articles/pimples-on-eyebrows
Walden, Haley. "Acne Between Eyebrows: Causes, Treatment and Prevention." Derm Collective, 16 Mar. 2020. https://dermcollective.com/acne-between-eyebrows/