Forehead Acne | What is It & How to Get Rid of It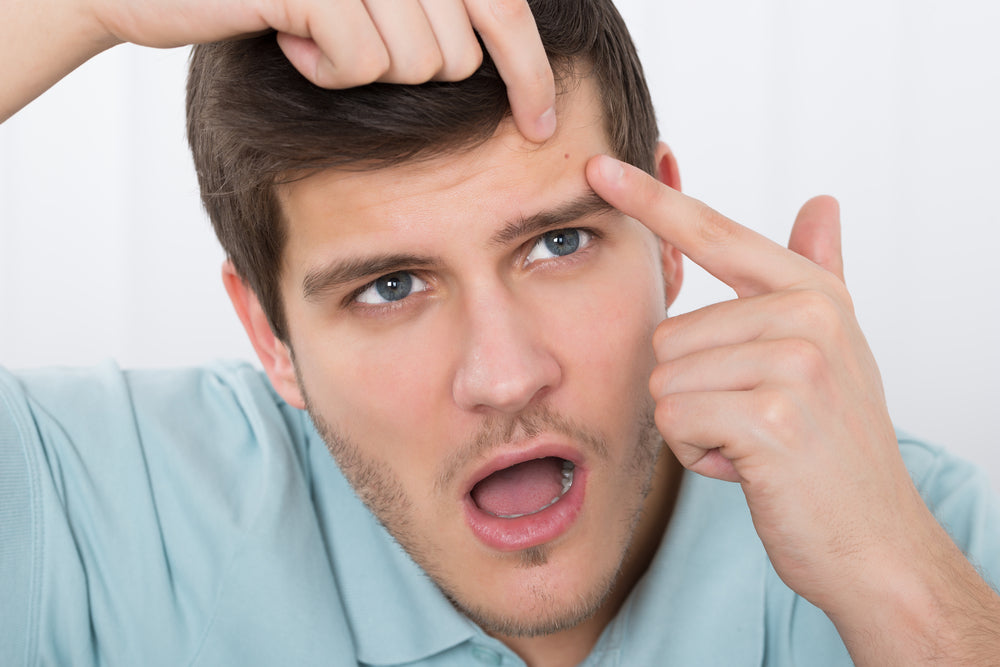 Acne can form almost anywhere on your body. Typically, it forms on the first thing people see: your face. When it does, you need to take swift action to get it under control so that you can look and feel your best.
But what's one to do when it develops in arguably the most visible part of your body, i.e. your forehead. When there's a big red dot in the middle of your forehead, it tends to be the first thing people see when they greet you. 
Fortunately, there are ways to get forehead acne under control so that you can go about your day with confidence. Before we jump in, if you're looking to get all of your skin in a good spot but you're not sure where to start, take our quiz built out specifically to get you personalized answers for better skincare. 
What is Forehead Acne? 
Acne on your forehead is exactly the same as pimples anywhere on your body. It develops when small glands beneath the surface of the skin become blocked. This can occur due to oils, dirt, and debris clogging your pores. 
The reason acne can form on the forehead is due to the presence of sebaceous glands. These glands produce a material called sebum, which can trap bacteria or dead skin cells to the skin.
Over time, inflammation can develop, and pimples crop up. 
What Causes Forehead Acne? 
While sebum is the biggest culprit when it comes to acne, there's a litany of factors that can increase your likelihood of having too much sebum. The following factors can all increase your body's production of sebum for a variety of reasons. 
Stress

Eating certain foods

Taking certain medications

Using the wrong hair products
Puberty and pregnancy can also increase your chances of having an acne breakout due to the hormonal fluctuations that occur. These changes stimulate your skin's oil glands, increasing the rate of sebum production.
This is the reason why pimples are most commonly associated with teenagers. 
How to Treat Forehead Acne
When pimples have already developed on your forehead, you need to take quick action. For starters, you want to implement a good skincare regimen. This should ideally start with washing your face twice daily with a gentle cleanser. 
You also want to go to your local drugstore to purchase an over-the-counter acne treatment. Numerous options are available, but you'll want one that contains benzoyl peroxide. 
Benzoyl peroxide works to treat and prevent acne by killing bacteria underneath the skin, as well as helping the pores shed dead skin cells and excess sebum (oil). Benzoyl peroxide works particularly well for inflammatory acne, which is characterized by red bumps that contain pus — pustules, papules, cysts, and nodules — instead of whiteheads and blackheads.
Other active ingredients you can benefit from include:
Resorcinol

Retinol

Salicylic acid
These over-the-counter solutions can vary from one person to the next. Something that works for your friend may not necessarily work for you. As such, a bit of trial and error may ensue until you find the right one. 
In the event you don't see any results with drugstore options, you can talk to your dermatologist about getting prescription treatments. These are heavier-duty and should give you the results you seek. 
However, if you want to avoid potential side effects, there are home remedies, including:
Aloe vera

Zinc

Tea tree oil

Apple cider vinegar
You have numerous options at your disposal, so get to work finding which one is ideal for your needs. In fact, if you're on the hunt for a good Gel Cleanser to help combat breakouts, tap below.
How to Prevent Forehead Acne
When it comes to avoiding forehead acne in the first place, you want to wash your face twice daily to remove any excess oil. Additionally, you want to wash your hair often enough so that you get the oil out of there that could potentially wind up on your forehead, too. 
It would also be a good idea to adopt a hairstyle that doesn't incorporate bangs. Hair touching your forehead skin could lead to an abundance of oil, which could result in acne over time. 
It's also recommended to avoid headbands or hats as those items can also transfer debris onto your forehead. It's best to keep that area of your body clean so that the chances of pimples forming are minimal.  
References:
Kandola, Aaron. "What causes forehead acne?" Medical News Today, 19 Jan. 2020. https://www.medicalnewstoday.com/articles/322130
Watson, Stephanie. "Forehead Acne." Healthline, 7 Mar. 2019. https://www.healthline.com/health/forehead-acne