How to Straighten Your Beard 2021 Guide | 5 Tips!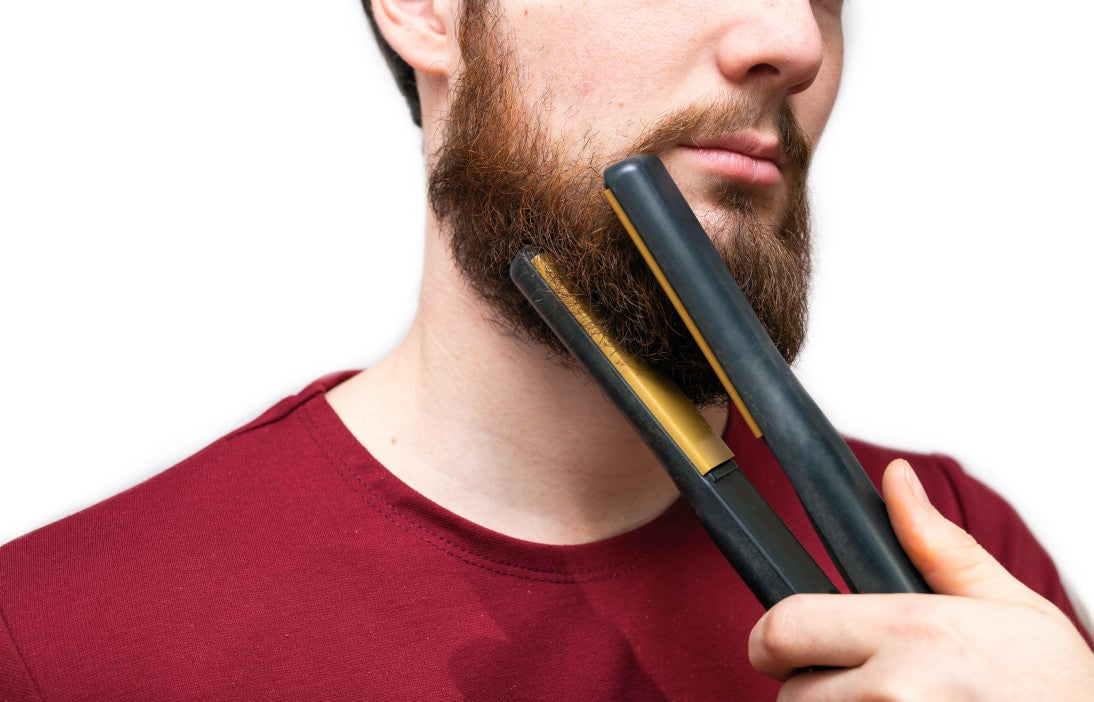 When you decide to grow out your beard, it instantly becomes the most prominent feature on your face. You want to keep beard acne to a minimum, and you need to figure out what style works best for you.
Unless you live in the mountains with a family of bears, you generally want to keep your facial hair nice and trimmed. A straight beard makes all the difference, so here's all you need to know.
Should You Straighten Your Beard?
Credit: Ape to Gentleman
Straightening your beard is essential if you want to style it. Since facial hair tends to be coarser than the hair on your head, it curls up more significantly if left to its own devices.
There's nothing necessarily wrong with having a curly beard. However, you should be aware that there's a greater risk of tangling.
Additionally, when you straighten it, you don't have to wait as long to get that nice, lengthy beard you've been wanting for a while now.
5 Tips to Straighten Your Beard
You shouldn't have to borrow your girlfriend's or wife's hair straightener to get the beard you want. Instead, follow these tips to style your beard the way you want.
1. Use a Blow Dryer on Low-Medium Heat
First, before you get started, you want to make sure your facial hair is completely dry. You should wash it thoroughly using all of your beard care products, and then get ready to dry it.
To accomplish this, you can use a blow dryer on low-medium heat. For best results, you want the blow dryer to face downward, so every individual hair is being blown in the same direction i.e. downward. 
2. Use a Beard Straightener
A lot of different devices are out there to give you the beard of your dreams. We'll get into brushes in a little bit, but you should seriously consider a straightener specifically designed for facial hair.
Much like a straightener for the top of your head, a beard straightener applies heat to the strands. It's basically a flat iron that smoothes everything out.
There are several factors to bear in mind, including:
Size:

Make sure it's an appropriate length for your beard.
Heat:

Generally, you don't want to go above 385 degrees Fahrenheit.
Purpose:

Don't just use a regular flat iron. Get one designed for beards.
For an extra tip, it'd be a good idea to give your beard a trim prior to straightening. This involves getting rid of stragglers that may otherwise hamper the aesthetic you're going for. 
3. Apply a Beard Gel
If you want to grow your beard out, it's a good idea to invest in a high-quality gel. It provides your facial hair with much-needed nutrients regardless of how you style.
When it comes to straightening, beard gel helps protect your hair from potential heat damage. It's a good idea to apply it before you use a flat iron or blow dry to offer a safeguard from heat.
4. Work a Sea Salt into Your Beard for More Hold
After you get your beard looking pretty straight, you want to keep it that way all day long. That's why it's a good idea to use a sea salt spray for additional texture and to hold it in place.
Sea salt is all-natural, so you're not putting additional chemicals in there. Plus, you won't have to worry as much if it's windy out about your beard getting out of whack.
5. Use a Heated Brush
Don't worry; a heated brush shouldn't burn you like a razor can. This device uses heated bristles to get your facial hair into shape without blowing the heat directly onto it again.
Brushes come with different heating levels, and you'll want to adjust based on your beard hair type. Thick beards require high heat while thin ones only need to be set on "low."
Final Thoughts
A stylish beard can pull together your whole look. There are many methods you can utilize and products you can try, so get everything from gel to oil to flat irons. 
Every beard is different, but with the right combination, you can have the straightest, softest beard imaginable. 
References:
Jones, John. "How to Straighten Your Beard at Home With a Heated Brush or Blow Dryer." The Manual, 13 Mar. 2021. https://www.themanual.com/grooming/how-to-straighten-beard-for-men/
Mackey, Cory. "The Best Beard Straightener of 2021 [Our Top 10 Picks]." Grit Daily, 30 Dec. 2020. https://gritdaily.com/beard-straightener/