Beard Tanlines: What Causes It & How to Prevent It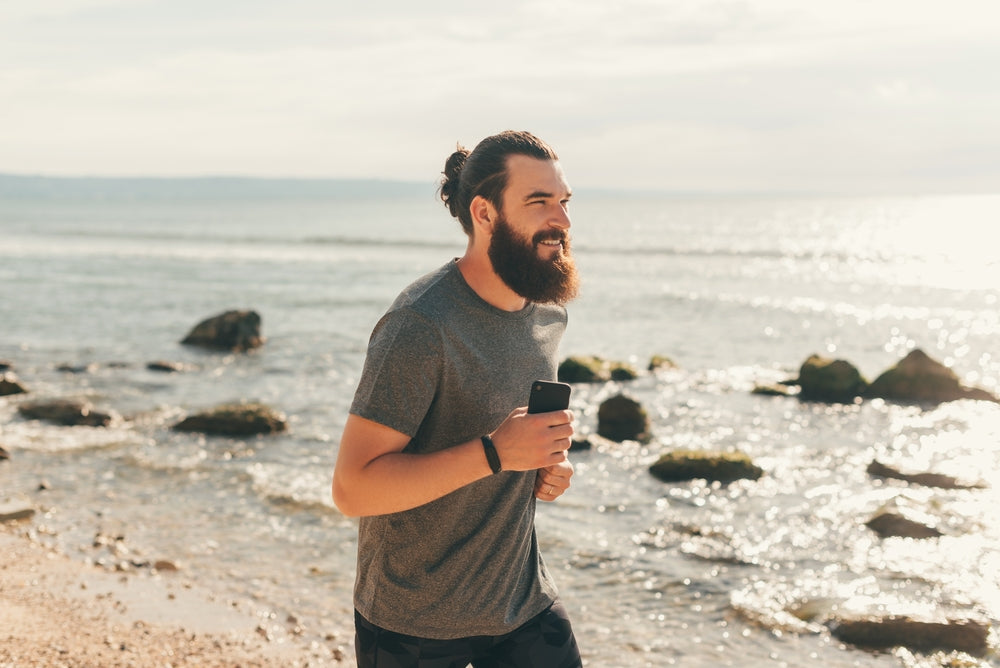 Tanlines aren't exactly known for their attractiveness. If anything, it makes it seem like you forgot you were wearing clothes while laying out in the sun. 
But it's not just your shirt to think about. Having facial hair can also result in your face being slightly different shades. Luckily, there are ways to avoid a tanline forming on your face. 
What Causes Beard Tanlines? 
Beard tanlines are ultimately caused by (you guessed it) your beard. However, the sun and its UV rays also have roles to play. 
Your facial hair blocks UV rays from reaching the skin. As a result, the skin doesn't take in its effects, so it ends up looking paler than the skin that was exposed to the sun. 
You need to be careful about how much sunlight you're exposed to. Not only can it cause tanlines, but you may also be prone to sunspots and premature wrinkles. 
Hair Type
Generally speaking, the bigger and bushier your beard, the hard it will be for the sun to reach the skin. When you're still in an early beard growth stage, you probably don't have too much to worry about. 
Beard Style
You also need to be mindful of your beard direction. When you comb your beard over, it may cover certain patches of skin more than others. 
How to Prevent Beard Tanlines
A beard tanline can make you look weird once you shave all that facial hair off. To avoid this, there are several steps you can take. 
Ultimately, a tanline is not a permanent fixation. Once you get some sunlight on the skin that was covered by facial hair, it should match the rest. 
1. Avoid Tanning
Another step you can take is avoid tanning altogether. It's truly unnecessary, and it's been linked to various health problems over the years. 
For starters, tanning can exacerbate any pre-existing skin conditions you have. For example, acne is made worse by tanning since it makes the bumps appear redder.
Additionally, being out in the sun too long increases your risk of developing skin cancer. Always wear sunscreen when you go outside and cover up as much of your skin with clothing as possible. 
2. Use a Daily Moisturizer or SPF
Ideally, you have a first-class skincare regimen you abide by every day. Many moisturizers already contain SPF, so they will protect your skin in the event you go out into the sun.
However, you'll still want to supplement this with sunscreen. In many instances, it only takes 15 minutes for UV rays to cause damage, so you'll want to apply sunscreen even if you don't plan on being outside for very long. 
3. Hold off on Shaving
Another option is to simply not shave. After all, no one will be able to see the skin under your beard if you keep it bushy enough and properly groom it. 
You should have a beard grooming regimen you follow every day to keep your facial hair looking its best. Plus, beards act as natural sunscreen, blocking the sun from reaching your skin and keeping it looking smooth. 
Naturally, this may not be an option for everyone. In the event you do need to shave, you'll need to work around your tanline. At that point, you'll be thankful you followed the other steps to keep the tanline at bay. 
Final Thoughts
If you find yourself in a bind with a facial tanline, you can always opt for a spray tan to try to more evenly match the two areas of skin. It'll be a temporary solution, but it may get you through whatever event you need to go to.
References:
"Tanning and Your Skin." Skin Cancer Foundation. https://www.skincancer.org/risk-factors/tanning/
Corsillo, Liza. "How to Fix These 7 Common Grooming Mistakes From the Cannes Film Festival." GQ, 16 May 2016. https://www.gq.com/gallery/common-grooming-mistakes-cannes-film-festival