Can Men Wear Tinted Moisturizer? Your Questions Answered!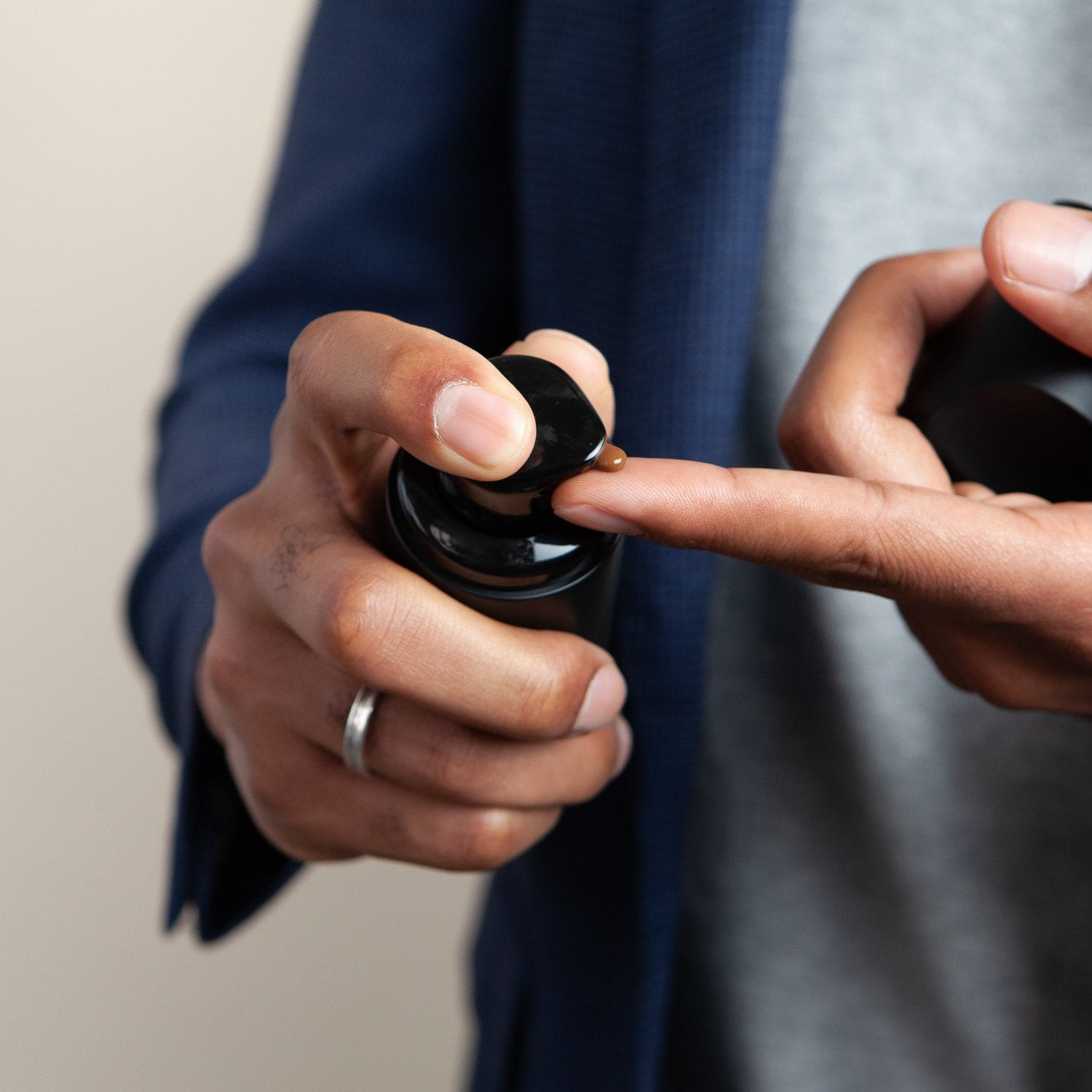 One question we have heard plenty of customers ask: can men wear tinted moisturizer? Unfortunately, we've met plenty of men out there who simply refuse to wear any kind of skincare product. Many don't even wash their face with anything but a little cold water. 
But that doesn't mean all men simply look the other way when they walk past beauty stores in the mall. In fact, evidence suggests more men than ever before have discovered the benefits of gaining a skincare regimen. 
According to a survey done by Mintel, 58 percent of men between the ages of 18 and 24 use a facial moisturizer. An astonishing 63 percent of men between the ages of 25 and 34 also said they use moisturizing products. If you're a man whose skin has been looking a little lackluster lately, then it may be time to incorporate a tinted moisturizer into your morning routine.
What is Tinted Moisturizer?
A tinted moisturizer is a type of facial cleanser that comes lightly tinted with makeup pigments. It's essentially both a moisturizer and foundation all in one. It provides light coverage while also giving your skin much-needed hydration. This leaves you with a glowing finish. 
What separates a tinted moisturizer from other products in the makeup section is the fact it contains more humectants than what you normally find in foundation. Humectants help lock moisture within your skin, making it ideal for men and women with dry skin. And while it's pigmented, it doesn't offer sufficient color for the full effect of foundation. 
There are numerous varieties of tinted moisturizers out there that can come with an array of additional ingredients, including antioxidants or sunscreen. 
If you're in the market for one, lucky for you, we got you covered. Tap down below to shop our tinted moisturizer!
How Do People Use Tinted Moisturizer?
 
It's important to keep your skin hydrated if you're prone to acne breakouts.That's where tinted moisturizers come in. And since tinted moisturizers are generally oil-free, you don't have to worry about clogging your pores even further with your foundation.
Generally, people use tinted moisturizers as a way to deal with their dry skin. This helps them prevent pimples, acne around the mouth, and even dark circles under the eyes. 
A tinted moisturizer is also a great option if you have any redness on your skin you want to reduce. It can even out your skin tone, which makes it great if you have a sunburn you want to limit the appearance of. You should also look into whether the moisturizer you buy contains any UV-deflecting ingredients. Many moisturizers also make for handy sunscreens you can apply to your skin before heading outside. 
Just in case the tinted moisturizer you're looking to get does not have SPF in it, you can always layer your sunscreen and tinted moisturizer.
Can Guys Wear Tinted Moisturizer? 
Credit: The Grooming Lounge
Men have a lot to gain by using tinted moisturizers. While it's pretty common for guys these days to use a moisturizer, many may be offput after hearing that this kind also contains foundation. But that shouldn't stop them from enjoying all of the benefits this product has to offer. 
Any man with uneven skin tone or pimples can benefit from a light foundation. And that's important to note. It's incredibly light, so no one even has to know you've applied a moisturizer. All other people see is clear, radiant skin. 
Ultimately, it's a moisturizer first, not a foundation. A little always goes a long way with tinted moisturizers as well, so it's extremely easy to use. Speaking of, here's how to use tinted moisturizer:
How to Use Tinted Moisturizer 
First, you need to purchase the right kind of tinted moisturizer for your skin. You want one that matches your skin tone and contains additional SPF properties to protect your face from the sun. From there, it's just a matter of following some simple steps to start enjoying clearer skin. 
Apply a moisturizer and foundation primer to your skin and let it rest for one minute. 

Apply a small amount of tinted moisturizer onto your fingertips and lightly dot it across your face. 

Buff the tinted moisturizer across your skin with a brush. Use circular motions to have better coverage.

Blend in the lines, making sure you have sufficient coverage around your chin and under your eyes.

Cover up any additional blemishes with a concealer. 

Use a setting powder to keep the moisturizer in place.
We do also want to point out, you do not need to use a concealer or setting powder when putting on tinted moisturizer. You can always just moisturize and put on your tinted moisturizer and call it a day, or you can do your entire routine - it's all total preference!
Can You Wear Tinted Moisturizer By Itself?
Credit: The Indian Express
While you can use concealer and setting powder in addition to your tinted moisturizer, it's unnecessary. The moisturizer is hydrating enough on its own to be used by itself. Independently, it can correct imbalances in tone and hide pimples with relative ease. 
Some men may not want to get an entire makeup set to go along with their tinted moisturizer. That's perfectly fine. You can simply moisturize your skin first thing in the morning before heading out of the house. The product all by itself is enough to give you the peace of mind to be confident in your skin. 
However, if you are looking to follow a routine, we have a few kits that can help out with that!
Where to Buy Tinted Moisturizer for Men
If you're looking for a convenient, portable tinted moisturizer, consider checking out our tinted moisturizer product. The subtle tint instantly hides any acne or redness you have to produce an even skin tone.
All this happens while you're giving your pores much-needed hydration and nourishment. It's time to start taking care of your skin, and a high-quality tinted moisturizer is definitely the way to go.
If you're one of these men who wants to up your skincare routine but don't know where to start, tap down below to start our quiz where we will give you personalized advice and recommendations from our in house professionals.