Does Sweat Cause Acne? Workouts & Skincare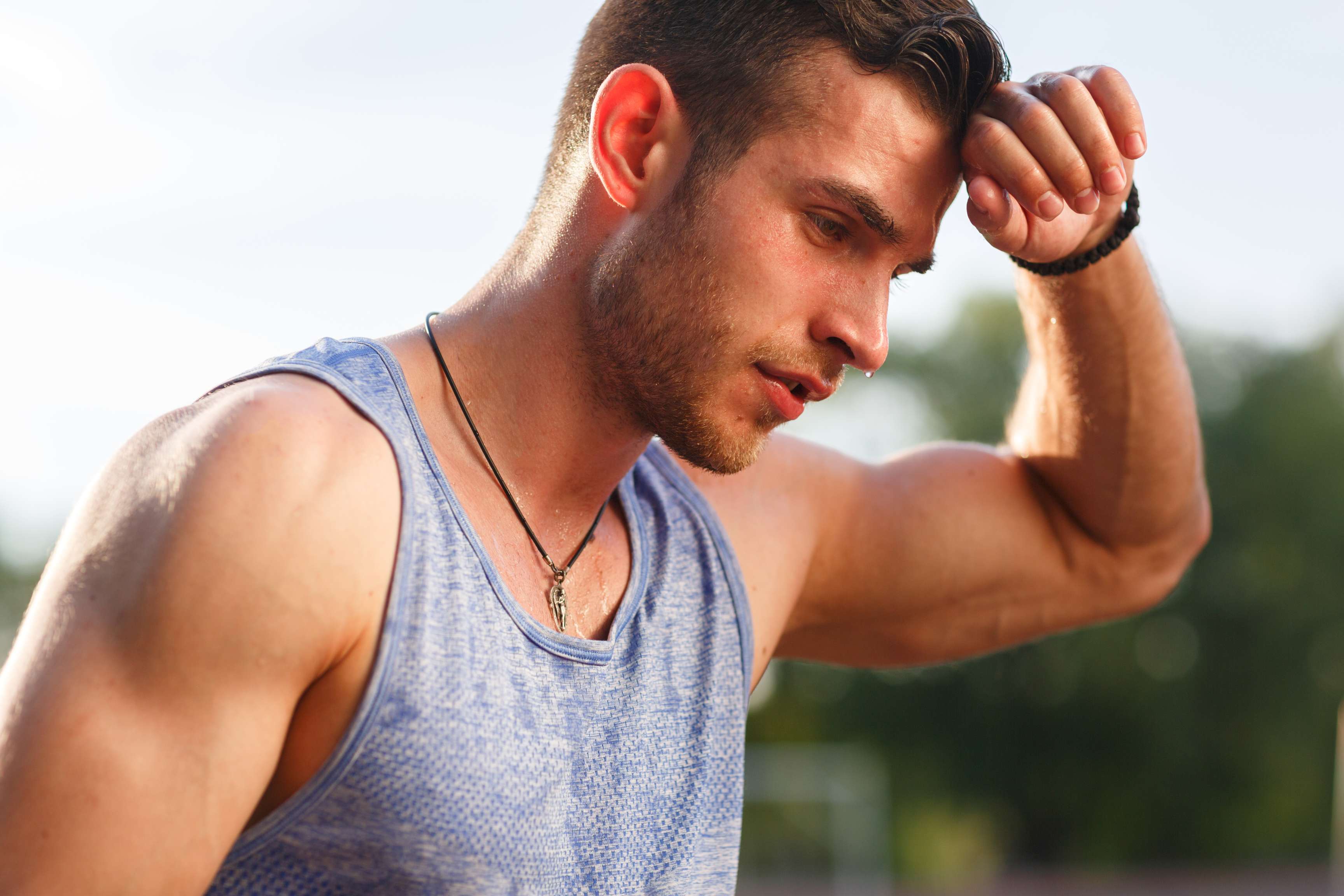 While a lot of people love working up a sweat when they go to the gym, many individuals worry about the act of sweating exacerbating acne issues. However, it's important to note that sweating itself does not cause acne. Exercising and sweat does cause a lot of bacteria to build up on the skin, and if you allow it to stay on your skin without washing it, then that could increase your odds of an acne breakout. 
Can Sweat Cause Acne?
Credit: Men's Health
On its own, sweat doesn't cause acne. However, you may notice increased acne after exercising due to outside factors. For example, you should remove any makeup you're wearing. If you fail to do so, then sweat can trap the makeup and any other debris in your pores. That is what ultimately results in acne. However, if you are smart about how you treat your skin in between workout sessions, then you can keep your face beautiful and clear. 
Is Sweating Good or Bad for Acne
As long as you have clean skin before sweating, then the act can actually help prevent acne. The reason for this is that sweat flushes out your pores, eliminating dirt and debris. It's recommended to shower or at least wash your face after you sweat profusely so that the debris and sweat don't sit on your skin. Ultimately, that could result in acne, resulting in a breakout. 
Is Sweating Good For Your Skin?
It's actually good for your skin to work up a sweat every now and then. Regular sweat production has been shown to have anti-aging properties. It also cools your skin and moisturizes your pores naturally. It's also been found to eliminate harmful bacteria that lives on your skin's surface. 
The only thing you want to keep in mind is to wash your skin after an intense workout. You don't want to leave sweat lingering on your skin because your sweat releases urea and ammonia. For some people, these chemicals can significantly irritate their skin. 
Does Sweating Help Acne?
Credit: Men's Health
Sweating can absolutely help acne. First, it's important to understand how exactly acne forms. Pimples come about as a result of your skin's pores becoming clogged with dirt, debris, or bacteria. When you sweat, your pores relax and open up, allowing those harmful contaminants to wash away. 
You just want to make sure you wash your face after an intense sweat. Sweat may remove bacteria and other particles from your pores, but those contaminants stay on your skin if you don't do anything. After a hearty jog or trip to the gym, it's a good idea to take a shower and wash your face thoroughly. If you can't shower, you should at least splash water on your face and change out of your sweaty clothes immediately to lower your chances of blemishes developing. 
Why Might Sweat Cause Acne?
Sweating can trap dirt, bacteria, and debris in your pores, resulting in acne. In addition to showering after every workout, you can lower your risk of pimples by practicing good hygiene. 
You should remove any makeup you're wearing prior to any workout. Sweat can trap makeup in your pores, which leads to blemishes. You also want to make sure you put on clean workout clothes. You don't want to wear sweat-soaked shorts and shirts as these items will place the sweat and debris back on your skin. 
If you work out at the gym, then you want to make sure you wipe down every piece of equipment you use. You could increase your chances of getting acne by touching a weight-lifting machine and then touching your face. You're transferring bacteria and other debris through this act, so it's best to keep your workout area spotless. Finally, you want to hop in the shower once you're done exercising. You can really reap the benefits by using a mild, oil-free cleanser on your face to keep your pores clear and healthy. 
How to Treat Sweat Pimples
Credit: AskMen
Pimples from sweating excessively are not something you want to deal with. Fortunately, you can cover them up immediately with a Stryx health kit. A concealer and cleanser will cover up any unsightly blemishes so that you can go on a date or job interview with peace of mind.
However, to get rid of the pimples for good, you should gently wash the affected area twice daily. It's recommended to find a non-acnegenic, non-comedogenic, and oil-free product so that you don't exacerbate the issue. You also want to wash your pillowcase often so that you're not sleeping directly on an oily surface, and you should resist the urge to touch or pick your face. If over-the-counter remedies don't work, then talk to your dermatologist about using acne medication.