Can Men Wear Lip Balm? Real Men Wear Lip Balm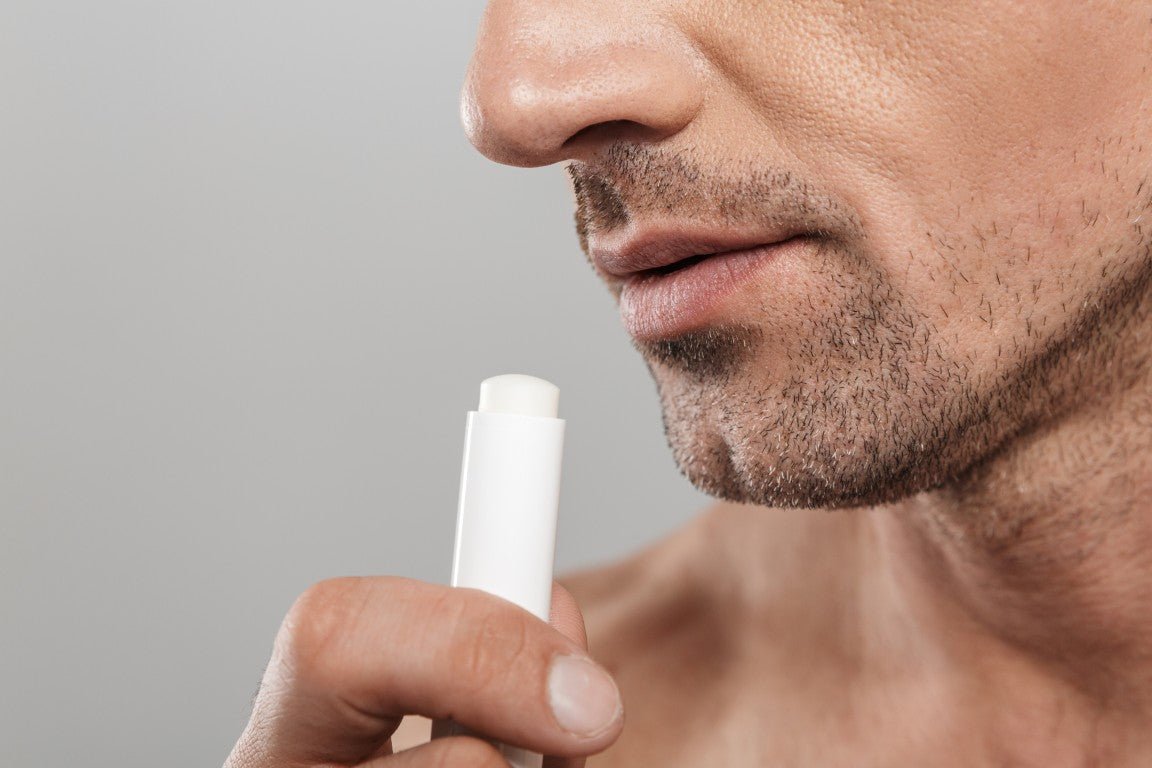 It's a shame that outdated ideas of masculinity prevent many men from adequately caring for their skin.
Even though it's not even lipstick, a lot of men seem apprehensive about even using lip balm. 
If you're tired of having dry lips when you go in to smooch that special someone, then you really need to start using some product to provide you with much-needed moisture.
After all, it's a lot easier to flirt when you know the other person will enjoy the experience. 
What is Lip Balm?
Credit: Men's Health
Lip balm, which typically comes in a tube, is designed to provide moisture and smoothness to your lips.
To accomplish this, the product contains a moisturizing agent with the most common including lanolin, shea butter, and petroleum jelly. 
Lip balm also contains wax in its ingredient list so that it adheres to your lips. With this, it adds moisture and prevents water from leaving as well. 
Similar to how you wear sunscreen to protect your skin from the sun, you also need to think about your lips.
Those are also susceptible to damage, so you need to take steps to care for them.
Can Men Wear Lip Balm?
Credit: Tools of Men
Men can absolutely wear lip balm. But some may be concerned about appearing too feminine due to the glossy aesthetic the wax tends to create. 
This same fear is present when it comes to men wearing concealer. Fortunately, there are plenty of lip balms out there to help you look the way you want. 
A lot of products don't make your lips glossy afterward.
They're specifically made with men in mind and can help you feel and look your best without making it seem as though you have lipstick on. 
Benefits of Men Wearing Lip Balm
Your partner having a smooth surface to kiss should be reason enough to invest in a good lip balm. But there are other advantages to keep in mind. 
Lip Balm Moisturizes Your Lips
Chapped lips are a hassle. They can peel, crack, and bleed, which is highly irritating. 
Most people find this is more likely to happen during the winter, which is why it's critical to have some lip balm handy.
It provides moisture so that the surface of your lips is less likely to crack.
Lip Balm Is Best for Preventative Care
Many skincare products aren't just about making your appearance better when damage has already occurred.
They're designed to prevent damage in the first place. 
Most lip balms contain some amount of SPF.
That means before you go out into the sun, you should apply some product the same way you would lather on sunscreen. 
Prolonged exposure to the sun can burn and crack your lips just like a sunburn.
Over time, this can make the lips appear thinner and less desirable. Use lip balm to avoid such a fate. 
When Should Men Use Lip Balm?
Credit: Healthline
Guys should apply lip balm first thing before they head outside for the day.
You want to ensure your lips have some level of protection before exposing them to sunlight. 
Not only that, but it's a good idea to carry your lip balm around with you.
It's often recommended to apply lip balm six to eight times a day, but your case may vary. 
In general, you should apply whenever you feel the need to.
If your lips start feeling a little chapped, then put some more on. You can use it every single day without fear.  
Where Can Men Buy Lip Balm? 
Lip balm for men can pretty much be found wherever you get cosmetics and skincare products.
You should be able to drive to your local pharmacy and find plenty of options, some of which are probably designed for men specifically. 
However, one of the best options for men is found with Stryx.
We offer our very own Advanced Lip Balm that's made with all-natural ingredients.
It's not glossy and doesn't leave a scent, so no one even has to know you're wearing it. 
With the right lip balm, you can pucker up with confidence knowing your sweetheart will absolutely want to kiss you with soft, supple lips. 
References:
Levitt, Shelley. "What's in Lip Balm?" WebMD, 19 Nov. 2012. https://www.webmd.com/beauty/features/decoding-lip-balm
Mukhergee, Meghna. "4 benefits of using lip balm." Times of India, 28 Sep. 2013. https://timesofindia.indiatimes.com/life-style/beauty/4-benefits-of-using-lip-balm/articleshow/17807804.cms