Can Men Wear Concealer? Your Questions Answered!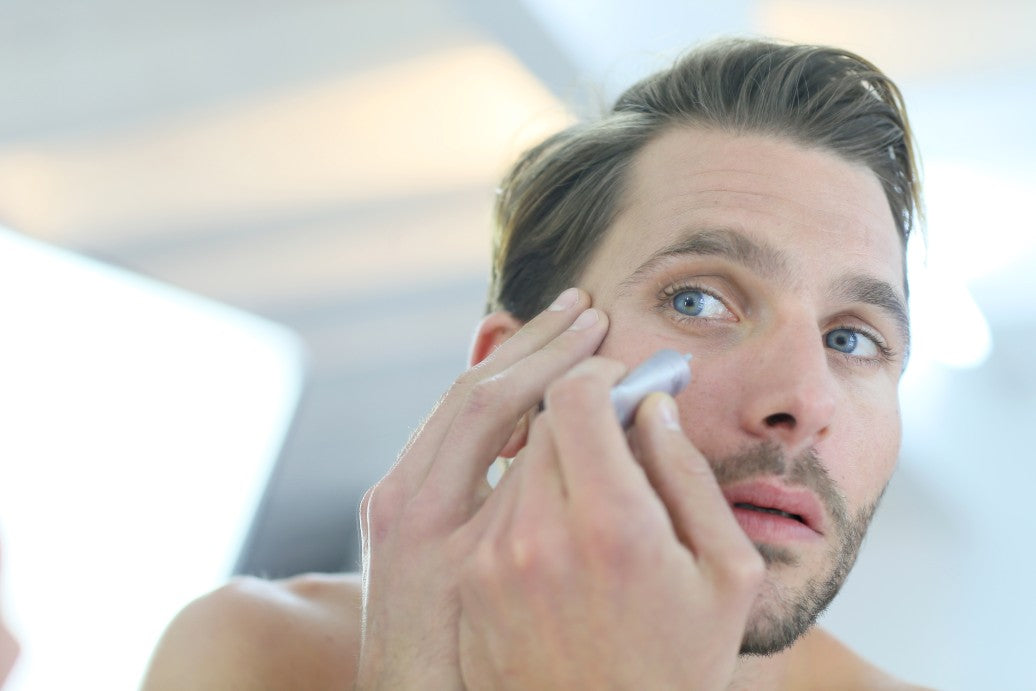 Can Men Wear Concealer? Your Questions Answered
Makeup - it isn't just for women anymore. 
Guys shouldn't have to deal with unsightly blemishes either.
And whether you realize it or not, more men than ever before are starting to incorporate makeup into their morning regimen.
A survey conducted by Morning Consult found that roughly a third of men either already wore makeup or would be open to the idea. 
The boundaries between what's feminine and what's masculine are starting to diminish.
Now's the perfect time to dip your toes into what makeup is right for you if you're a guy.
From age spots to dark circles under the eyes, there are many ways for concealer to enhance your appearance.
What is Concealer?
Concealer may seem similar to foundation, but there are some key differences.
Foundation is used to create an even base on your skin. Concealer goes over the foundation to blend any imperfections with the rest of the shading you want. 
Concealer is also typically thicker and better for hiding discoloration in the skin. You usually don't need to apply a lot to get the job done. 
How Do Men Use Concealer?
Men should ideally use concealer in a manner similar to women. 
To start, you need to find a concealer that best matches your skin tone. A variety of options are out there, and you should also consider if you need a foundation as well. 
Before applying any makeup, make sure you moisturize your skin. If you don't already use a moisturizer, then now's a good time to start searching. 
If you want a foundation and moisturizer all in one, then you should opt for a tinted moisturizer. It hydrates your skin while adding pigment to where you want it. 
Can Guys Use Concealer?
No one's going to arrest you if you purchase concealer from a store. 
If you're really that self-conscious about it, then you can purchase any makeup you need online and have it delivered. 
How to Use Concealer
Applying concealer is a breeze. 
To start, place a small dab of your concealer to the area you want to correct. Using your ring finger, gently smooth it out. 
There are tools out there, but the application can generally be done with your fingers.
The benefit of this is that your fingers supply heat to help make the concealer easier to work with.
It shouldn't take much to see results, but if you think you need a little more, then apply one more dab.
A little trial and error may be present at first until you get the hang of it. 
For further guidance, check out Stryx's video tutorial teaching you how to apply concealer in no time. 
Can You Use Concealer By Itself?
You can use concealer on its own, but there's a caveat to that. 
For minor blemishes or light instances of hyperpigmentation, you should just be able to apply some concealer.
As long as it matches your natural skin tone, it should blend nicely. 
In the event you have a more extreme skin issue, then you're probably better off applying foundation first. 
If you're looking to use concealer for bags or circles under your eyes, then you benefit immensely from using an eye primer. It makes it easier for the concealer to stick in place.
Where to Buy Concealer for Men
You can find concealer at any makeup store or pharmacy. Plenty of places sell them online, too.
As if finding a new makeup product wasn't hard enough, you need to consider what variation would work best for you. Here are some of the different types.
Cream: For medium to full coverage

Stick: For dry skin

Liquid: For oily skin
That's right; you have to take your skin type into consideration as well. It seems like a lot, but remember, millions of people use these products every day. 
Get 2021 started on the right foot by taking a good, hard look at your skincare routine. You may just realize a concealer is what you need to look and feel your best.
References:
Piacenza, Joanna. As Beauty Norms Blur, One-Third of Young Men Say They'd Consider Wearing Cosmetics. Morning Consult, 28 Oct. 2019. https://morningconsult.com/2019/10/28/as-beauty-norms-blur-one-third-of-young-men-say-theyd-consider-wearing-cosmetics/
"5 Ways to Use Men's Concealer." YouTube, uploaded by Stryx. 10 Apr. 2020, https://youtu.be/jXn3gfVlk-E