Vitamin C for Acne Scars: Does it Work, Benefits, & Uses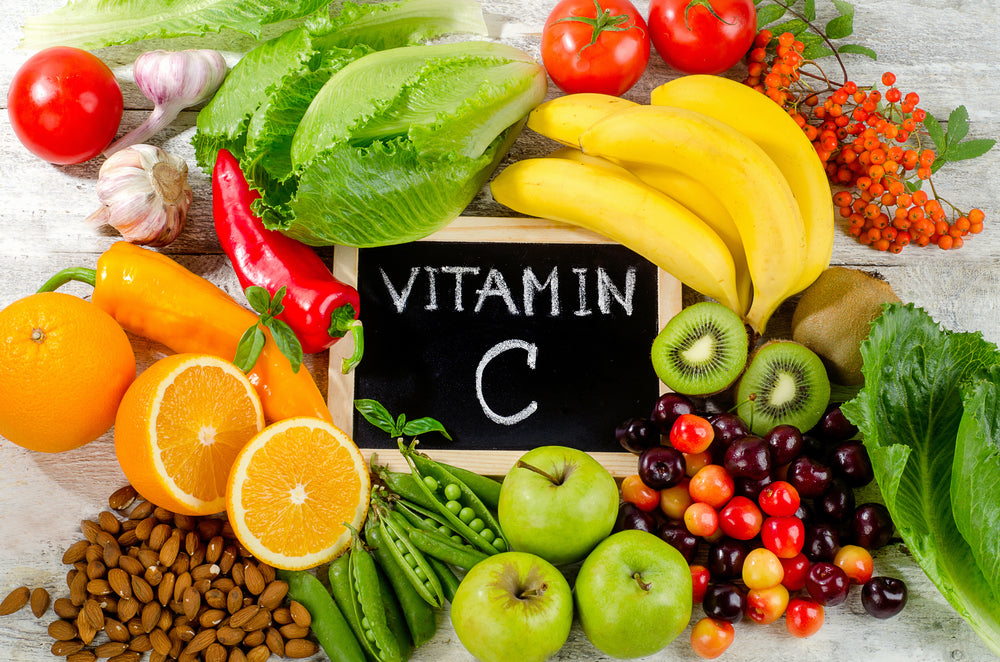 Acne is a common skin condition that results in raised, red bumps on the skin. It's an inflammation of the skin, and when that inflammation gets too severe, it can damage the pores, resulting in scarring. 
Some scars heal quickly while others can last for years. It's paramount to treat these scars correctly to regain the appearance you want, and while there are many ways to go about that, don't underestimate the power of Vitamin C.
What is Vitamin C
Vitamin C, otherwise known as ascorbic acid, is a water-soluble material typically found in citruses, fruits, and some vegetables. However, it's also available as a dietary supplement.
It produces many bodily benefits, including repairing tissue and forming collagen. And since your body doesn't produce it on its own, its critical you get it from other sources.
Vitamin C and Skincare
Vitamin C is a powerful antioxidant that helps neutralize free radicals on your skin. Free radicals can damage your skin cells over time, and they form from exposure to external and internal environments. 
Some common sources of free radicals include:
Pollution

Smoking

Stress

Poor diet
Vitamin C combats these exposures to protect your skin's epidermis. A breakdown of cells that result in a myriad of skin conditions, including discoloration, but adequate Vitamin C increases your likelihood of keeping your skin looking clear and healthy. 
How Does Vitamin C Help Acne
Since acne is an inflammatory condition, it can result in redness, swelling, and occasionally pimples. It can also lead to post-inflammatory scars. 
Fortunately, research suggests Vitamin C can help significantly with warding off these effects. Therefore, it's in your best interest to seek a topical Vitamin C solution to ensure your skin isn't impacted too badly by the following skin problems. 
May Reduce Acne Scars
Acne scars can develop from mild to extreme cases. Either way, they form due to a loss of skin tissue and collagen, resulting in small indentations developing. 
Vitamin C treats acne scars by increasing your body's natural production of collagen. It helps to rebuild your skin so that you have a healthier, more vibrant epidermis. 
May Reduce Inflammation
Vitamin C contains anti-inflammatory properties. As such, it can help limit redness and swelling that typically comes after a breakout. 
Based on studies, it's the most helpful to use a topical Vitamin C solution so that the material goes directly where it needs to be. 
May Reduce Hyperpigmentation
Hyperpigmentation is the development of darkened spots on the skin. It can form from acne, injuries, or UV rays. 
While it's harmless, it can make people self-conscious about their appearance. Vitamin C contains an enzyme called tyrosinase, which helps product melanin, a natural skin pigment. 
Additionally, Vitamin C functions as a brightening agent, which helps lessen the appearance of darkened spots. 
Should You Use Vitamin C For Your Acne?
While it's important to get enough Vitamin C in your diet by eating plenty of bell peppers, strawberries, and tomatoes, you'll need a topical serum if you want to treat acne-related issues.
If you're concerned about getting enough Vitamin C through your diet, talk with your healthcare provider. You may need to discuss taking a supplement, but for many people, supplements are unnecessary just because you wind up urinating whatever doesn't get used.
If you have acne you want to treat, you need to look into serums and moisturizers infused with Vitamin C. You know which ones will help you because the ingredient list will contain L-ascorbic acid.
If you're presently using a topical acne treatment, speak with your dermatologist about whether a Vitamin C product is right for you. Remember, Vitamin C is only part of the battle to get clearer skin.
You'll also need to ask about maintaining the right pH balance to keep your skin clear. But with an adequate regimen, you should have the utmost confidence you'll look your best.
References:
Kubala, Jillian. "Does Vitamin C Treat Acne?" Healthline, 28 Apr. 2020. https://www.healthline.com/nutrition/vitamin-c-for-acne
Nathan, Neera MD and Patel, Payal MD. "Why is topical vitamin C important for skin health?" Harvard Health Publishing, 10 Nov. 2021. https://www.health.harvard.edu/blog/why-is-topical-vitamin-c-important-for-skin-health-202111102635