3 Best Ways to Safely Remove Nose Hair | What to Avoid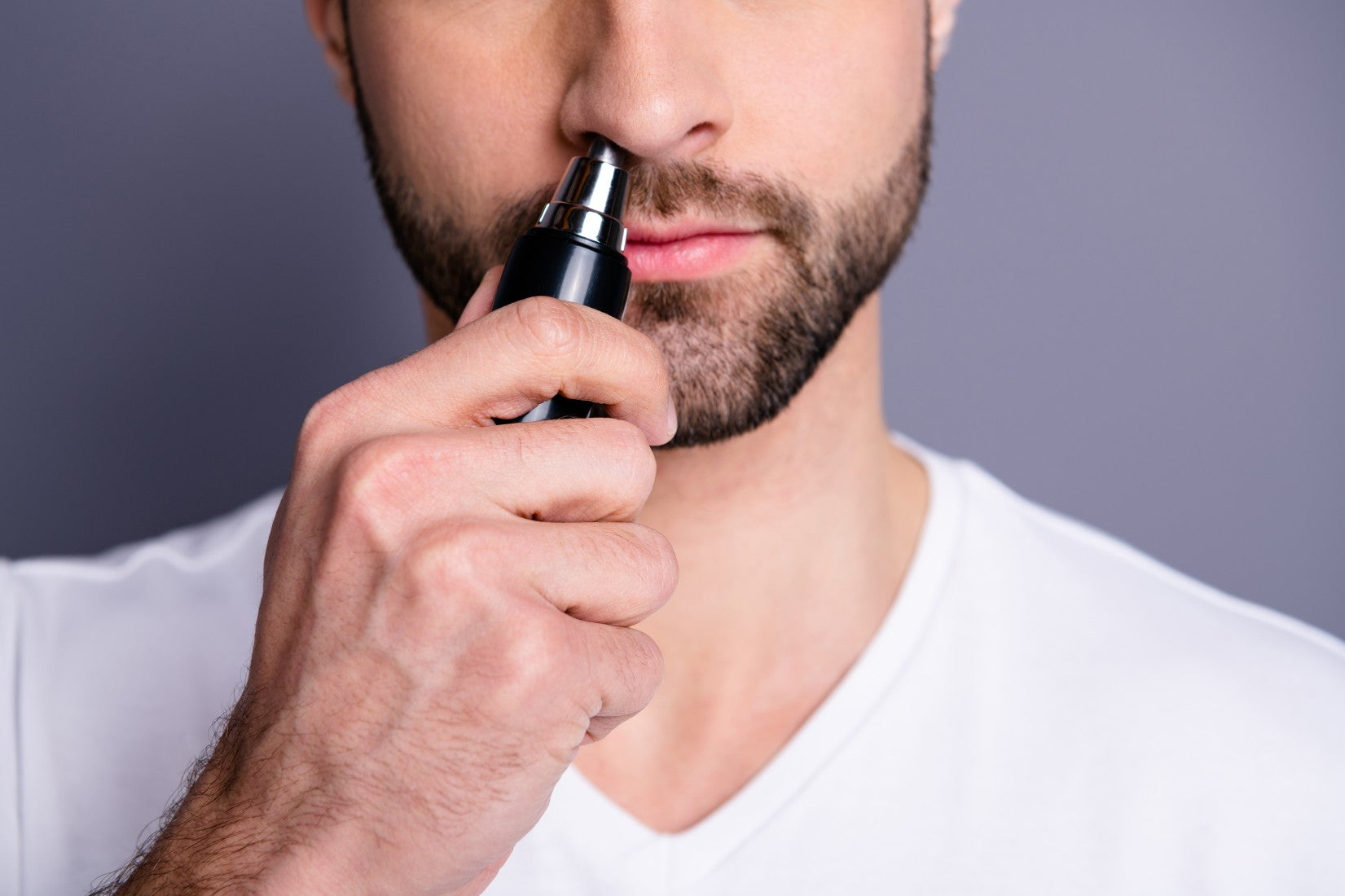 Nose hairs can be troublesome pests, especially if you have to take close-up photos in the near future and don't want anything getting in the way. 
As such, it makes sense that some people want to get rid of bothersome strands as soon as possible. Luckily, you have plenty of options at your disposal. 
The Best Methods to Remove Nose Hair
Removing nose hairs can be extremely painful if you don't know what you're doing. Similar to how there's a correct way to cover up moles with makeup, there are correct methods for trimming nose hairs. 
Only follow the below methods for getting your nose in order. It will ensure you aren't crying in the bathroom before taking an important picture. 
3. Electric Hair Trimmer
Both electric and manual hair trimmers are effective for getting rid of unwanted hairs. To start, you should blow your nose to remove any residue you wouldn't want getting caught in the trimmers.
From there, follow the directions by gently placing the trimmer inside your nasal cavity. You mostly want to focus on hairs that are visible outside of the nose. There's no reason to get all the way in there and risk hurting yourself.
Once you've finished, you should blow your nose again to eliminate any extra hairs. 
2. Laser Hair Removal
If you really don't want to deal with nose hairs ever again, look into booking a laser hair removal. This method requires a professional to use a powerful laser to target your hairs. 
It's also the most expensive option, but it should result in permanent changes to hair growth. 
1. Manual Hair Trimmer
Finally, you can look into using a manual hair trimmer. This is like an electric trimmer, except you basically have to shave within your nasal cavities to remove any strands. 
In the event there are any hairs you just can't get rid of, you may consider using scissors. But be extremely careful so that you don't cut yourself.
It's important to note that whatever trimmer you use won't provide a permanent solution. The hairs will grow back, so it's in your best interest to invest in a high-quality trimmer that doesn't hurt you. 
If you never want to worry about nose hairs again, you can opt for laser hair removal, but most people prefer the price tag associated with trimming. 
Methods to Avoid for Nose Hair Removal
You want to avoid using any creams and depilatories within your nose. The reason is that these products may contain harmful fumes you're inhaling the entire time it's working on eliminating hairs. 
If you do plan on using creams, you should only use all-organic products. It helps ensure you don't inhale any potentially hazardous chemicals and risk your health. 
Waxing
Waxing typically isn't recommended for nose hairs. The reason is that it's extremely difficult, and your results may vary. Also, if you've watched "The 40-Year-Old Virgin," you know how painful it can be.
Additionally, waxing can result in red, sore areas around your nostrils. For anyone wanting to get rid of hairs for photos, this won't be much better. 
Plucking
Plucking is also ill-advised for how painful it becomes. You're literally plucking out hairs with a tweezer, so find another method for getting a more attractive nose. 
Final Thoughts on Nose Hair Removal
Ultimately, you don't have to worry too much about nose hairs. The ones deep in your nose aren't visible, and they're actually beneficial to your health by capturing particles that could bother your sinuses. 
A little trimming around the exterior is all you need to avoid any unwanted strands winding up in photos. Plus, you can look into treatments to prevent an oily nose if you want an all-around method of liking your nasal area. 
References:
Norris, Taylor. "How to Safely Remove Nose Hair." Healthline, 7 Mar. 2019. https://www.healthline.com/health/nose-hair-removal
Mitzeliotis, Katrina. "So You Wanna Safely Remove Your Nose Hair…" Women's Health Magazine, 6 Jul. 2019. https://www.womenshealthmag.com/beauty/a28185188/how-to-get-rid-of-nose-hair/