Oily Nose | Causes, Treatments & Prevention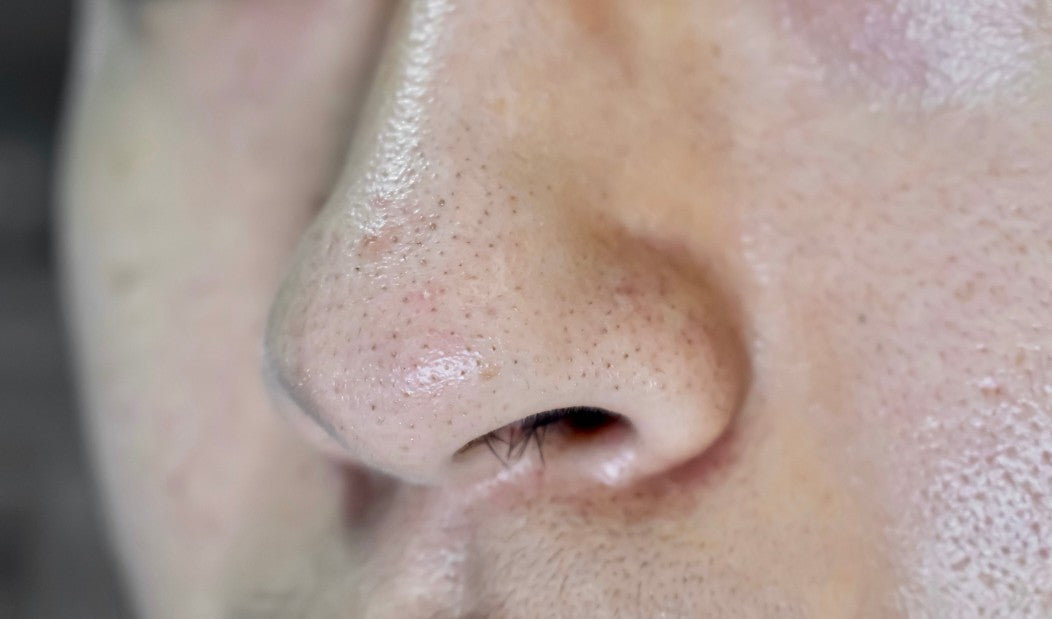 While having an oily nose isn't the end of the world, it's definitely a common problem that's both tiresome and unattractive. 
If you've tried religiously washing your face multiple times a day to dry out your oily nose, or several other home remedies, all to still face a shiny nose, keep reading to find out how to treat your oily nose!
What Causes an Oily Nose?
First things first, what causes oiliness in general? When your skin (such as on your nose) starts to produce too much sebum (which is the oil that protects your skin) through the sebaceous glands, you could have an oily nose. 
There can be various reasons why your nose is oilier than the rest of your face, but below are some of the top culprits for that shiny nose.
Enlarged Pores
Arguably the biggest reason you might have oily skin is due to your nose's pores being larger than the other pores on your face. Because of this, you could end up producing more sebum.
Pores release oil and sweat, and their size is mostly determined by genetics. This means you can't change the overall composition of your pores, unfortunately. 
Combination Skin
Combination skin is simply having both dry skin in some areas and oily skin in other parts of your face. You've probably heard of the T-zone, which is your forehead, nose, and chin. These areas tend to have a higher chance of being oilier. 
That said, it's not a hard-and-fast rule! Having combination skin doesn't necessarily mean you'll have an oily nose, and having an oilier-than-average nose doesn't mean you'll have dry skin to balance it out. 
Hormone Fluctuations
Something else that can play a big role in excess oil and sebum production are your fluctuating hormones. In fact, it's probably one of the biggest reasons your nose seems to be super shiny 24/7! 
While it's more common to affect teenagers, the mix of having larger nose pores and possibly combination skin can cause your body's hormones to fluctuate wildly and lead to increased oil gland activity. 
It's worth noting that as a guy, chances are high you'll have oilier skin than women. Since men produce more testosterone, which is the mail-dominant androgen hormone, you're then more likely to have extra oil production. 
To sum it up, there are a lot of possible reasons for your shiny nose, and while you can't change the underlying factors that cause many of them, don't despair! Here are our tips to help treat your oily nose! 
Oily Nose Treatments
Tinted Moisturizer
If you suffer from oily skin, a tinted moisturizer can be a great fix. Many formulations are oil-free, and provide the perfect blend between keeping your skin hydrated while also evening out your complexion!
If you're worried about the imperfections of your nose shining through, look for a tinted moisturizer that blends into your skin for an all-natural look!
Use Sunscreen to Control Shine
Many sunscreen formulations offer a mattifying effect, making them perfect to help with your shiny nose. 
While you should be using sunscreen all the time, try finding one that works especially well for your nose. Avoid oily and heavy sunscreens, and opt for lightweight ones instead!
Use a Face Wash in the Morning and at Night
A good, gentle face wash will help you exfoliate your skin and remove the buildup of oil, dirt, and other impurities, which will also help reduce the shine and oil on your nose. 
Find a gentle cleanser that you can use twice a day to help keep your skin under control for an oil-free complexion, and make sure to use it consistently! 
How to Prevent an Oily Nose
Don't Overwash Your Face
Believe it or not, washing your face too much can actually make your skin worse!
By stripping your face of all of its natural oils and good bacteria, you'll trick your body into thinking it's drier than it actually is. 
The results? Your body will start to overproduce more sebum and oil, putting you right back at square one--or even farther back! 
Instead, stick to washing your face twice a day (or once more if you workout, for example). It'l be better in the long run for your nose and overall skin! 
Stay Cool When You Sleep
If you have oily skin, you might sweat more easily, which also doesn't help you have a less oily nose. To combat this, make sure you aren't too warm when sleeping. 
Use a ventilator or AC if necessary, or just sleep with your window slightly open so you don't sweat unnecessarily. 
Stay Hydrated
Drinking water provides a plethora of benefits for healthy skin, from reducing puffiness to less saggy skin. But it's also helpful for that shiny nose! 
By staying hydrated, your skin won't need to overproduce more oils and sebum to make up for dry skin--which means you'll be more likely to wake up to a non-oily nose!
Final Thoughts
While getting rid of your oily nose once and for all isn't possible, adding a couple of minutes to your daily skincare routine is all you need to easily treat it, and a few lifestyle adjustments can dramatically reduce the chance of a shiny nose. 
As with most skincare issues, trial-and-error is the key to making sure you find out what works best for you. Keep at it, and before you know it, you'll have conquered your shiny nose and be able to go out with your best face forward! Good luck. 
References: 
Dr. Zenovia. 2021, February 12. Hormonal Acne in Men is Different. Dr. Zenovia: Hormonal Dermatology. https://drzenovia.com/blogs/skin-journal/hormonal-male-acne