How to Cover Up Moles With Makeup | 3 Easy Steps!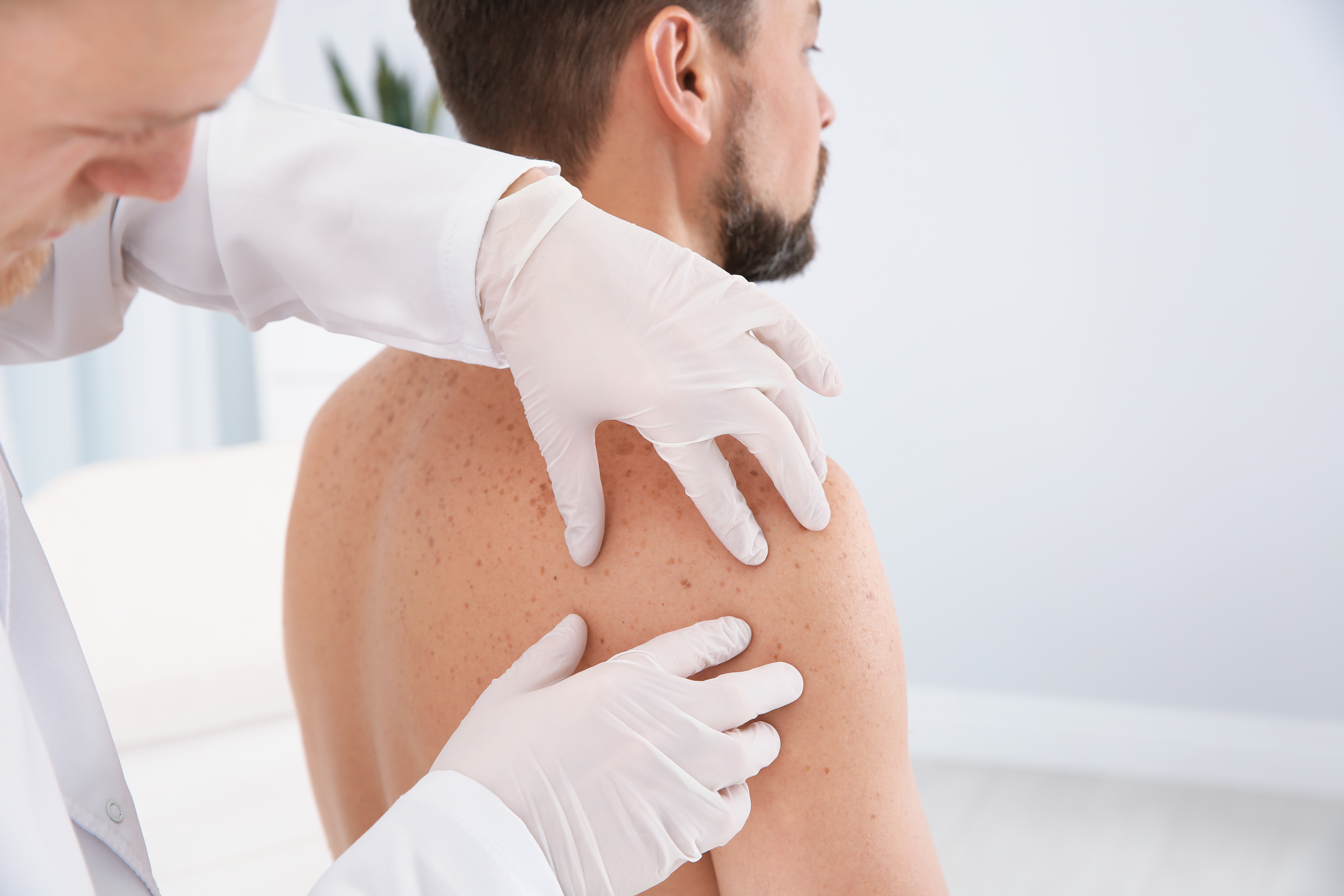 Some people find their moles to be intriguing beauty marks. Others view them as blemishes. If you fall into the latter category, then you may wonder how to cover up moles with makeup. Fortunately, it's a straightforward process that can easily be incorporated into your beauty regimen. A few simple steps are all it takes to hide moles and head out of the house with confidence. 
Can Moles Be Covered With Makeup?
Credit: TostPost
In most cases, yes. Moles can be covered with makeup. Moles are merely slight blemishes on the skin. They appear as tiny, dark brown spots that generally appear sometime during adolescence. Over time, these moles may grow smaller or disappear completely.  
If you feel like covering one up occasionally or every day, there are several ways to go about it. But before getting into that, what exactly are these blemishes? 
Do you want to learn more about how you can help your skin look its best? Sign up for our newsletter today where we cover the best skincare routines. Oh, and you can also get 10% off your first Stryx order!
What is a Raised Mole?
Credit: BBC
There are two common varieties of moles: flat and raised. While a flat mole blends seamlessly with the rest of your skin, a raised mole comes up every so slightly. Although it's disconcerting to see, raised moles are perfectly harmless. 
A mole is simply a collection of pigmented cells clumping together in one area. Most people develop anywhere between 10 and 40 moles, and they can appear anywhere on the body from the legs to the face.
Most raised moles should be round or oval in shape. They're usually less than six millimeters in diameter. Many moles are brown or black, but some have been known to be roughly the same shade as your skin. It's possible for hormonal changes, such as puberty or pregnancy, to make moles appear larger or darker. It's during these times in your life you may feel more tempted to cover them up with a little makeup. Luckily, covering up a mole as simple as covering up a pimple. We'll get more into this later. 
Dark Spots vs. Raised Mole 
Dark spots, also known as hyperpigmentation, encompass numerous different skin conditions. These include liver spots, solar lentigines, and age spots. Whereas moles often appear early in life, dark spots may not show up until much later. Many people don't see them until they are middle-aged. 
Dark spots are often associated with certain skin conditions. They may also occur as a side effect of specific medications. While dark spots are typically harmless, they may indicate cancerous cells are present. 
It's critical to see your doctor if you have any spots on your skin that appear asymmetrical, larger than six millimeters, have irregular borders, or have uneven colors. But even though cancer may not be a risk, you still may not want your mole getting in the shot of every picture you take. Luckily, with a few easy steps, you can effortlessly cover up the blemishes with makeup. 
How to Cover Moles With Makeup
Before you get started, you want to make sure you have everything you need. You don't want to have to make an emergency trip with your mole only half-covered. The items you'll need for this job include:
Gel cleanser

Concealer

Foundation

Powder
You want to make sure you purchase the right products that match your skin. Getting products that are lighter shades than your skin can actually make the mole stand out even more. To get the perfect shade, you may need to buy multiple products and blend them. But once you have everything, you're ready to get started. 
Step 1: Wash Mole With Gel Cleanser 
Before you do anything, you want to thoroughly wash the mole and the area around it. You want to get a gentle gel cleanser or a mild cleansing bar to eliminate any oils or other debris. 
Before you go any further, make sure you give your skin enough time to dry off for a little bit. This makes it much easier for the concealer to stay in one spot when you apply it.
Step 2: Moisturize
After you wash the area, you want to moisturize. Not only will this keep your skin healthy, but it ensures your makeup lasts longer. You don't want to be out somewhere only to discover you need to reapply. 
Ideally, you should use a moisturizer you already utilize regularly. You don't want to risk irritating your skin with something new when you have somewhere important to be. 
Step 3: Dab Concealer Over Mole 
From there, dip your finger into the concealer and lightly tap it on as well as around the mole. It should be similar to what you used to do as a kid when you finger painted. 
Allow the concealer to dry for about one minute. If the mole still shows, then you may need to apply a second coat. 
This method of concealing a mole can also be applied if you have dark circles under your eyes or pimples. 
Optional: Add Face Powder or Foundation to Blend
In the event concealer isn't enough, you may want to consider incorporating a foundation or face powder. For foundation, apply it gently over the area using the same finger painting technique as before. Work any foundation outward with a sponge or beauty blender so that it matches the rest of your skin. 
For particularly troublesome moles, you may also need to apply face powder. This is often necessary when trying to cover up raised moles. Face powder is a fixative, meaning your foundation and concealer don't run. 
You just need your brush into the powder and lightly apply it over the spot. By this point, your mole should be completely covered. However, these extra steps are typically not necessary. Most people will find the moisturizer and concealer work just fine on their own to give you the confidence you need to hit the town and have fun. 
Covering Moles on the Body
Credit: Healthline
What about moles on other parts of your body? While moles on the face are particularly noticeable, you may want to cover up a blemish on your arms, legs, torso, or anywhere else. Luckily, the process for covering up these moles is exactly the same as on your face. 
Concealer, foundation, and face powder may often be used on the face, but they work just as well on other parts of your body. Just follow the above steps for any mole, regardless of where it's located, to feel superb in your own body. 
It's also a good idea to see if you can cover up moles on your body with fashionable accessories. For example, if you have a mole that's visible in a bikini, then you may want to consider a different kind of swimsuit if you're not a fan of the mole. You can also try applying a tattoo cover for a quick, easy solution. 
Why You Should Cover Moles With Makeup
From clothing to tattoo covers, there are several ways to hide a mole. However, most people will find that makeup is the simplest, most effective solution. It comes with several advantages you just won't get with other cover-up methods. 
Affordable
Gel cleansers, concealers, moisturizers, and foundation are all fairly affordable. You can also easily find an assortment of options at your local body works or makeup store. Each item will last you a while, so you can continue covering up moles with ease once you make the investment. 
Convenient
The entire process of covering up a mole with makeup shouldn't take you any longer than 10 minutes. Plus, if your mole is adequately covered with just a concealer, then you may not even have to bother with additional steps. 
Easy-to-Remove
At the end of the night when you're no longer in anyone's sight, you can simply wash off the makeup. It's important to do this when you're wearing makeup no matter what. Never go to bed with a face full of makeup, or it can clog your pores. 
Final Thoughts 
There's nothing wrong with a mole. Many people like theirs. But you may not want to show it off all the time. Rest easy knowing there's a full-proof method to cover up your mole and give yourself greater confidence. 
References:
https://medlineplus.gov/moles.html
https://www.mayoclinic.org/diseases-conditions/skin-cancer/symptoms-causes/syc-20377605