How to Trim Your Mustache Perfectly in 7 Easy Steps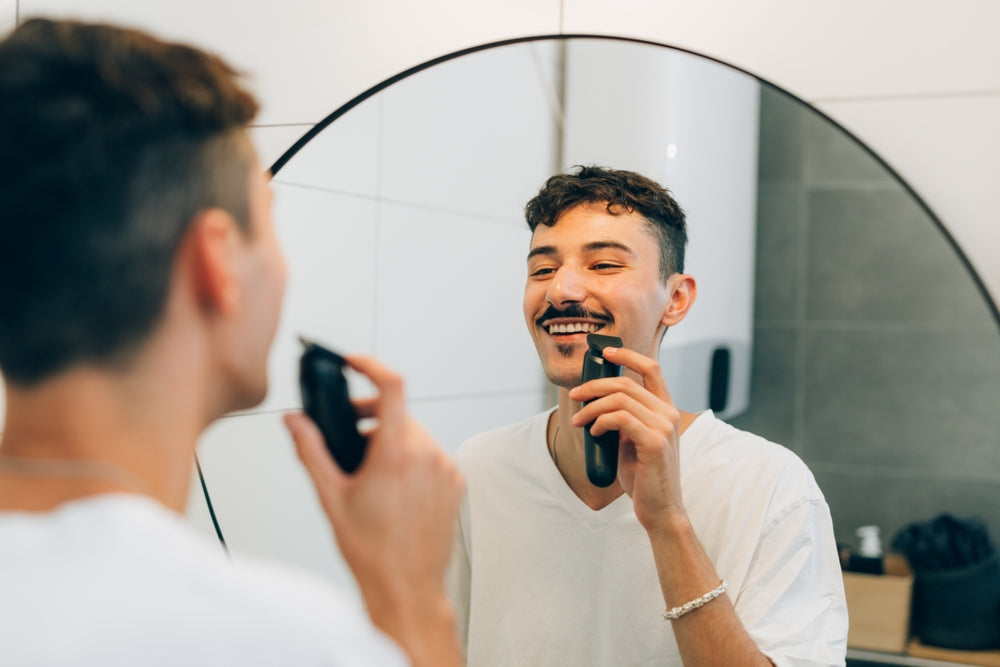 Growing a mustache can really make you look sophisticated. But growing a mustache is more complex than simply not shaving your upper lip hair. 
A good trim now and then will keep your mustache looking prim and proper. Of course, you don't want to cut away too much, so that's why you'll want to follow these steps for a solid trim every time.
Why Trim Your Mustache?
Every man will have his own reasons for wanting to trim their mustache. For starters, mustaches come in all different styles. To get the one you want, you'll probably need to cut a bit. 
Additionally, unless you want a big walrus mustache, a trim will keep it out of your mouth a bit. It makes it easier to manage and to drink without getting your facial hair wet.  
What You'll Need
Before getting started, you'll want to make sure you have all the essential supplies handy. That means getting shampoo, conditioner, a mustache comb, trimming scissor/electric trimmer, and gel.
Trimming With Scissors vs. Trimmers
You may wonder whether scissors or a trimmer is right for you. Generally, trimmers are preferable for cutting the facial hair into the exact shape you want. 
After that, scissors can help with any loose strands you didn't quite catch. Scissors also tend to be more comfortable if you're prone to beard acne. 
Step 1: Let Your Mustache Grow Out
You may have heard the old wives' tale that shaving causes facial hair to grow in thicker. This isn't true, so just give your hair some time to grow out. 
It typically takes a few weeks to a couple of months to grow in, but give it time. Growing a thicker mustache is often a matter of genetics, so there's not much to do during this time. 
Step 2: Comb Out Your Mustache
Before you get started with trimming, you'll want your mustache to be symmetrical. Comb it out in a downward direction to help keep any stray hairs in place. 
Combing allows you to see the length of your mustache better, so you'll have an easier time when it comes to actually cutting. 
Step 3: Cut Across the Upper Lip
From there, you'll generally want to cut along the upper lip. This prevents hairs from getting in your mouth while you're eating. 
Remember not to leave too much space between cuts. Otherwise, your mustache could end up looking funky. 
Step 4: Use Comb and Scissors to Trim the Upper Areas
Once you have the bottom of the mustache taken care of, you can turn your attention to the upper portions. How much trimming you should do depends on the style you want to go for. 
However, most guys will want to do a little trimming so that nose hairs don't blend in with mustache hairs. It's not a good look on anyone. 
Step 5: Keep the Mustache Looking Thick
You want a thick mustache, but you don't want it to look like a caterpillar's resting on your face. Using your comb, stretch out the hairs to see if there are any stragglers remaining. 
Step 6: Clean Up the Perimeter
If you have a thick mustache, there's a good chance you want a thick, long beard, too. Once you take care of your mustache, clean up the rest of your face so that your facial hair complements itself.
Step 7: Use Beard Gel to Style the Mustache
You can style your mustache however you see fit. Just make sure you use a high-quality product, like our beard gel. It'll keep your mustache in place all day long so that you can drink, eat, and kiss without worrying about cramping your style. 
References:
Butterworth, Brent. "The Best Beard Trimmer." The New York Times, 21 Nov. 2022. https://www.nytimes.com/wirecutter/reviews/best-beard-trimmer/