How Long Does it Take to Grow a Full Mustache? Our Tips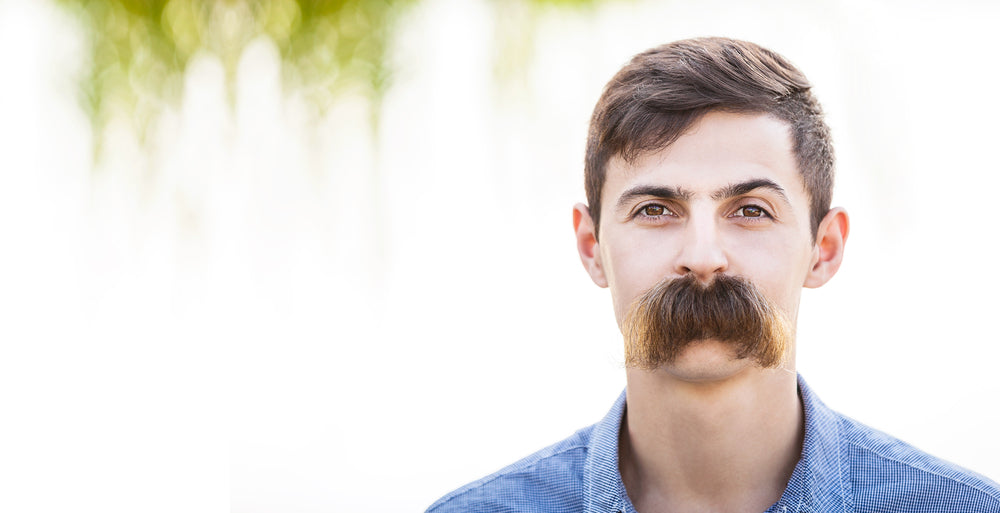 A mustache can really make the man. It screams good taste and some of the toughest guys around have had mustaches from Sam Elliott to Nick Offerman. 
When you want a mustache of your very own, you may naturally wonder how long it will take to grow in. Fortunately, for most men, it shouldn't take long.
What is a Mustache? 
A mustache is a strip of hair that grows over the under lip and under the nose. They're an incredibly popular form of facial hair and various styles have come and gone out of fashion over the years.
Factors That Affect Mustache Growth
Not all mustaches are the same. For some men, growing a thick mustache may be easier than for others, and these are the factors that tend to impact its growth.
Genetics
Sometimes, mustache growth boils down to the way you were born. Take a look at the men in  your family and what their mustaches have looked like (if they grew them at all). 
It should give you a good idea of what you can expect for your own facial hair.
Age
Men begin to grow mustaches around puberty. This is when facial hair growth in general tends to come in. 
However, as men age and lose testosterone, mustache growth can decline. Around your 20s and 30s is when mustache growth will be at its peak.
Testosterone
The reason men grow mustaches is due to testosterone. Once you hit puberty and your body begins creating more testosterone, you can expect a mustache to follow. 
As men lose testosterone, through illness or aging, mustache growth may not be as prevalent.
How to Grow a Good Mustache
Even if you can grow a mustache on your own no problem, you still want to abide by good grooming. There are plenty of tips for ensuring your facial hair always looks its best. 
Moisturize Your Beard
A mustache and beard tend to go hand in hand. And if you want a long beard, you'll probably want a long mustache to go with it. 
For both forms of facial hair, you want to follow appropriate moisturizing. A solid regimen will keep your facial hair looking good and prevent itchiness. 
Take Your Vitamins
A good multivitamin can be a solid way to start the day. But if you're interesting in facial hair growth, you'll want to make sure you're taking the right kind. 
For hair growth, a solid B vitamin regimen is ideal. This should also include niacin and biotin, which have also been found to assist with hair growth. 
Actually Grow It Out
To get the mustache of your dreams, you want to avoid shaving. Contrary to popular belief, shaving doesn't make hair grow in thicker. 
So give your mustache ample time to come in. It may take a few weeks, but it should grow in in no time. 
Use a Skin Scrub to Get Rid of Dead Cells
To give your facial hair the best opportunity to grow in optimally, you should exfoliate and scrub your skin daily. This removes various contaminants, including dead skin cells. 
Dead cells can accumulate on your skin, making it more difficult for hair to grow. It also leaves you more prone to beard acne. 
How Long Can do Mustaches Grow?
Everyone's mustache will be different. Some men may get a fine-looking mustache within a matter of weeks. However, you should give yours between two and three months to see how it comes in fully. 
Mustache Styles to Try Today
Even if you've never thought of yourself as a mustache guy before now, there are various styles that can be fun to try. 
Pencil Mustache
A pencil mustache consists of a very thin strip of hair over the upper lip. It's been made popular by the likes of John Waters and Ted Turner.
Lampshade Mustache
To get the ideal aesthetic for a lampshade mustache, you need to trim the top so that it bends with a slight curve, creating a semi-circle coming from the nose. Additionally, the bottom of the mustache must not cover the top lip. 
Chevron Mustache
Meanwhile, a chevron mustache is a classic look. It follows the trajectory of the upper lip, bending downward in a reverse "V" shape. 
Grow Your Mustache Today
You'll never know how you look with a mustache unless you give it a try. Follow these steps, and you'll have some solid stubble growing in no time. 
References:
Munce, Garrett. "The 17 Best Mustache Styles You Should Actually Try This Year." Men's Health, 17 Aug. 2022. https://www.menshealth.com/grooming/g33501753/mustache-styles/
Schaefer, Anna. "How to Make Facial Hair Grow." Healthline, 16 Apr. 2019. https://www.healthline.com/health/how-to-make-facial-hair-grow#genetics