How to Trim, Fade, & Shape a Beard Neckline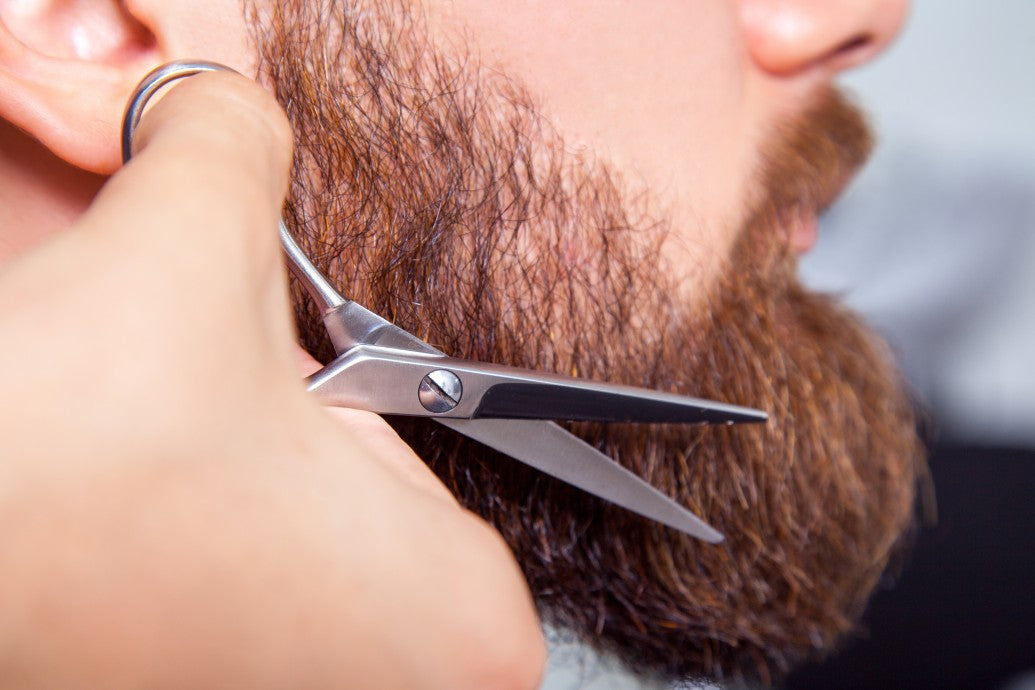 Your beard neckline plays a critical role in your overall aesthetic. If your facial hair has patches or a few gray strands, it could distract others you're trying to woo over.
For the best look possible, you want to make a clear distinction between your neck and your beard. This is important regardless of what growth stage your facial hair is in.
If this all sounds like gibberish to you, keep reading to see what you could be doing to take your beard to the next level.
Where to Trim Your Beard Neckline
Before you pick up a razor, you first need to identify your beard neckline. The simplest approach is to utilize the Adam's apple principle. You locate the Adam's apple, take two of your fingers, and place them directly over it. This will tell you where the bottom of your neckline should be.
When the time finally comes to start shaving, you just need to follow your jawline from that point up to your ear. That will keep you looking stylish.
How to Trim Your Beard Neckline
For starters, you want to remove any hair below the point where you placed your fingers over your Adam's apple. When it comes to shaping the beard, you're best off acquiring electric clippers than using a standard razor.
With your clippers, adjust it to be two settings below what your beard length is currently. From there, place the clippers over the Adam's apple and move your way one way across your jawline.
Once you reach your ear, go back to the bottom of the neckline and do the other side. The best part is you can keep this going as your beard grows.
What About Beard Shapers?
In case you need some extra help getting that perfect neckline, try a beard shaper. This is a template that helps improve the symmetry between both sides of your face. It works for producing a more polished look.
How to Fade Your Beard Neckline
Some men want a clean distinction between their beard and the rest of their neck. Others want a bit of a fade so that it transitions nicely from skin to facial hair.
To do this, bring your clippers to the same spot over the Adam's apple as the above stated. Instead of going two settings below your beard length, only turn it to one. Use this setting to trim your beard hair up until the Adam's apple.
After that, you can go to the usual two settings below to get everything under the Adam's apple. This creates a gradient throughout your neck for a nice fade rather than an abrupt stop.
What You Need to Trim & Fade Your Beard Neckline
Trimming and fading your neckline requires the same equipment as shaving regularly. You want a good set of clippers or, barring that, a razor. To make the process go as smoothly as possible, use a high-quality shaving cream that allows the razors to glide over the skin.
Once your neckline is how you like it, you want to practice proper aftercare. This not only keeps it looking its best after a good shave, but it gets your beard primed for the next one.
Apply beard oil or conditioner. This provides nutrients to your facial hair and skin to keep it hydrated. Oil can help take your rugged, coarse beard into one that's soft, smooth, and sophisticated. It also helps reduce your chances of developing beard dandruff.
Many men require aftershave or moisturizer, too. Shaving irritates the skin on the neck, resulting in redness and itchiness. The right products keep it manageable, so you not only look your best, but you also feel ready to tackle anything.
How do I Shape my Beard Neckline? 
Shaping your beard neckline is a little different than fading it. After you've 
References:
Anderson, Zachary M. "How to Trim Your Beard Neckline, According to Experts." Men's Health, 29 Jan. 2021. https://www.menshealth.com/grooming/a35367652/beard-neckline-tutorial/
Brewer, Taylah. "How to Trim and Fade a Beard Neckline." The Trend Spotter. https://www.thetrendspotter.net/trim-fade-beard-neckline/