How to Defeat & Prevent Beard Dandruff Forever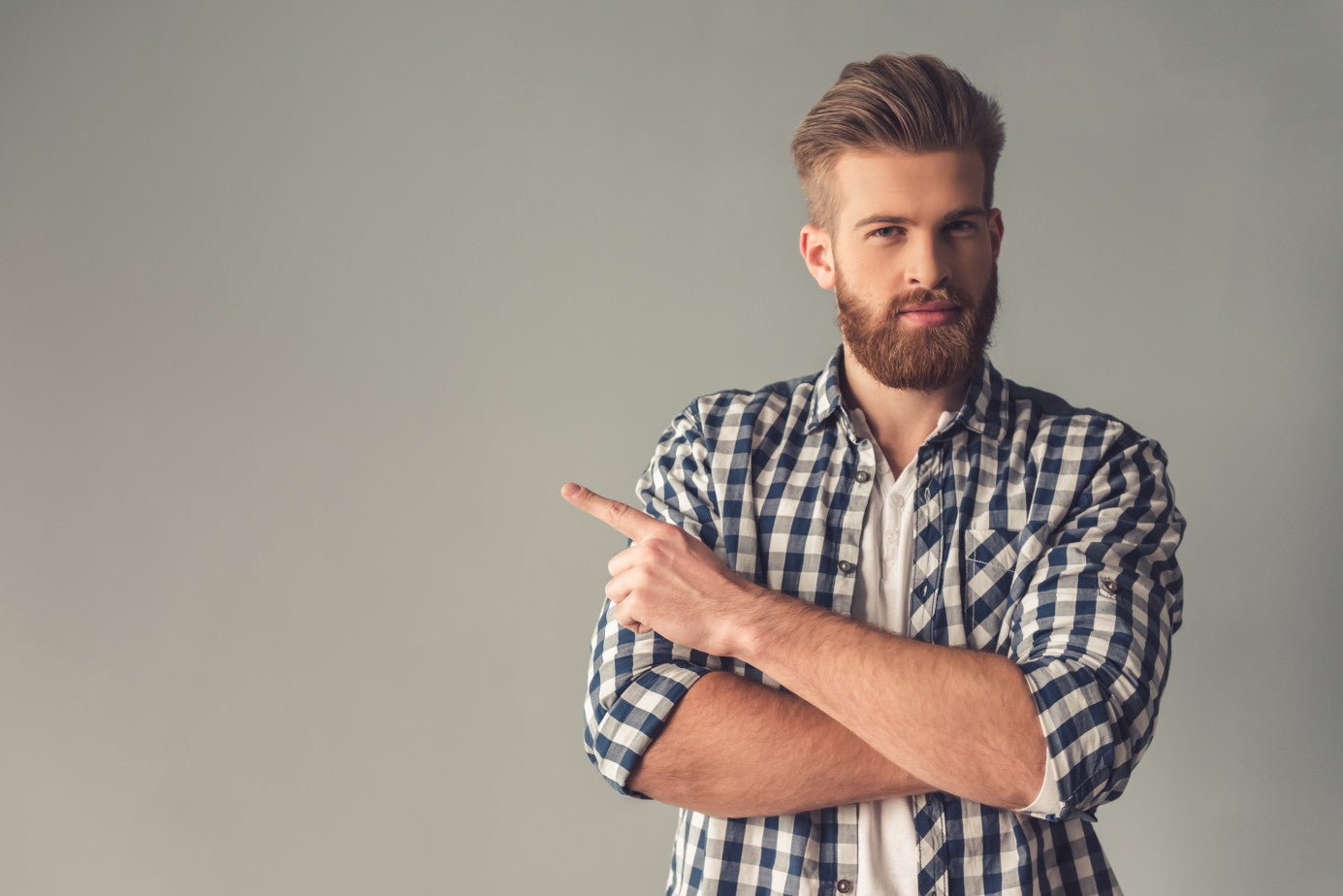 Dandruff is a common skin condition that results in flakes materializing on the skin. Most people associate it with the scalp, but men know all too well you can also find it in the beard, too, no matter what stage of growth it's in.
The truth is that one out of every five individuals will suffer from dandruff at one point or another. Men have an even greater likelihood since they have more areas where hair tends to grow.
The important thing if you notice flakiness is to avoid panicking and follow some simple steps.
What is Beard Dandruff? 
Beard dandruff is a skin condition commonly associated with seborrheic dermatitis. It leads to the skin turning red and skin cells flaking off. The flakiness tends to feel itchy, like you just have to scratch the affected spot to get relief.
Seborrheic dermatitis tends to develop in oily areas, which is why it most often occurs on the scalp, between the eyebrows, and on the sides of the nose. Facial hair tends to get oily, too, which is why dandruff sometimes forms around your face.
What Causes Beard Dandruff
Everyone's skin has some oil in it, but some people have more than others. If your level of oiliness becomes a problem and also manifests acne, make sure to book an appointment with your dermatologist.
Another reason dandruff develops around facial hair is due to failure to wash around that area. If you don't wash your beard often enough, then excess oil and dead skin cells can accumulate, resulting in itchiness.
Either of these scenarios can become exacerbated if you live in either hot, humid or cold, dry climates.
How to Treat Dry Skin Under Your Beard
No matter which way you slice it, the way to handle beard dandruff is to address the underlying oiliness and/or dryness. You'll likely have to alter your skincare routine one way or the other to see results.
Exfoliating
Exfoliation should be the first thing you do for your skin in the morning. With a soft-bristled beard brush, you gently scrub at the skin, removing the dead cells in the process. 
Not only does it eliminate cumbersome cells, but it also helps with the distribution of oil. As a result, your beard hair becomes simpler to manage. You just want to make sure you don't scrub too hard, or you could irritate teh surface area. This will make dandruff worse in the long run.
Moisturizing
Once you get rid of debris on your skin, you need to reinfuse moisture. This rehydrates the skin and protects it from further damage.
Lotion helps with other parts of the body, but when you suffer from beard dandruff, you should reach for beard oil. In lieu of that, argan oil has rejuvenating properties, and it won't clog your pores, reducing your risk of acne.
Don't just leave the oil on your hair. Make sure you massage so that it gets down into the skin.
Properly Washing Your Beard
You should already know how to wash your hair. But a lot of guys fail to utilize the same approach with their facial hair.
It's perfectly safe to apply shampoo to your beard. However, if you've noticed issues with dandruff on either your scalp or face, then you should ask a dermatologist about a prescription shampoo specially formulated to combat dermatitis.
Let the shampoo rest for a couple of minutes on your beard. This gives it time to work its way into your pores.
Beard Dandruff Prevention
If you're going to have a beard, it's paramount to keep it healthy. When you decide to grow out your beard, give it time to come in all the way. Patchy beards are not only aesthetically-displeasing, but they also serve as breeding ground for bacteria.
Once your beard comes in, you want to take care of it, and that means taking care of the rest of your body. Get plenty of sleep, and ensure your diet remains rich in nutrients.
If all else fails, see your dermatologist. Dandruff is not an issue you have to live with when so many options are available.
References:
Cherney, Kristeen. "Everything You Need to Know About Beard Dandruff." Heathline, 8 Mar. 2019. https://www.healthline.com/health/beard-dandruff
WebMD Editorial Contributors. "How To Treat Beard Dandruff." WebMD, 19 Apr. 2021. https://www.webmd.com/skin-problems-and-treatments/how-to-treat-beard-dandruff
Fraser, Marcie. "1 of Every 5 People Suffer from Dandruff, Men More So Than Others." Spectrum Local News, 21 Feb. 2015. https://spectrumlocalnews.com/nys/new-york-state/healthy-living/2015/02/21/1-of-every-5-people-suffers-from-dandruff-men-more-so-than-others