How to Stop Beard Itch | Itchy Beard Relief Treatments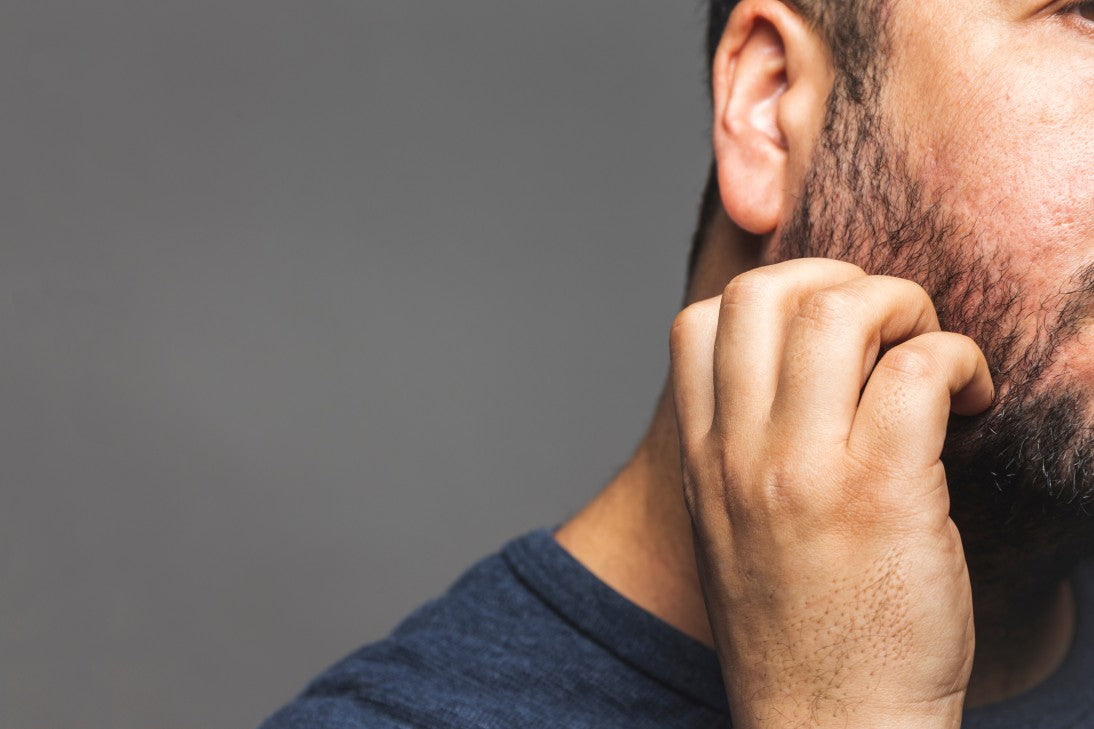 You've finally gotten the perfect beard. All the hard work you put into lining up your facial hair paid off, so the last thing you want to do is ruin it by constantly scratching and picking at it.
The same way your scalp can itch over time, the same thing can happen on your face. Fortunately, there are remedies to obtain sweet relief.
Why Does My Beard Itch?
A beard's itchiness is different from what you might find elsewhere on your body. Beard hair is scientifically referred to as "androgenic hair." This means testosterone drives its growth.
As such, it necessitates different maintenance. Even if you're not itchy on other parts of your body, your beard may still drive you crazy.
Causes of Beard Itch
There are several reasons why your facial hair may feel uncomfortable. It could be environmental factors, or it could be a result of a serious infection.
Growing Out Facial Hair
Sometimes your beard itches simply because it's growing out. Every time you shave, the blade leaves a sharp edge on the hairs. As the hairs grow, the sharp edges can scratch follicles, resulting in an itchy sensation.
This is more likely to happen if you haven't shaved in a while. You can try shaving more regularly while making sure you use a new blade every time
Dry Skin
Itchiness could be a result of dry skin. Some people naturally have dry skin while others develop it in cold weather.
It can also be a side effect of certain diseases or medications. Talk with your dermatologist if you're concerned about excessive dryness that won't go away.
Ingrown Hair
Improper shaving can also result in ingrown hairs. A lot of people may think shaving results in thicker hair (it doesn't), but if you use too dull of a razor, you can end up inflaming your hair follicles.
Poor Hygiene
A litany of sources can lead to beard itch. However, a lot of men run into trouble simply because they don't take the time to practice good facial hair hygiene. 
There are products out there specifically designed to keep your beard smooth and healthy. At the very least, you should wash your beard thoroughly with regular soap when you're in the shower.
How to Stop an Itchy Beard
The remedy for an itchy beard ultimately comes down to the source. Regardless, there are a few methods you should try that will still benefit you in the long run.
1. Wash Your Beard Once a Day
It's recommended to clean your body every day or at least every other day. However, even if you don't shower, you still want to make sure you wash your facial hair.
Even just splashing some warm water on it can help immensely. Washing prevents dirt and bacteria from building up. It also stops oils from clogging your pores, so don't neglect it.
2. Properly Dry Your Beard
Washing is just the beginning. You also want to ensure you dry it correctly, and that involves patting (not rubbing) it with a towel.
If you plan on blow drying, then you should apply some beard oil first. This supplies it with nutrients, so it can withstand the heat better. When the time does come to blow dry, you want to set it at the lowest temperature possible so as not to irritate your skin.
3. Use a Beard Conditioner
In the event you're still experiencing dryness, then you may want to invest in a solid conditioner. Ideally, you'll use one that contains argan or jojoba oil. It provides a good kind of oiliness that cuts down on dryness.
Before using any new conditioner, you should do a patch test first. This is to see if your skin reacts negatively to it before you use it on a large area. 
4. Use a Beard Gel and Comb
A comb is good for more than helping you straighten your beard. After a moisturizing gel, you should comb your facial hair to keep everything straight and eliminate any knots. 
After you've applied beard gel and combed your beard through, not only will you see that itchiness starts to fade away, but the beard's shape becomes more defined.
If you're looking for an easy way to prevent itch and shape your beard, be sure to check out Stryx's 2-in-1 beard gel and comb.
References
Jewell, Tim. "Common Causes of an Itchy Beard." Healthline, 15 Oct. 2020. https://www.healthline.com/health/itchy-beard
Cadman, Bethany. "What are some itchy beard remedies?" Medical News Today, 23 Feb. 2018. https://www.medicalnewstoday.com/articles/321014