8 Proven Ways to Grow a Thicker, Fuller Beard Faster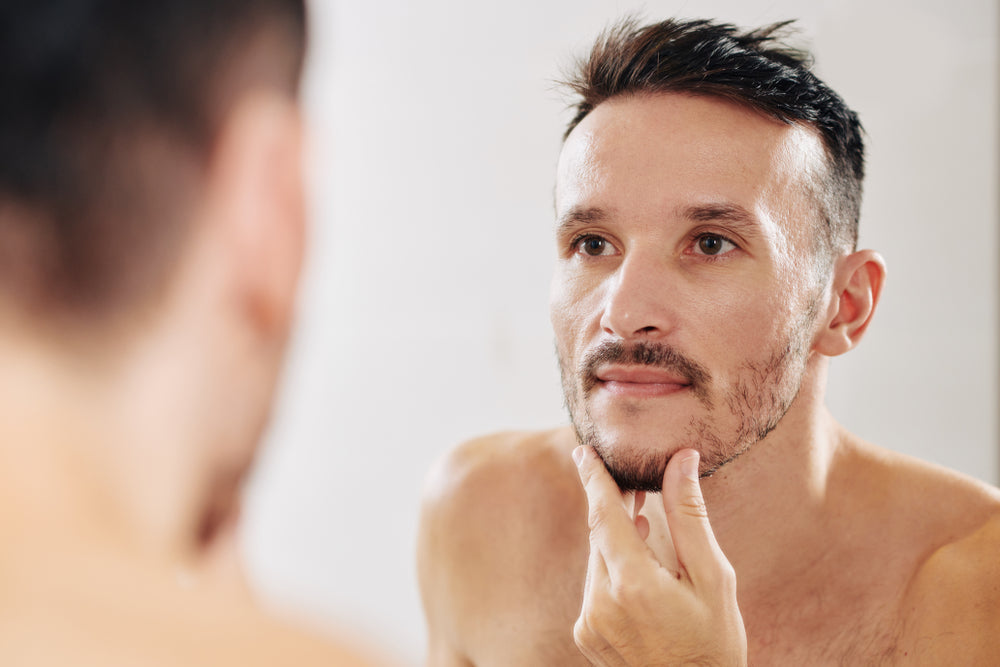 There's no way around it; some men just look good with a beard. But many will never know if they fall into that category because their facial hair comes in patchy or spotty.
It can be frustrating when you want a new look. Many men resign themselves to shaving every day to avoid looks. But there are methods to grow thicker, fuller facial hair so that you can look your most rugged. 
Why is My Beard Growing So Slow? 
Patience is a virtue. No one gets a full, luscious beard overnight. You have to be willing to go through the various stages of beard growth to see results. 
However, certain lifestyle habits can inhibit growth and make it slower than you want. These factors include:
Poor diet

Vitamin deficiencies

Low hormone levels

Genetics
Some men may receive slow growth due to being too aggressive with their beards. If you comb or apply beard balm, you always want to be gentle with that area. 
8 Ways to Grow Your Beard Faster
As such, there are certain habits you can commit to in order to get a thicker beard sooner. None of these are guaranteed to work, but they're certainly worth a try before you give up. 
8. Commit to Growing a Beard
First and foremost, you want to be certain growing a beard is what you want. If you're debating whether to shave or not, opt for the latter.
You need to give your beard a solid couple of months to grow in. Try to settle on a time when you don't really have anything coming up where you would be embarrassed to show off a beard-in-progress.
7. Include Protein and Vegetables in Your Diet
The hairs on your body are made of protein. Therefore, it makes sense that adding protein to your diet would aid in hair growth all over, including your beard.
You also want to ensure you eat plenty of vegetables. B vitamins, in particular, are optimal for hair growth, and you can find those in asparagus, broccoli, green peas, and more.
6. Reduce Stress
Stress makes it tough for your body to produce testosterone. It's important to take it easy and relax when possible. 
Additionally, stress can lead to poor habits, such as a bad diet. Some men even pick at their beards, pulling out strands, when they feel stressed. 
5. Get Proper Rest
Getting a good night's sleep is also important for regulating your testosterone levels. Sleeping gives your body the opportunity to regenerate testosterone, so make sure you get between seven and eight hours of sleep nightly. 
4. Wash Your Face Twice a Day
Every man should have a solid face care regimen. Ideally, yours involves moisturizing and exfoliation that you do once in the morning and once before bed. 
This takes care of the skin underneath your beard because when you have healthy skin, you can grow healthy hair. 
3. Utilize Products to Take Care of Your Beard
Many products are made to give you a fuller beard, including beard balm and oil. You should seriously consider incorporating these into your skincare regimen so that your facial hair receives even more nutrients to grow big and strong.
2. Massage Your Face Twice a Day
You've probably heard that you should avoid touching your face as your hands can transfer dirt and bacteria to your pores. Well, once you clean your hands, you should make sure to massage your face twice a day for at least two minutes each time.
For added benefit, massage in essential oils, preferably those containing eucalyptus or amla extracts. 
1. Start Exercising More
Exercise can help bring down your stress levels, and it boosts your levels of testosterone. It also aids with blood flow and allows nutrients to reach your facial hair follicles.
Final Thoughts
A lot of men may consider resorting to a hair transplant to grow in a beard. This should only be used as a last resort. Before you even think about it, try the above steps.
You may be amazed at the results. Plus, eating right and exercising is good for more than just your facial hair. 
References:
Hurly, Adam. "Here's How Stress Affects Your Appearance." GQ, 29 Apr. 2022. https://www.gq.com/story/stress-affects-your-appearance
Hurly, Adam. "The Best Beard Balm Will Soften Rough Scruff." GQ, 26 Oct. 2021. https://www.gq.com/story/best-beard-balm