How to Get Rid of Razor Burn: 7, Fast Ways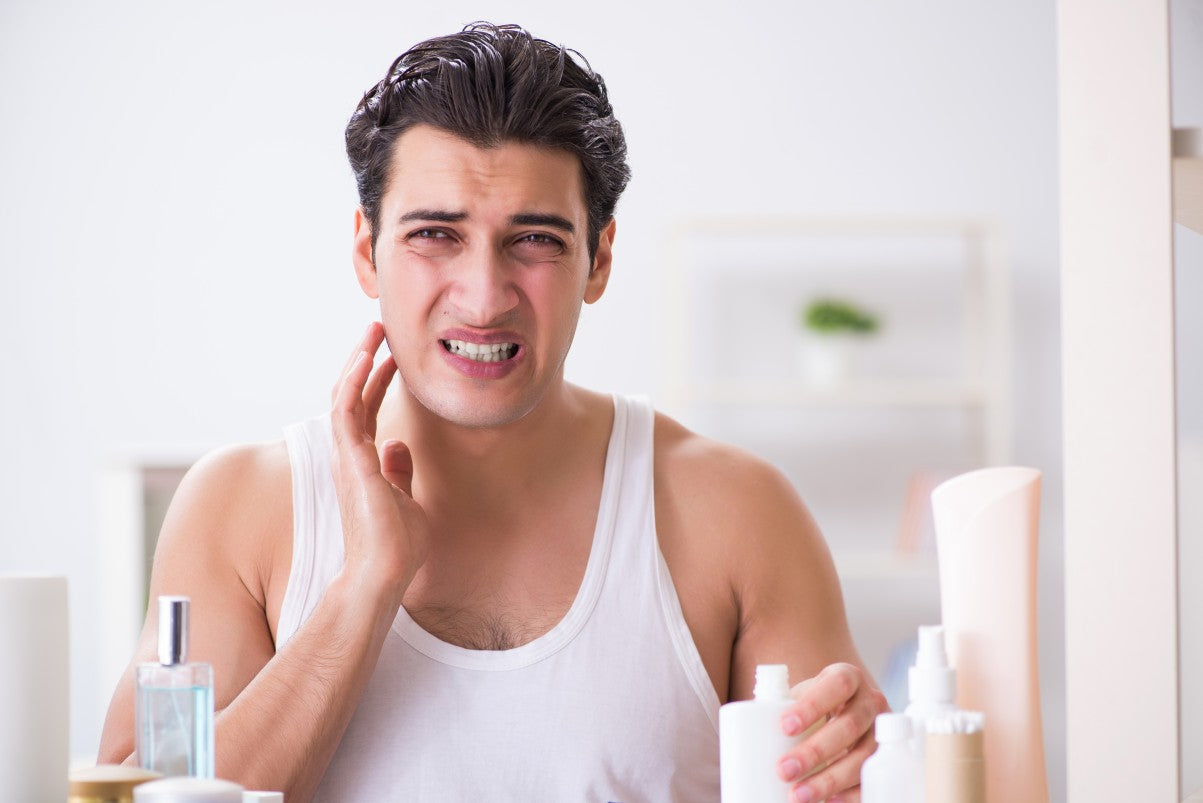 Razor burns lead to redness, scabs, and irritation. While this condition tends to clear up on its own within a few days, you may not be able to wait that long. Luckily, there are some quick solutions for getting more immediate relief. 
What Causes Razor Burn?
Credit: Tend Skin
Razor burn occurs when there's an irritation while shaving. Most often, it occurs where there's inadequate moisture between the skin and the blade.
Other times, it's a result of using too dull of a blade to shave. Razor burn can occur on the legs, arms, face, and anywhere else you may need to get rid of unsightly hairs.
Getting Rid of Razor Burn
There's no one-size-fits-all solution for eliminating razor burn. However, some research exists that suggests the following substances can do a lot of good. 
1. Aloe Vera
Aloe vera is famous for its soothing, healing properties. It's even come in handy for the treatment of first- and second-degree burns. Fortunately, you can find aloe vera-based gels in most pharmacies. You just apply a small amount over the affected area and what for it to get to work. 
2. Moisturizer
A good moisturizer should be part of everyone's skincare regimen. Whether you're dealing with razor burn or creatine-induced dehydration, a solid moisturizer can vastly enhance the quality of your skin. Just apply it like you normally would while paying extra attention to the reddened area. 
3. Coconut Oil
You may already have coconut oil in your pantry for cooking, but it can also help immensely with certain burns. Many researchers believe it comes with antiseptic and anti-inflammatory properties. You just need a thin layer of the material over the burn. For ideal results, you should make sure you only apply organic coconut oil to the skin.
4. Tea Tree Oil
Another useful oil for treating razor burn is tea tree oil. This essential oil tends to be pretty strong, so you want to make sure you dilute it first before applying it to the skin. You could also try mixing it with coconut or sweet almond oil. 
5. Hold off From Shaving
Time heals all wounds. If you want the razor burn to go away more quickly, then you need to avoid shaving on the affected skin until it goes away. Continuing to shave, especially with a dull razor, will only make things worse. 
6. Apple Cider Vinegar
Apple cider vinegar is also a worthwhile treatment for many different types of burns and wounds. Again, this is a substance that tends to be strong, so you want to mix equal parts vinegar with water. From there, gently dab a cotton swab onto the mixture and then onto the skin. 
7. Oatmeal Bath
You may need to ask your mother about this one. For decades, oatmeal baths have been used to alleviate itching. For best results, mix oatmeal with yogurt and then just a dash of honey. While it sounds delicious, you need to avoid eating it. Instead, apply the paste over the skin and let it rest there for 30 minutes before washing it off. 
How to Prevent Razor Burn
Credit: Cremo
If all these sound like a lot of work, then your best bet is to avoid getting razor burn in the first place. You can do this by making sure your skin is adequate moisturized before shaving. Any lubricant, such as soap or shaving cream, will do the trick. You also want to shave in the direction of your hair and swap out your razor regularly. Remember, you don't need to shave too aggressively to remove hair. Gentle strides do the trick. 
However, in the event razor burn does develop, you have nothing to fear. You can cover up the redness in the same way you would a pimple if you're concerned about your appearance. Otherwise, you just have to give your skin time to heal. 
References:
Everything You Need to Know About Razor Burn. Healthline, 17 Jan. 2017. https://www.healthline.com/health/beauty-skin-care/razor-burn
Maenthaisong, R., Chaiyakunapruk, N., Niruntraporn, S., & Kongkaew, C. The efficacy of aloe vera for burn wound healing: A systematic review. Sept. 2007 Burns, 33(6), 713-718. burnsjournal.com/article/S0305-4179(06)00702-9/abstract
Srivastava, P., & Durgaprasad, S. (2008, August). Burn wound healing property of Cocos nucifera: An appraisal. Aug. 2008. Indian Journal of Pharmacology, 40(4), 144-146
ncbi.nlm.nih.gov/pmc/articles/PMC2792613/