How to Clean Your Razor in 5 Easy Steps | Shave Safely!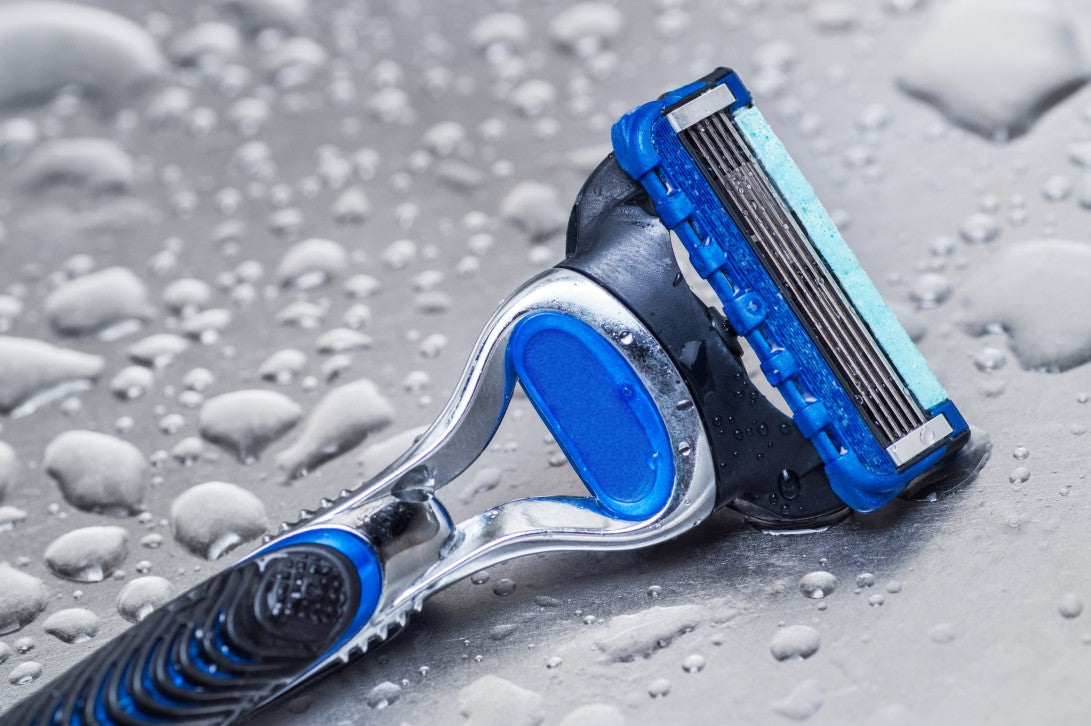 There are many ways shaving can go wrong. You can wind up with razor burn or accidentally cut yourself. It's paramount to understand the essentials of proper razor usage, including knowing when and how to clean your instrument.
When is it Time to Clean Your Razor?
You never want a razor to sit with grime and debris buildup. That's why it's critical to clean your razor before and after every single time you shave.
You don't need to do much. You basically just want to ensure you rinse the razor with warm water to remove hair and dead skin cells. Generally speaking, you don't need to rely on harsh soaps and detergents, but if you're really invested in making sure you don't bring bacteria onto your face, there are more advanced methods of cleaning a razor.
How to Clean Your Razor Routine: 5 Steps
For a clean, smooth shave every time, here are five steps to follow to prevent razor burn and bleeding from shaving.
Step 1: Rinse With Hot Water After Each Stroke
When you're in the middle of shaving, it's a good idea to have a hot water source readily accessible. After each individual stroke, you should place the razor underneath the water.
In case you have stubborn hairs that just won't get out, you can fill a container with warm water to swish the razor around in. After it's been submerged for a while, you can try shaking the strands loose.
Step 2: Disinfect the Razor With Rubbing Alcohol
For more thorough disinfecting, you can submerge the razor head into a container filled with rubbing alcohol. For best results, use a rubbing alcohol that's at least 70% pure.
Other acceptable alternatives include hydrogen peroxide and white vinegar. You only need to use this method seldom since warm water will generally get all the hair out, but it's good as a backup.
Step 3: Use Mixture to Eliminate Soap Scum
In the event you shave while you shower, soap scum may build up on the razor. Use a solution of rubbing alcohol to remove the debris. It's good to leave it in the solution for between five and 10 minutes to ensure grime has time to break down.
Step 4: Store Your Blade Upright in a Dry Place
After any kind of soak, you should store your blade in an upright position. Fortunately, rubbing alcohol evaporates fairly quickly, so you shouldn't have to leave it standing for very long. 
If you share a bathroom with someone, it's critical to store the blade in an area that won't result in an accident. And don't worry about rust. Alcohol actually prevents rust from forming on the metal of the blades.
Step 5: Replace Blades Every 2-3 Weeks
If you use the same blade for a prolonged period of time, it's a good idea to soak it once a week. In general, and if you're able to, you should replace the blade regardless once every two to three weeks. Nothing beats a fresh shave with a new razor, anyway.
However, your blade may last longer depending on the frequency by which you shave. For example, if you only shave twice a week or so, you should be able to get away with replacing the blade once every four to six weeks. If that's the case, it's all the more important to soak your blade weekly.
PSA: Never Share Razor Blades With Someone!
One final tip for staying safe and sanitary with razors, you never want to use someone else's used razor. 
You may find yourself in this position after spending the night at a friend's house and needing to freshen up. However, it's best to go out with a little stubble than use that razor.
The reason for this is that you have no idea when the last time someone else cleaned (or replaced) their razor. It vastly increases your risk of an infection or razor burn. So stay safe and use your own, clean razor at all times.
References:
Hurly, Adam. "How to Keep Your Razor Sharp and Clean for a Closer, More Comfortable Shave." GQ, 5 Jan. 2022. https://www.gq.com/story/stop-ruining-your-razor
Harvey-Jenner, Catriona. "The gross reason you should NEVER share a razor." Cosmopolitan, 4 Aug. 2016. https://www.cosmopolitan.com/uk/body/health/news/a45105/never-share-razors-why/