How to Stop Bleeding From Shaving | Tips for Cuts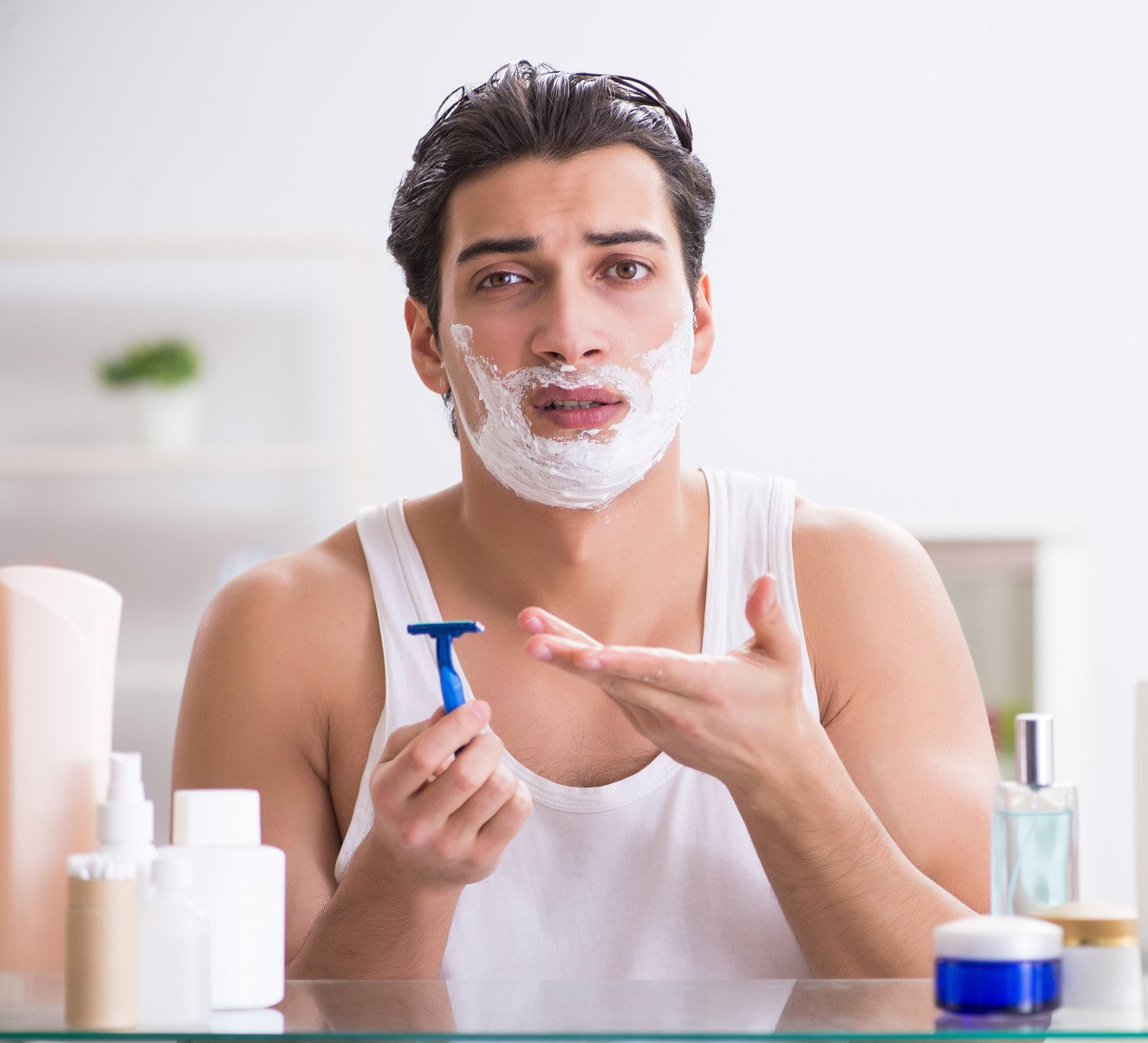 Whether you're a novice at shaving or you're a shaving guru with years of experience under your belt, we all nick ourselves with our razors.
It could happen for various reasons: maybe you were in a rush or you might have scraped a razor bump on your face
Either way, it can be both painful and annoying when you nick yourself!
Whatever it is, if you've cut yourself while shaving, you probably want to know how to take care of it ASAP.
Worry not!
We've done the research so you don't have to: here are the 5 best ways to stop a shave cut from bleeding! (And no, none of these involve using toilet paper.) 

Credit: Wikipedia
1. Use Aftershave for Your Shaving
If you have some aftershave on hand, dab a little bit on your skin to stop the bleeding.
Aftershaves with alcohol or witch hazel work as astringents, which means that it'll slow the bleeding by constricting the blood vessels.
If it has alcohol in it, the aftershave will also work as an antiseptic and help to prevent infections.
(That said, make sure to not use too much to avoid that stinging sensation.) 
Best of all, you'll smell great thanks to the aftershave! 
2. Use Lip Balm
Yes, we know what you're thinking.
Why would you use lip balm to stop bleeding from a shaving cut?
Due to its waxy nature, using lip balm will work as a sealant for the blood, stopping it from gushing.
You can also use Vaseline in a pinch, as it'll also work as an adhesive, while also helping to prevent scabbing!
3. Use Deodorant to Prevent Bleeding after Shaving
In a pinch, your deodorant or antiperspirant will do the trick to stop bleeding when shaving!
Since many deodorants have aluminum in them, they work to constrict your blood vessels, slowing down the bleeding.
Before using it, check the label to see if there's an aluminum in it, then put a touch of deodorant on your finger and apply to your cut. 
Another option would be to use an alum block if you prefer shaving old-school style.
Since it's made almost entirely out of aluminum potassium sulfate (what you'd find in a styptic pencil), this is one of the best options available to stop the bleeding (and you can use it on your whole face, too!) 
4. Apply a Tea Bag or Coffee
Yes, a tea bag or coffee can be used if you cut yourself while shaving.
Since tea has tannic acid in it, which works as a vasoconstrictor, it'll make the blood vessels constrict.
Just grab a tea bag, moisten it a little bit, and apply to your skin for a few minutes!
Only have some coffee?
Dip your finger in some ground coffee and apply it to your shaving nick! 
5. Use Ice Cubes
This is probably one shaving hack you might be more familiar with, if you've ever had a sports injury.
By applying an ice cube to your shaving nick, you'll constrict the blood vessels due to the cold.
If you don't want to place the ice cube directly onto your cut, just wrap it in a dry cloth and then apply for a few seconds.
Why do Shaving Cuts Bleed More? 
Credit: NBC News
Ever wondered why the seemingly tiniest of nicks makes you bleed like crazy?
It's actually quite simple: you have a lot of blood vessels and capillaries close to your face's surface, so a small cut will bleed significantly more.
Plus, having a sharp razor doesn't help either: a clean cut isn't what your body is used to, which makes it harder to form scabs like it would from a normal scab. 
Final Thoughts
Even though avoiding shaving cuts is inevitable, knowing how to to stop the bleeding from shaving is crucial.
This will make it easier to handle your next nick.
Armed with a proper skincare routine to help reduce acne bumps on your face,  you're well on your way for fewer shaving accidents. Good luck! 
Wolff, H. H., & Kieser, M. (2007). Hamamelis in children with skin disorders and skin injuries: results of an observational study. European journal of pediatrics, 166(9), 943–948. https://doi.org/10.1007/s00431-006-0363-1
Nouri, S., Sharif, M. R., Panahi, Y., Ghanei, M., & Jamali, B. (2015). Efficacy and safety of aluminum chloride in controlling external hemorrhage: an animal model study. Iranian Red Crescent medical journal, 17(3), e19714. https://doi.org/10.5812/ircmj.19714 
Stall, Lugansk. (2017). Understanding how a tea bag can assist with bleeding control after a dental extraction. Lugansk Stal.  http://luganskstal.com/2017/03/02/understanding-how-a-tea-bag-can-assist-with-bleeding-control-after-a-dental-extraction/