Does Drinking Chlorophyll Get Rid of Acne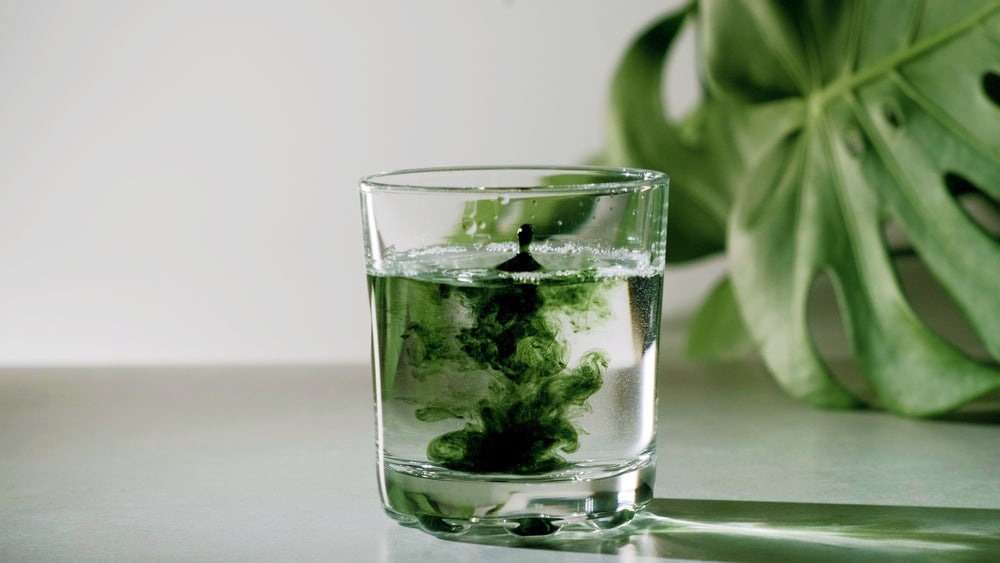 TikTok is a wondrous app. You can find people discussing almost any topic on the platform, from movies to celebrity gossip to skincare tips. 
One of the most viral trends to take off on #SkinTok involved people spouting the benefits of chlorophyll-infused water. They boasted how the concoction could provide users with clearer skin and reduced acne. 
Of course, when it comes to social media, it helps to take any advice with a grain of salt. So what do the experts really have to say about the benefits of chlorophyll? 
What is Chlorophyll?
Chlorophyll is the name of the green pigment plants use during photosynthesis. This is the reason why everyone's water on TikTok turns green when they add it to their water. 
In the event you try to buy chlorophyll as a supplement, you may see it labeled as chlorophyllin. This is the water-soluble form of chlorophyll that contains sodium and copper. Those minerals make it easier for your body to absorb it. 
No, we don't recommend eating whatever plants you have in your yard to help with acne. 
Chlorophyll and Acne
Chlorophyll contains anti-inflammatory properties. This is the big reason why so many TikTokers believe it can help with acne. 
Ultimately, acne is an inflammation of the skin. It results from dirt, debris, and bacteria getting caught in your pores, and your skin's sebum seals it off. 
Over time, the pores become inflamed, and that's why you have little red bumps sprouting up everywhere. So can chlorophyll aid with acne?
Can Drinking Chlorophyll Get Rid of Acne?
As of right now, there's no data to suggest that chlorophyll gets rid of acne. It is not FDA-approved for that treatment, so you should proceed with caution before adding chlorophyll to your water. 
But what about what everyone on TikTok is saying about what it does for your skin? The explanation here could be a correlation, not causation. 
As a result of the chlorophyll trend, people are drinking more water. In general, drinking water helps with acne and your skin, in general, due to washing away impurities. People noticing clearer skin after drinking chlorophyll-infused water may have more to do with the water than the chlorophyll. 
In fact, consuming chlorophyll in such quantities could actually lead to more harm than good. In rare cases, consuming an excessive amount of liquid chlorophyll can lead to a condition known as "pseudoporphyria." 
This is a blistering rash that forms upon exposure to sunlight. While it's a low risk, it's still there. 
All the chlorophyll your body truly needs should come from the vegetables you eat. Make sure to eat plenty of leafy greens, and you should be fine. 
What to Do Instead
There are plenty of steps you can take if you're prone to acne. For most people, it's a manageable condition, so here's what you should do if you have zits that just won't go away. 
First and foremost, you need to be cognizant of your testosterone levels. Acne tends to form during hormone fluctuations, which may occur as a result of taking certain medications. 
Additionally, you can boost your body's levels of testosterone by exercising regularly and getting sufficient sleep every night. 
Stress can exacerbate acne. If you find yourself taking on more than you can handle, find ways to lighten the load. And make sure to take time out of every day to focus on your mental health and enjoy an activity you love.
As a final tip, make sure you apply plenty of sunscreen before you go outside. Direct exposure to UV rays can worsen any redness and make acne appear worse. 
References:
Gutierrez, Talia. "Can Drinking Liquid Chlorophyll Clear Up Acne Like the TikTok Trend Claims?" Allure, 28 Apr. 2021. https://www.allure.com/story/tiktok-drinking-liquid-chlorophyll-skin-care-benefits
Lopez, Canela. "TikTok users insist chlorophyll water is healing their acne, but a dermatologist says it's no more effective than plain water."
Insider
, 22 Apr. 2021.
https://www.insider.com/tiktok-trend-claims-drinking-chlorophyll-water-heals-acne-2021-4