Dark Circles Under Eyes for Men | Causes and Treatments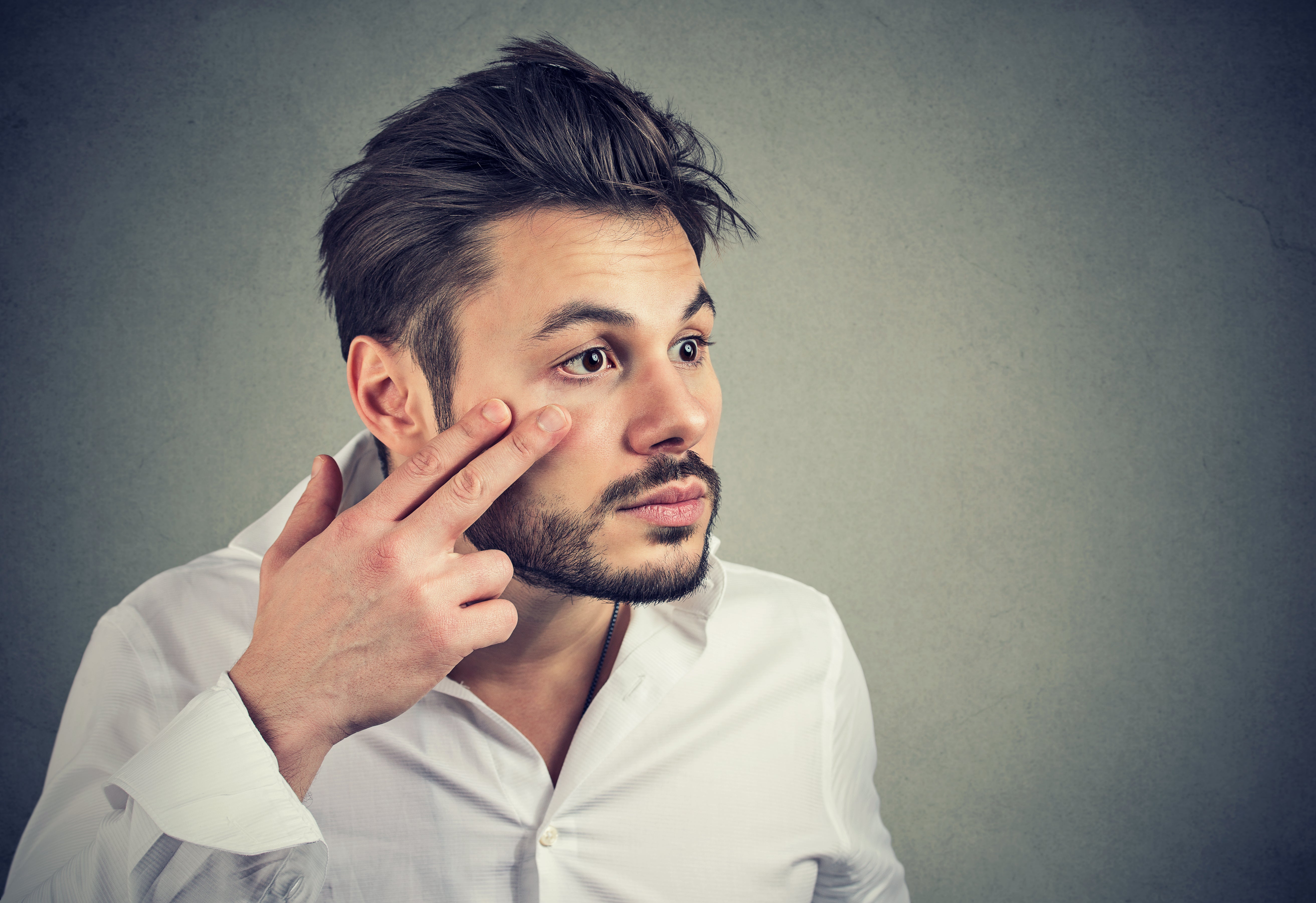 We know how it feels to wake up, get ready, and then look into the mirror only to see those big dark circles cascading under your eyes.
No one wants to look like a zombie to start the day!
Dark circles under the eyes is an issue that plagues thousands of men around the world every day. 
Luckily, dark circles under eyes for men is more of a cosmetics issue and usually never turns out to be a health problem.
As one of the leading providers for men's skincare products, Stryx's goal is to help your skin look healthier, which is why we're going to tackle the issue of dark circles under eyes for men.
Let's get started! 
What Causes Dark Circles Under Eyes for Men?
Credit: Skincare
A common belief is that dark circles are caused by a lack of sleep, which is true. However, there are many other outside variables which can cause men to have dark circles under their eyes. Let's go over the most common causes for dark circles. 
Lack of Sleep
Lack of sleep is a widely common cause of dark circles. If you even stay up two hours past your usual bedtime, you can become sleep-deprived. Sleep-deprivation causes your skin to become pale, allowing for tissue and blood vessels to show from underneath.
Another side effect of lack of sleep is puffy eyelids. When you're sleep-deprived, fluids can build up underneath your eyes, causing them to be puffier than normal. These puffy eyelids can cast a shadow which gives the appearance of dark circles. 
Allergies
Allergies are also a common trigger for dark circles, mainly because of their production of histamines. When you have an allergic reaction, your body produces histamines to fight off any harmful bacteria. 
Histamines can cause blood vessels to dilate, making them more visible beneath the skin. They can also cause puffy eyelids which, as we mentioned beforehand, can cause those pesky shadows that appear beneath your eyes. 
Another indirect method through which allergies might cause dark circles under the eyes is through other symptoms caused by your allergies. Allergies can make you extremely prone to itching which, in turn, can cause inflammation and swelling. Both inflammation and swelling can cause dark circles under your eyes. 
Eye Strain
Eye strain is exactly what it sounds like. When you look at your computer, phone, or any other electronic screen for too long, your eyes become strained. This strain can enlarge blood vessels around your eyes and as result, the skin surrounding your eyes will begin to darken. 
The Natural Aging Process
One cause that is difficult to treat medically is the natural aging process. As we age, our skin becomes thinner and this allows the blood vessels underneath your eyes to show themselves since your skin is losing both collagen and fat. 
Unfortunately, this process is one that is pretty difficult to treat medically since as you age, your skin will start to thin, whether you like it or not. Fortunately, you can still hide your dark circles through a concealer. 
Heredity/Genetics
Another cause that is difficult to treat medically are genetics. Family history can play a part in your skin's level of pigmentation. This means that dark circles under your eyes can worsen as you age or they can slowly disappear. 
Dehydration
Dehydration is also another common culprit when it comes to dark circles. Since the skin around your eyes has a close proximity to the underlying bone, a lack of water can cause the skin around that area to look dull and thin. This can make blood vessels more visible from underneath the skin, causing the dark circles to appear. 
Home Treatments for Dark Circles Under Eyes
Now that we've looked at the causes for dark circles under the eyes for men, let's take a look at some of the home treatments that can help you treat dark circles under the eyes. We personally are fans of home remedies for dark circles under eyes since they're simple, easy to do, and can save you money.
Rather than going to a doctor and getting medication for your dark circles, something as simple as using a concealer in the morning can help you quickly cure this condition
Use a Concealer
This is by far the quickest way to help treat dark circles under the eyes. While they do not directly cure dark circles under the eyes, concealers help you hide those pesky circles within minutes.
Concealers can cover the dark marks on your skin and help them properly blend in with your skin color. Stryx currently offers a concealer pen which can easily and quickly cover your dark circles within minutes so that you can look refreshed and ready to take on the day.
When using a concealer, make sure to only apply the necessary amount. We recommend patting on a thin layer and then gently rubbing the concealer back and forth until it's formed a layer over the dark circles.
P.S., you can also use concealer to cover any moles or pimples that you might have on your face. 
Apply a Cold Compress to Your Face
As we've mentioned before, your dark circles might be the result of expanded blood vessels and dark tissue. Using a cold compress and applying it to your face can help shrink blood vessels and reduce inflammation, thus reducing your dark circles.
All you need to do is simply grab a towel or washcloth and dampen it with cold water. Then, apply it over the skin under your eyes for about 20-30 minutes. If the towel or washcloth becomes warm, then rewash in cold water before reapplying.
Over time, this should help reduce the number of dark circles underneath your eyes. However, like most home remedies, this is only a temporary fix so be sure to stick to a daily regimen to ensure that those buggers stay away! 
Get More Sleep
This is the simplest and most straightforward way to deal with dark circles. While lack of sleep usually doesn't directly cause dark circles under eyes, it can contribute to it since lack of sleep can result in paler skin.
By getting the proper amount of sleep each night, you can prevent dark circles from appearing since your skin won't be as pale. It also improves your overall health and keeps you refreshed for the day!
Cold Tea Bags
Another great option is cold tea bags. Cold tea bags contain two critical components that help improve your appearance: caffeine and antioxidants. Both of these help shrink blood vessels, improve blood circulation, and reduce discoloration present within your skin.
All you need to do is soak two tea bags, green or black preferably, in hot water for five minutes. Then, after they're finished, let them chill in the fridge for 15-20 minutes before applying to the skin underneath your eyes for intervals of 10-20 minutes. Once you're finished, rinse your eyes with water.
If you already have used tea bags, you can skip the curation process and simply throw it in the fridge to chill for 15-20 minutes. Then, you can begin the application process.
Medical Treatments for Dark Circles Under Eyes
Credit: Forbes
Medical treatment for dark circles under eyes is also another road that you can take if you'd like to replenish your skin.  However, since dark circles under eyes are mainly a cosmetics issue, we recommend that you make sure you're absolutely sure you want medical treatment for your dark circles before moving forward with a procedure. 
Furthermore, medical treatment should be done through the consultation of a board-certified doctor. If you decide to go about treatment by yourself, you risk unwanted side effects that could be more damaging than dark circles under your eyes. 
Plastic Surgery
Believe it or not, you can actually get plastic surgery for dark circles under your eyes. If you're looking to get plastic surgery for your dark circles, you're going to be looking at a blepharoplasty. 
A blepharoplasty is a procedure in which a board-certified plastic surgeon removes excess skin and fat in the lower eyelid. This helps make dark circles disappear and gives the face a replenished look.
Blepharoplasty procedures are long-lasting, meaning that once the operation has been finished, your skin should no longer show any signs of dark circles given that you take care of your skin properly. 
Skin Lightening Creams
Skin-lightening creams help reduce under-eye pigmentation. These creams contain a variety of ingredients, such as azelaic acids, kojic acid, and hydroquinone, which help reduce the melanin in your skin when applied. 
If you're going to use skin-lightening creams, check with a board-certified dermatologist to see if one, you need skin-lightening cream and two, you need a specific brand of skin-lightening cream. 
Chemical Peels
Chemical peels are used to improve and soften the texture of your skin by removing the outermost layers of the skin. Your dermatologist might suggest this option as a way to help lighten your pigmentation. 
Check Out Our Other Articles We've Written: Does Smoking Weed Cause Acne? 
When Should You See a Doctor for Dark Circles? 
Credit: The Conversation
Dark circles aren't usually a medical problem. However, you should consult a doctor if your dark circles seem to get worse, especially if the dark circles seem to appear under only one eye and get worse over time.
You'll also want to see a doctor for dark circles if you're looking for a more permanent solution than a home remedy would provide. Before moving forward with any medical treatment, make sure to see what your dermatologist thinks is best for you. 
Difference Between Dark Circles Under Eyes and Under Eye Bags
Credit: VALEXTINO
What's the difference between dark circles under the eyes and under eye bags? The main difference is that dark circles under the eyes pertains to the darkening of the skin underneath the eye. Eyebags are characterized as swelling around the eyes. 
Furthermore, while dark circles under the eyes and under eye bags can be caused by some of the same things, under eye bags can be caused by other stimulants that dark circles are not stimulated by.
Final Thoughts
If you have dark circles under your eyes, don't worry! It's an entirely treatable condition and most men will experience it multiple times throughout their life. Here at Stryx, we've had our fair share of run-ins with dark circles so we know what you're going through.
If you're looking for a way to get rid of those dark circles, check out our concealer pen! We've helped thousands of men around the world cover their acne, blemishes, and dark circles. And with a satisfaction rating of 4.9/5 and a 99% recommendation rate, we leave our customers' skin looking refreshed and clean!
We'd love to hear your thoughts so shoot us something down in the comments below! Also, we'd love to hear how you're taking care of your skin so hit us up with your skincare journey. And if those dark circles are starting to show, choose from the many different remedies available to you so that you can keep your skin looking great! 
Check out our video below on dark circles for men below: 
References:
https://www.researchgate.net/publication/305741162_An_approach_to_dark_circles_under_the_eyes
https://www.mayoclinic.org/symptoms/dark-circles-under-eyes/basics/causes/sym-20050624?p=1
https://www.aao.org/eye-health/tips-prevention/bags-under-eyes