27 Best Man Gift Ideas for the Groom That He'll Love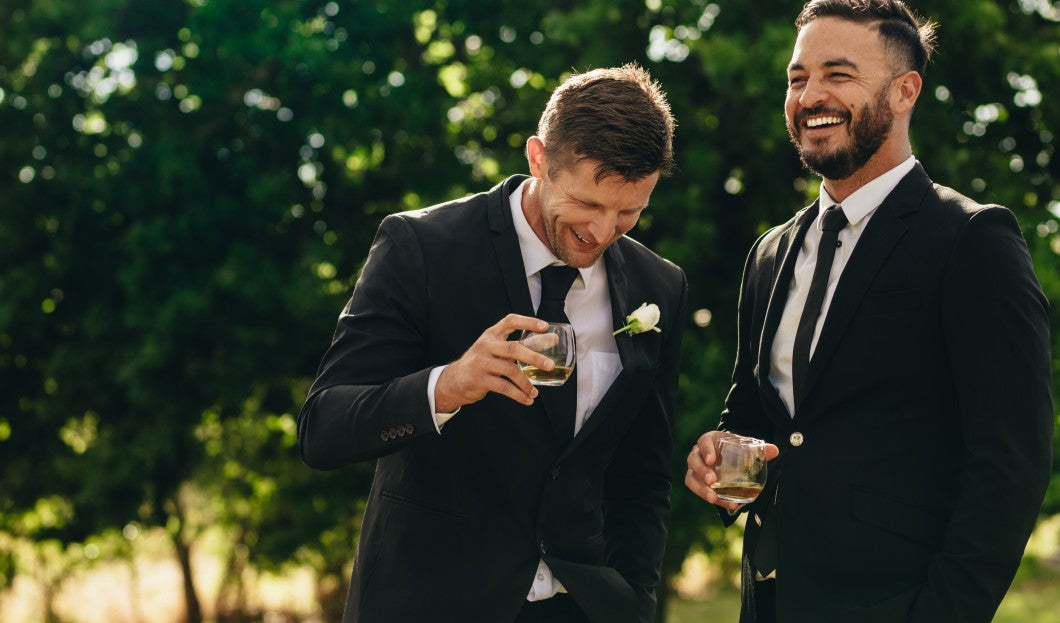 Whether you're the bride, the best man, or one of the groomsmen at the upcoming wedding, you can't forget to get the groom the perfect gift! 
Fortunately, we've curated a list of great wedding gift ideas for all budgets, tastes, and preferences, so keep reading for our top picks!
1. Beau Ties Vermont Wedding Ties
Has the groom not picked out his full outfit yet? The perfect accessory could be a wedding tie from Beau Ties of Vermont. 
2. Enemy Sunglasses
For the stylish grooms out there, Enemy Sunglasses are high-quality, premium sunglasses and \will probably make it easier for the groom to up his flirting game on his girl!
3. Anson Gift Set
Why give the groom one belt when you can get him a gift set with up to 6 possible belt combinations, and includes up to either 3 straps or buckles. 
4. Nice Laundry Apparel
With nice, you can truly personalize underwear, loungewear, or socks with unique icons, monograms, and more.
5. Fort Belvedere Wallet
These premium, timeless wallets are handmade and from top-quality leather, making it the perfect classic gift. 
6. Tani Pajamas
Why sleep in a ratty boxer full of holes? Tani Pajamas offers breathable, comfortable sleepwear, such as boxers, briefs, shirts, and tanks, all made out of environmentally friendly material. 
7. Stryx Skincare Starter Kit
Our brand was born whenever our founder couldn't find a good solution to his acne before his wedding day. Our skincare starter kit has everything a guy needs to start making their skin look great. 
8. Orient Watch
Boasting a wide range of unique and bold collections, Orient Watches have one-of-a-kind timepieces in all styles.
9. Jay Butler Loafers
Despite being traditional loafers, you can choose from many color and leather options to find a unique pair!
10. Boardroom Socks
Ideal for both professional and casual wear, these socks come in various lengths and sizes for the perfect match. 
11. Dapper Woodworks
Dapper Woodworks offers a wide range of made to order, stylish wood products, from belt racks to coat hooks to lapel pins--truly regal!
12. Stitch Golf Ultimate Garment Bag
Make sure the groom's equipped for weekend trips with this premium garment bag/duffle bag. With enough room for short trips, the bag can also be easily personalized for a unique touch. 
13. Slippers
Get the groom a nice pair of slippers to slip on at the end of the long day--Etsy offers many slippers, including sustainable, made-to-order, and unique material slippers. 
14. Barebones Hatchet
For the outdoorsy groomsmen, the woodsman tools from Barebones, like this hatchet, are perfect for chopping wood or for some outdoor games.
15. Seiko SKX007
As one of the most popular dive watches out there, these watches pack pristine craftsmanship and a gorgeous design, at all affordable prices, making them a great gift! 
16. Common Projects Sneakers
Looking for high-end, Italian sneakers? These are the sneakers you need, whether you want casual or stylish footwear.
17. Arturo Fuente Cigars
With a diverse range to choose from, at different price points, you can rest easy knowing you're opting for an excellent choice with this brand. 
18. Peter Millar Golf Polos
For the golfing groomsmen, or just for casual wear, opt for these timeless, iconic golf polos. 
19. Miansai Leather Bracelets
From leather to gold to silver, consider getting two pairs so both you and the groom have one each!
20. Personalized Poker Set
From customizing the chip, cards, or case, you've got plenty of options to make it unique! 
21. Glencairn Whiskey Glass
If the groom loves whisky, get him proper whisky glasses with a tapered mouth for a better drinking experience.
22. Airpods
For his commute, workouts, or just chilling, AirPods are a cool accessory to have on hand, even for the non-techies!
23. Smoky Mountain Beards Set
If the groom has a luscious beard, help him elevate his beard care routine with these all-natural beard sets that include oils, balms, and more. 
24. Tom Bihn Duffel Bag
A great alternative to backpacks, these roomy duffel bags are perfect for the groom to use on a romantic getaway he's planned to make his girlfriend smile.
25. Slim Clip Money Clip
Why use a bulky wallet when you can store your bills and cards with this money clip? 
26. YETI Rambler Tumbler Mug
Snag a reusable, vacuum insulated tumbler mug to keep your drinks as cold or hot as possible for hours on end!
27. Book of the Month Subscription
For the bookworms out there, this subscription is the best way to discover new reads with half the effort!
With a little bit of planning, you'll be able to get the groom the perfect gift that'll make not only him, but also his girl, appreciate the thought and effort you've put in.
And of course, don't forget to wish him the best and let him know you appreciate his friendship. 
Have fun!