How to Fix a Patchy Beard | 5 Proven Ways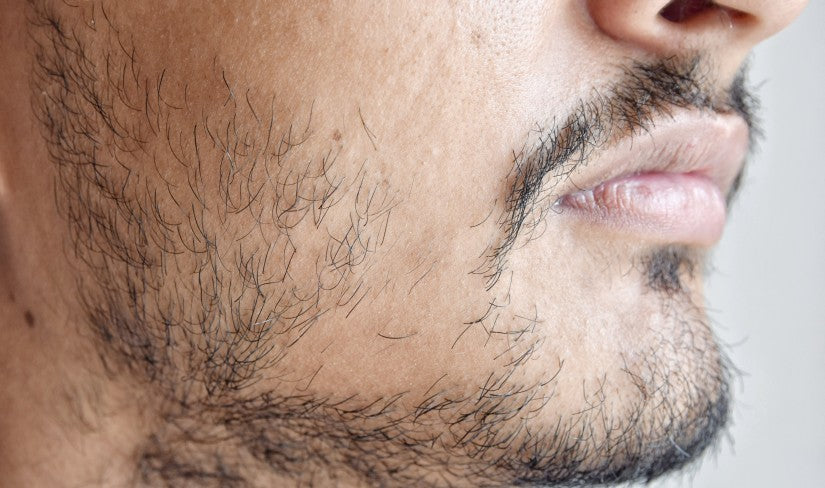 Every man who wants a beard wants it to look big and full. You want it nice and bushy so it looks like you just put in a hard day's work at the lumber yard.
Due to genetics of a litany of other issues, beards sometimes come in patchy even when they're in stage four. Luckily, you have some options in front of you.
Why Do You Have a Patchy Beard?
Credit: Patchy Beards
Some men are simply born with patchy beards, but they're most likely to develop either in puberty or old age. Other factors can include:
Poor diet

Stress

Fungal infection

Hormonal imbalances
In the event you're worried about any of these affecting your facial hair, you should speak with your doctor posthaste.
5 Ways to Fix Your Patchy Beard
First, it's important to debunk a persistent myth. Shaving doesn't make beards grow thicker. That's likely an old wives' tale, but don't let it deter you from shaving if you feel like it. 
Instead, if you want a thick, luscious beard, then you should try the following. 
Method One: Just Let Your Beard Grow
There are various stages to beard growth. The problem is that the exact timeline can vary from one guy to the next. 
Some men get a full beard within four to six weeks. Others take a bit longer. Before you attempt drastic measures, you should first try letting your beard grow without interruption. 
Before throwing in the towel, you should give it two months at the very least. If it's still patchy after several months, then you can look into other options. 
Method Two: Sleep, Exercise, and Don't Stress
You'd be amazed at how much your health can improve with a little more sleep. Ideally, you get seven to eight hours of rest nightly. 
Additionally, some men have trouble with their beards because they can't get enough blood to their cheeks. Staying active also keeps your testosterone levels high, and testosterone is a vital ingredient to prominent growth. 
Finally, stress can cause your body to get out of whack. Fortunately, you can decrease stress by sleeping and exercising more, regardless of what you do for work. It all helps. 
Method Three: Use a Beard Balm
Once your beard is long enough, you should try styling it with balm. It can help you better manage any stubborn strands while moving longer hairs over any empty spots. 
On top of that, balms often contain critical ingredients. The essential oils can further help with beard growth. 
Another short-term solution is using a beard gel. Beard gels help shape the beard how you want.
As a result, you can shape the beard so that it has a fuller appearance. 
If you like the sound of this, we made a beard gel for guys like you! Shape your patchy beard with our product today.
Method Four: Keep Your Beard Stubbly
In the event you just can't grow more of your beard but still want a rugged aesthetic, you should opt for a stubbly look. With a trimmer or electric shaver, you can keep a light perma-stubble.
This way the patchy spots won't be so noticeable. And if all else fails, you can try to dye it.
Method Five: Eat Foods That Help With Beard Growth
Your diet plays a crucial role in beard growth. For example, oysters contain selenium and zinc, which are critical components for your facial hair's health.
Other foods to try out include:
Alfafa sprouts

Broccoli

Coffee

Olive oil

Pomegranate juice
It's important to point out that if you're having trouble growing a beard in the first place, changing your diet won't magically make one appear. However, if you just need a boost in certain areas, these foods can help in a pinch. 
What Products Help With Fixing a Patchy Beard?
Credit: Beard Resource
Arguably the best product you can use on patchy beards is minoxidil. This is a substance you can purchase over-the-counter at most pharmacies. It's been scientifically proven to help with beard growth compared to a placebo. 
Peppermint oil has also been proven to have stellar results. Pills and foam products can also be found, but you want to do your research first. You don't want to end up putting a bunch of snake oil all over your face.
Naturally, some men will find they just want to shave the whole thing off if they can't get it to grow in right. It's entirely up to you and what makes you most comfortable. 
References:
Hurley, Adam. "How to Fix a Patchy Beard." GQ, Jun. 9, 2021. https://www.gq.com/story/how-to-fix-your-patchy-beard
Kuoppala, Ali. "10 Proven Ways to Fix Patchy Beard Fast & Easy (Guaranteed)." Nov. 24, 2020. https://www.beardresource.com/how-to-fix-patchy-beard/
Ingprasert S, Tanglertsampan C, Tangphianphan N, Reanmanee C. Efficacy and safety of minoxidil 3% lotion for beard enhancement: A randomized, double-masked, placebo-controlled study. J Dermatol. 2016 Aug;43(8):968-9. doi: 10.1111/1346-8138.13312. Epub 2016 Feb 19. PMID: 26893270. https://pubmed.ncbi.nlm.nih.gov/26893270/
Prasad AS, Mantzoros CS, Beck FW, Hess JW, Brewer GJ. Zinc status and serum testosterone levels of healthy adults. Nutrition. 1996 May;12(5):344-8. doi: 10.1016/s0899-9007(96)80058-x. PMID: 8875519. https://pubmed.ncbi.nlm.nih.gov/8875519/