Acne on Temple | Causes & How to Get Rid of It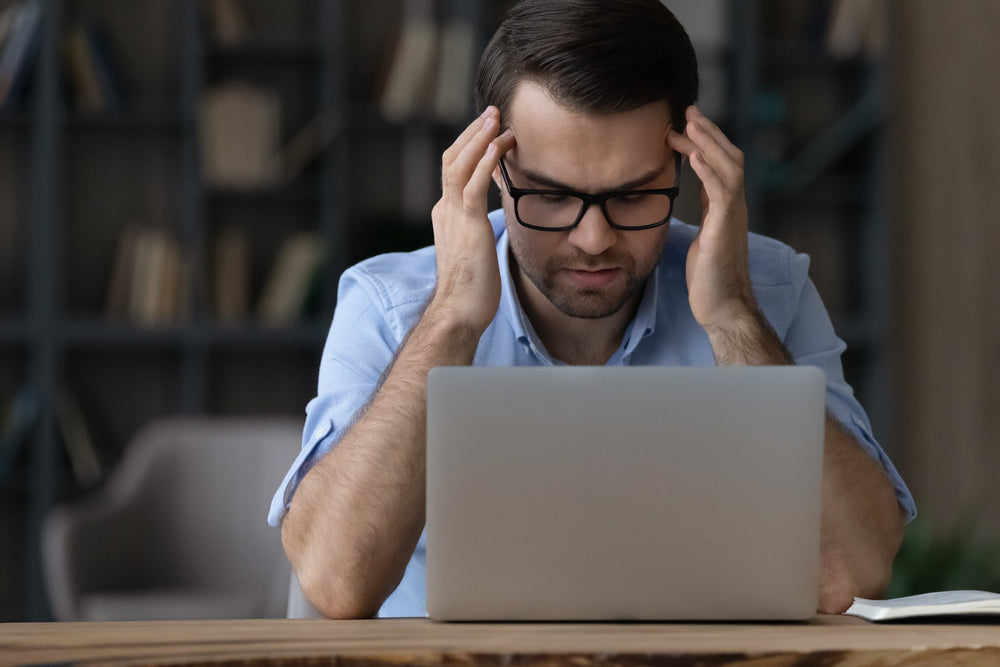 Pimples are likely to form anywhere on your body where sebum is produced. Sebum is an oil-like substance that traps debris like bacteria and dead skin cells in pores, resulting in inflammation.
Zits are prone to occur on the face, chest, and back, so paying attention to your whole body in case one crops up is critical. This includes your temples located on either side of your face.
What Causes Acne on Your Temples
There are several reasons why you might notice pimples beginning to form on your temples.
Changes in Hormone Levels
Hormonal fluctuations can cause your skin to produce more sebum than normal. This is why people tend to suffer from acne during puberty, pregnancy, and menopause when your levels of testosterone and estrogen may be out of whack. 
Cosmetics
Certain makeup products can cause more harm than good. This is due to them clogging pores and creating more debris to inflame your skin.
A handy trick for avoiding troublesome cosmetics is to see if it's labeled "non-comedogenic." This means it won't clog your pores as much. 
Sweating
Sweating can contribute to acne through a combination of heat and friction. All this put together can clog your pores, and on top of that, sweat can exacerbate acne-causing bacteria. 
Sweating becomes even more of a problem if you wear a headband as you exercise. The added friction can agitate the site and lead to redness in addition to zits. 
Genetics
At the end of the day, some people are simply more prone to developing acne around the temples due to their genes. If your parents or grandparents had pimples in that area, there's a good chance you will, too. 
How to Treat Acne on the Temple
Fortunately, acne on the temples isn't something you have to live with. There are several ways you can go about treating this condition so that you can go out and take pictures with confidence.
Check Your Head Products
First and foremost, you want to check any products you use on your head, scalp, and face to see if you're comedogenic. Additionally, certain ingredients can worsen acne, including:
Acrylates

Cyclopentasiloxane

Dimethicone

Oils

Quaternium-70

Panthenol

Petrolatum

PVP/DMAPA
Clean Your Headwear
There's nothing wrong with wearing a headband or hat every so often. But you want to make sure it's clean.
Putting on dirty headwear can bring troublesome bacteria to your temples, resulting in an acne outbreak. Also, when you remove the headwear, wash the part of your skin the item touched so that you remove any dirt or sweat.
Use a Regular Skincare Routine
It's a good idea to adopt a skincare regimen so that you regularly clean your face. To start, you want to wash your face gently with lukewarm water. 
If you're prone to acne breakouts, then start using an acne treatment medication. Plenty are over-the-counter, but you can talk to your dermatologist about getting one prescribed for serious cases.
You can apply an oil-free moisturizer to keep your skin's oil production balanced. Finally, don't forget to apply sunscreen every time you go outside. Even if the sun won't be out for long, you want to avoid UV rays wreaking havoc on your skin. 
Wash Your Pillowcase
A lot of people forget to wash their pillowcase often. However, it can become a breeding ground for bacteria if you're not careful. 
You should wash your pillowcase once a week to remove any bacteria, dirt, and makeup. And you should take care to remove makeup before going to bed. It will help keep your pillowcase clean so that you truly wake up feeling refreshed. 
References:
Sawyers, Tessa. "Acne on Your Temples." Healthline, 30 Aug. 2018. https://www.healthline.com/health/acne-on-temples
Sissons, Beth. "What to know about acne face maps."
Medical News Today
, 7 Aug. 2019.
https://www.medicalnewstoday.com/articles/325971