How to Prevent Acne from Shaving | 7 Easy Steps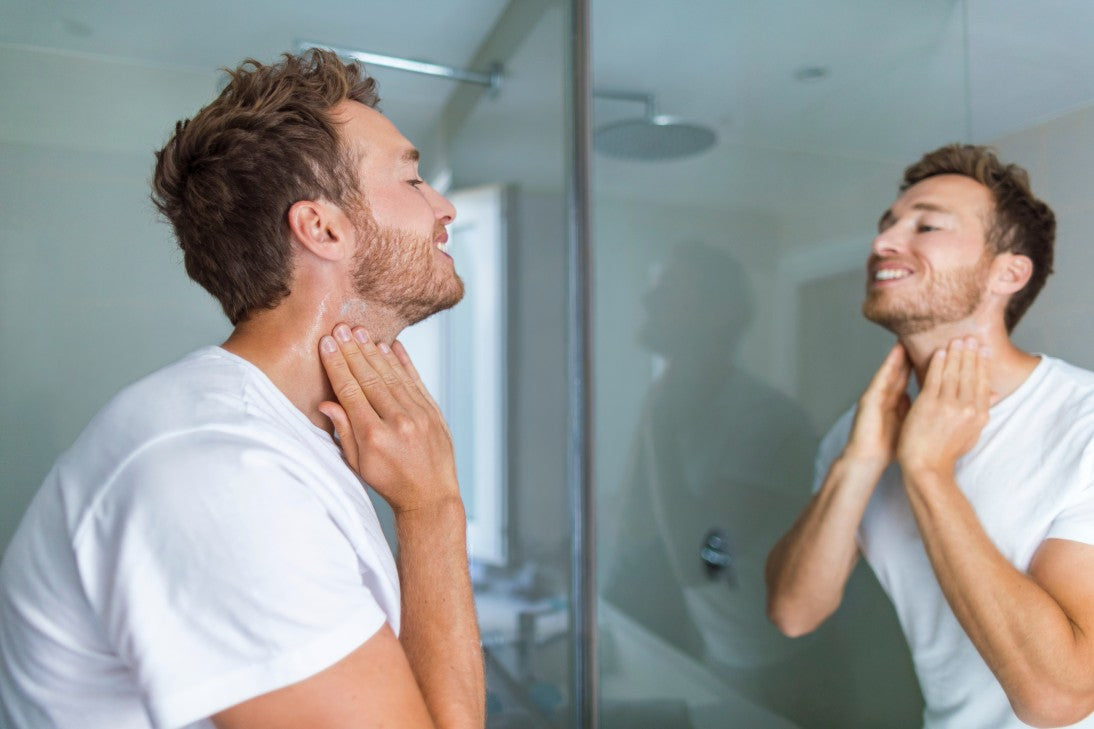 Many things can cause acne. Hormones and genetics are the most prevalent among them. But did you know that the way you shave could also increase your likelihood of breaking out in pimples?
Does Shaving Cause Acne?
Ultimately, shaving can result in acne. But it can also lead to a condition known as razor bumps. It's vital to make a differentiation between the two so that you know the proper treatment to pursue.
Acne vs. Razor Bumps
Acne transpires when the pores on your skin become clogged with oil, dead skin cells, and other debris. This can lead to several skin issues, including blackheads, but it can also lead to inflamed bumps on the skin known as pimples.
On the other hand, razor bumps occur when hair is cut and attempts to grow back. This is what's known as an ingrown hair, and it can irritate the follicles, resulting in swelling and redness. 
Why Shaving Might Cause Acne
Whether you shave before or after you shower, there are some common practices to abide by to reduce your chances of getting acne. Remember, acne forms when debris gets caught in the pores, so that's ultimately what you need to avoid. 
Poor shaving practices:

You always want to shave with the grain. Doing the opposite will tug at your hair, resulting in irritation.

Dull blades:

Replace your razor blade once every few weeks, depending on how often you shave. 

Not showering before your shave:

It's important to time your

skincare routine

properly. Taking a warm shower before you shave will open your pores, making it easier to take out those pesky hairs. 

Bar soap:

Regular soap is not meant for your face. It can dry out your skin excessively, priming you for an acne breakout. 
How to Avoid Acne or Pimples from Shaving
With some proper practices, you can greatly reduce your chances of finding some zits after shaving.
1. Replace Blades Regularly
In general, you should replace razor blades once every two to four weeks. If you need help remembering to swap them out, you can sign up for a subscription that sends you razors at a pre-set time every month. 
2. Have a Skincare Routine in Place
Shaving the right way is important, but it's also good to take other steps to protect your skin. 
If you don't do so already, you should establish a proper cleaning, moisturizing, and exfoliating regimen. Ideally, you'll use products that are void of any artificial fragrances that could dry out your skin excessively.
3. Use a Pre-Shave Oil
A good pre-shave oil not only reduces your chances of getting acne. It also limits your susceptibility to razor burn.
You should invest in a high-quality pre-shave oil that allows the blades to glide over your skin. Make sure to pick one with good, all-natural ingredients. 
4. Finish With a Shaving Gel or Foam
You should complete your shaving regimen with a shaving gel or foam that reduces irritation. It moisturizes your skin to offer more sufficient lubrication for next time, and you won't feel as itchy afterward. 
5. Use Aftershave
Aftershave soothes the skin. It also clears out your pores to reduce the chances of materials getting caught in there by oil later. 
6. Wash Your Face With Warm Water Beforehand
Warm water opens up your pores. Even if you don't shave before you shave, you should at least splash warm water on your face to prime your skin.
7. Wash Your Razor Often
Ideally, you'll wash your razor between each stroke. This prevents hairs and other debris from building up and spreading into your pores. 
Once you finish shaving, you should wash the razor thoroughly in warm water. If gunk is particularly bad, you may want to let it soak in either water or rubbing alcohol to loosen debris.
References:
Gallagher, Grace. "How To Shave Properly If You Have Acne." Healthline, 8 Jun. 2021. https://www.healthline.com/health/acne/shaving-with-acne
Palmer, Angela. "Shaving Tips for Acne Prone Skin." Very Well Health, 2 Nov. 2019. https://www.verywellhealth.com/shaving-with-pimples-15514