How to Get Rid of Razor Bumps | 8 Ways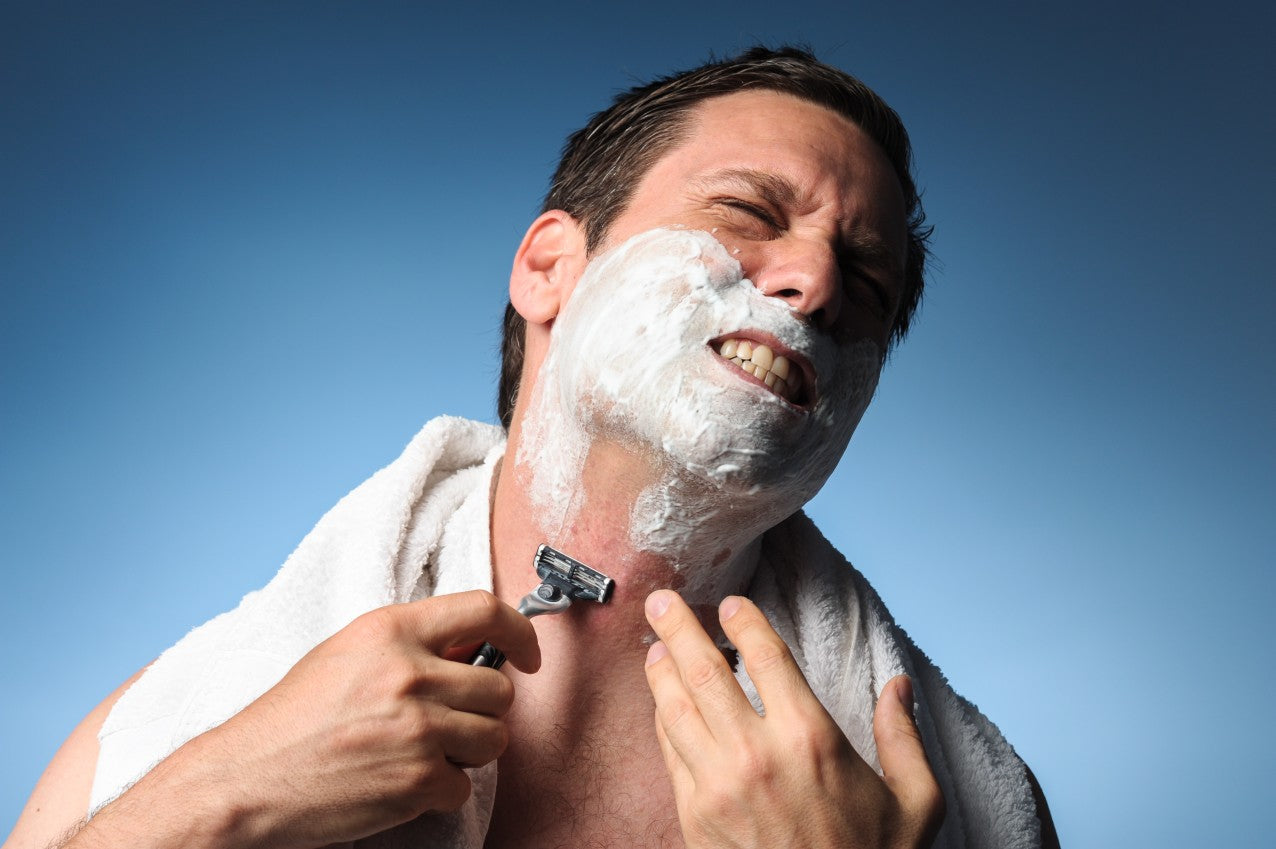 There's nothing like a quick shave to rejuvenate. However, that pleasant sensation quickly dissipates when you realize you have razor bumps across your face, legs, and/or arms. As one of the top providers for male skincare, we're going to teach you how to get rid of razor bumps.
What are Razor Bumps?
Razor bumps refer to ingrown hairs that develop after shaving. They're most often caused by the friction created by the razor blade and your skin, leading to red, inflamed spots around your body. Additional symptoms can include itching and pain around the sensitive site. 
How Should You Get Rid of Razor Bumps?
Razor bumps can be immensely irritating. Fortunately, they do tend to go away on their own after two or three weeks. If that's too long for your taste, then there are ways for you to reduce the irritation on your own or prevent the bumps in the first place. 
1. Moisturize the Area
Friction is most likely to occur if your skin and/or hair is dry. Before shaving, you should moisturize the area with water and shaving cream. You should also have an aftershave moisturizer handy for afterward. 
By using a moisturizer, you're essentially hydrating, softening, and protecting your skin. Moreover, you're also relieving any razor burn or razor bumps that might already be present from previous shaving experiences.
Make sure to use a moisturizer that is alcohol-free so as to prevent irritation. If your moisturizer is causing irritation or breakouts, stop using that moisturizer immediately and look for a substitute that is better for your skin. 
2. Use Aloe Vera for a Home Remedy
Aloe vera is known for its soothing capabilities. The plant greatly reduces inflammation, and you can reap the benefits by applying a gel directly to the irritated skin. The reason that aloe vera is so good for your skin is due to the fact that aloe vera contains antioxidants, Vitamin A and C, and different enzymes with anti-inflammatory capabilities.
Therefore, aloe vera is great for treating acne, scars, and even burns. If you're considering getting aloe vera, we recommend using a cleanser that has aloe vera so that you can reap maximum benefits when cleaning your face.
3. Apply a Cold Compress
In general, cold compresses are great for reducing itching. If you don't have an ice pack handy, then you can make your own. Run some cold water over a clean washcloth and then apply it to the affected area for 20 minutes at a time. 
4. Remove Ingrown Hairs
Ingrown hairs refer to strands that fail to grow out of the skin. Instead, they grow sideways, resulting in irritation. Follow these steps to get rid of them safely.
Wash the area thoroughly

Apply a wet, lukewarm washcloth to the area

Tease out the hair using sterilized tweezers

Grab the hair once it's exposed to remove it

Wash the area afterward
5. Don't Shave for a Few Days
Continuing to shave over razor bumps will only irritate them further. Try leaving the skin alone for a while until the redness goes away. If you find you're more prone to razor bumps and you shave every day, then you should cut it back to a few times every week. 
6. Apply a Warm Towel
For a preventive measure, apply a warm towel to your skin before shaving. The warmth should open up your pores, allowing hair to come through more easily. Opening your pores also allows for moisturizer to come through much easier while also relaxing the muscles around your eyes.
7. Change Your Razor Blades
Razor blades accumulate a lot of junk over repeated uses from oil to dead skin cells. Most razors you find today are only designed to last for five to seven uses. Any more than that and you need to throw it away. Failing to change your razor blades as often can result in too much bacteria building up on the blade, leading to inflammation. 
8. Use Coconut Oil
You can limit the severity of razor bumps by applying an all-natural oil to the area. While you have several options when it comes to this, including avocado and sweet almond oil, many experts suggest coconut oil. Any of these substances help reduce symptoms of burning, tenderness, and itchiness. Just make sure you use a product that doesn't contain any alcohol.
Best Tools for Razor Bumps
A simple way to reduce the prevalence of razor bumps is to merely take care of your skin. A tinted moisturizer is great for limiting inflammations of all kinds. However, if you do end up with a red bump, then you can at least hide it for the time being with a concealer. Razor bumps may be annoying, but with the right tools in your arsenal, they may soon become a problem of the past.  
References:
"Razor Bumps: Causes, Home Remedies, and Treatment." Healthline, 27 Sept. 2017. https://www.healthline.com/health/razor-bumps
"Nine ways to treat and prevent razor burn." Medical News Today, 5 July 2017. https://www.medicalnewstoday.com/articles/318235
"How Often Should You Change Your Razor?" Men's Health, 8 Feb. 2018. https://www.menshealth.com/uk/style/a759368/how-often-should-you-change-your-razor/