Eczema Around the Eyes: Causes, Treatments, & Prevention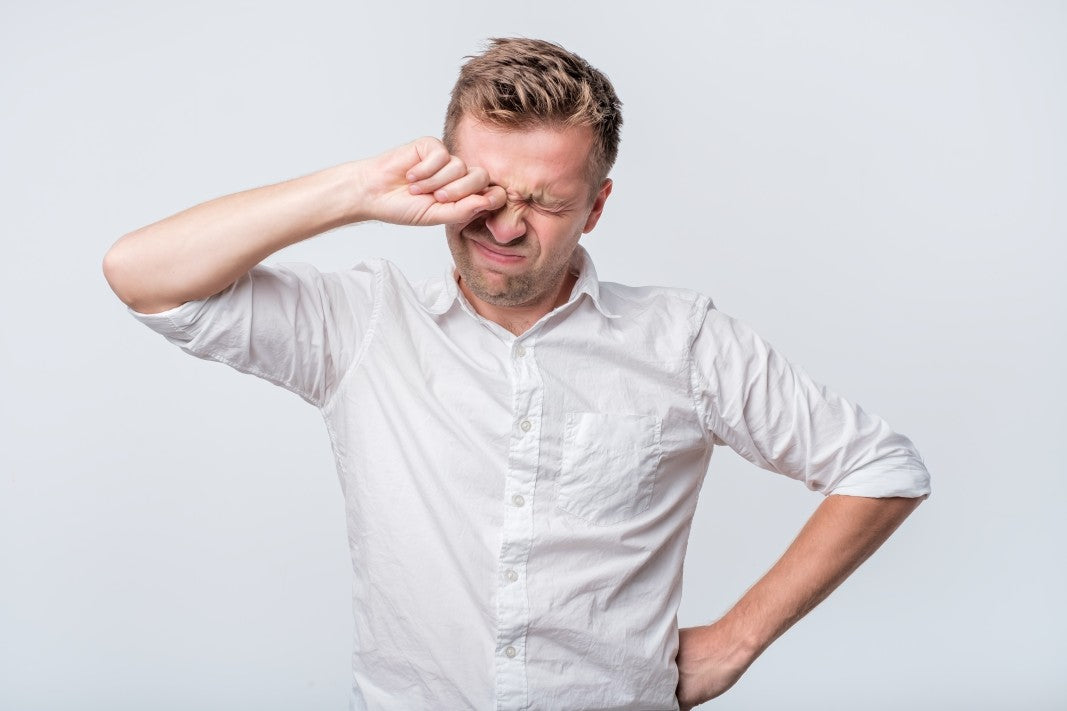 Eczema can be an uncomfortable skin condition. It can be downright painful if it materializes around the eyes, which is why it's critical to know how to combat it.
What is Eczema?
Eczema impacts millions of people in the United States. While it can take on many forms, it's most commonly categorized as rough, cracked patches of skin. 
It's not contagious, but it can form as a result of environmental factors. For some people, becoming exposed to certain fragrances, soaps, pollen, or smoke will lead to a breakout. For others, certain foods, most often dairy and nuts, can result in skin problems. 
You most often identify it by redness, itchiness, and bumpiness. However, there's a common misconception that eczema is a result of dry skin. While it's still a good idea to have a solid moisturizing regimen, doing more of it when you have eczema may not necessarily assist you.
Types of Eczema:
The symptoms of one's eczema are largely dependent on the type you possess. You can go to a dermatologist to get it confirmed for you, but you can form an educated guess by learning about the variations on your own.
Atopic
Atopic eczema is the most common variation you can find. It tends to be genetic, with most symptoms forming by the age of 5. While treatments are available, flare-ups tend to occur into adulthood. But you can aid yourself immensely by maintaining a solid skincare regimen.
Symptoms of atopic eczema usually include:
Reddish-brownish patches, particularly on the upper chest, neck, eyelids, hands, feet, ankles, and wrists

Small, raised bumps located on the skin

Increased sensitivity

Scaly or cracked skin
Contact
Contact eczema has many of the same symptoms as atopic. However, you don't break out as a result of a genetic condition. It only forms when you come into direct contact with something and have an allergic reaction to it. 
The best way to avoid and treat this form is to avoid the substance. You may need to schedule an appointment with an allergist to get tested for what you're sensitive to.
Seborrheic
Seborrheic eczema only impacts your scalp. It results in scaly patches and dandruff that just won't go away. While it's typically associated with the scalp, it can also form elsewhere on the body, particularly the face, eyelids, eyebrows, nose, ears, and chest.
Seborrheic eczema generally goes away without treatment. In the interim, you should clean the area thoroughly to remove any excess oil and dead skin cells. 
Causes and Symptoms of Eczema
In addition to genetics and allergies, there are various other ways eczema can form. For example, you could have breakouts as a result of an issue within your immune system.
You could also have an endocrine disorder, such as thyroid disease. Certain activities can increase your odds of breaking out, including exercise. You should still work up a sweat, but make sure you thoroughly wash afterward. It helps remove all the sweat and oil on top of your skin.
How to Treat Eczema 
Credit: Prevention

There's no cure for eczema. If you were born with it, you'll always have it, but breakouts can become milder with a good skincare routine.
For anyone who tends to develop scaly, flaky skin, there are steps to take for clearer skin. You may want to consider:
Moisturizing daily

Using a humidifier when the weather gets too dry

Taking lukewarm baths instead of hot ones

Avoiding tight-fitting clothing

Air drying after a shower

Learning and staying clear of your eczema triggers

Using a mild soap free of chemicals

Keeping your fingernails short so that you don't scratch yourself too hard
With a few simple steps, eczema can be entirely manageable.
References:
McIntosh, James. "What to know about eczema." Medical News Today, 21 Jul. 2021. https://www.medicalnewstoday.com/articles/14417
Saling, Joseph. "Eczema Causes." WebMD, 22 Jun. 2021. https://www.webmd.com/skin-problems-and-treatments/eczema/eczema-causes