Does Putting Toothpaste On Acne Work? Myths Debunked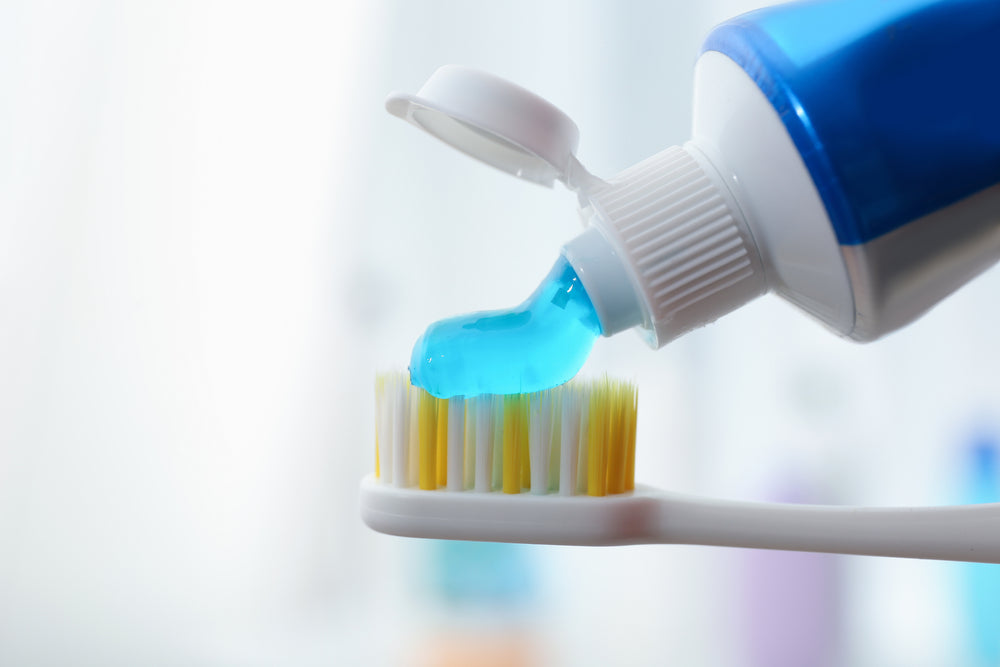 Acne is a troublesome skin problem. As such, it's only natural for a litany of old wives' tales to form around the pesky pustules. 
One such remedy many people swear by involves applying a bit of toothpaste to a pimple can make it go away faster. But is there any truth to the legend, or is it merely a myth?
Toothpaste and Acne
For generations, rumors have circulated that you could get rid of acne by dabbing a bit of toothpaste on the spot. It was believed this was due to toothpaste's inclusion of triclosan, which many thought eliminated acne-causing bacteria.
However, triclosan also had side effects. The good news is that many toothpastes made these days no longer contain triclosan, but what about other ingredients?
Ingredients in Toothpaste
Many toothpaste formulas vary, but you should generally be able to find the following in most name-brand items.
Baking Soda
Baking soda is an alkaline material that can help neutralize acidic substances. Additionally, it contains anti-inflammatory properties, which is why many people use it to treat rashes and bug bites.
Hydrogen Peroxide
Hydrogen peroxide exists in many toothpastes as well as other over-the-counter remedies. It's an antiseptic and bleaching agent that can kill bacteria on the skin and dry up sebum, which is a substance known to cause pimples. 
Alcohol
Some toothpastes even contain alcohol as a preservative. This isn't the kind of alcohol that causes puffy eyes when you drink too much. As such, toothpaste can contain alcohol and still be labeled "alcohol-free."
Do Any of the Ingredients Help With Acne?
You might find plenty of anecdotal evidence online of people swearing by baking soda or alcohol helped with their acne. But generally, you're better off sticking to materials specifically designed to target pimples. 
For example, while baking soda's anti-inflammatory properties would appear to help with acne, it can actually do the opposite. It can dry out your skin too much, causing pimples to appear even redder and bigger. 
This is due to the fact it upsets your skin's natural pH level. The same goes for alcohol; it can overdry the skin, leaving you looking worse than you did before. 
As for hydrogen peroxide, it can also make matters worse. Most over-the-counter acne treatments contain something known as benzoyl peroxide, which is a close relative of hydrogen peroxide, but the two substances are very different. 
You only want to apply benzoyl peroxide to zits in the appropriate concentration as listed by an official acne treatment. You typically want an acne gel or cream that's only 2.5% benzoyl peroxide. 
So, Does Toothpaste Help Acne?
You never know; you might apply toothpaste on a pimple in the evening only to see it disappear by morning. But most dermatologists will recommend any other treatment to deal with pimples than toothpaste.
On the surface, toothpaste seems like it would make for a great life hack to deal with pimples. But it's more complicated than that, and you don't want to apply just anything on your skin. 
Stick to your skincare regimen, which should contain an appropriate acne treatment if you're prone to breakouts. 
What to Do Instead
Whether you have a pimple on your chin or nose, there are steps you can take to try to get rid of it sooner. For starters, avoid picking at your skin. Never under any circumstances should you attempt to pop a zit. 
There are various essential oils you can apply to pimples instead as spot treatment. Tea tree oil is a good one; just make sure you dilute it with a carrier oil first since it can be potent. You can also moisturize with aloe vera to see if that helps. 
References:
Anthony, Kiara. "Baking Soda for Acne Treatment." Healthline, 28 Mar. 2019. https://www.healthline.com/health/baking-soda-acne
McDonnell, Kayla. "4 Natural Ways to Get Rid of Pimples as Fast as Possible."
Healthline
, 3 Jul. 2020.
https://www.healthline.com/nutrition/get-rid-of-pimples-fast