Acne in Men: Causes of Adult Acne, Prevention, & Treatment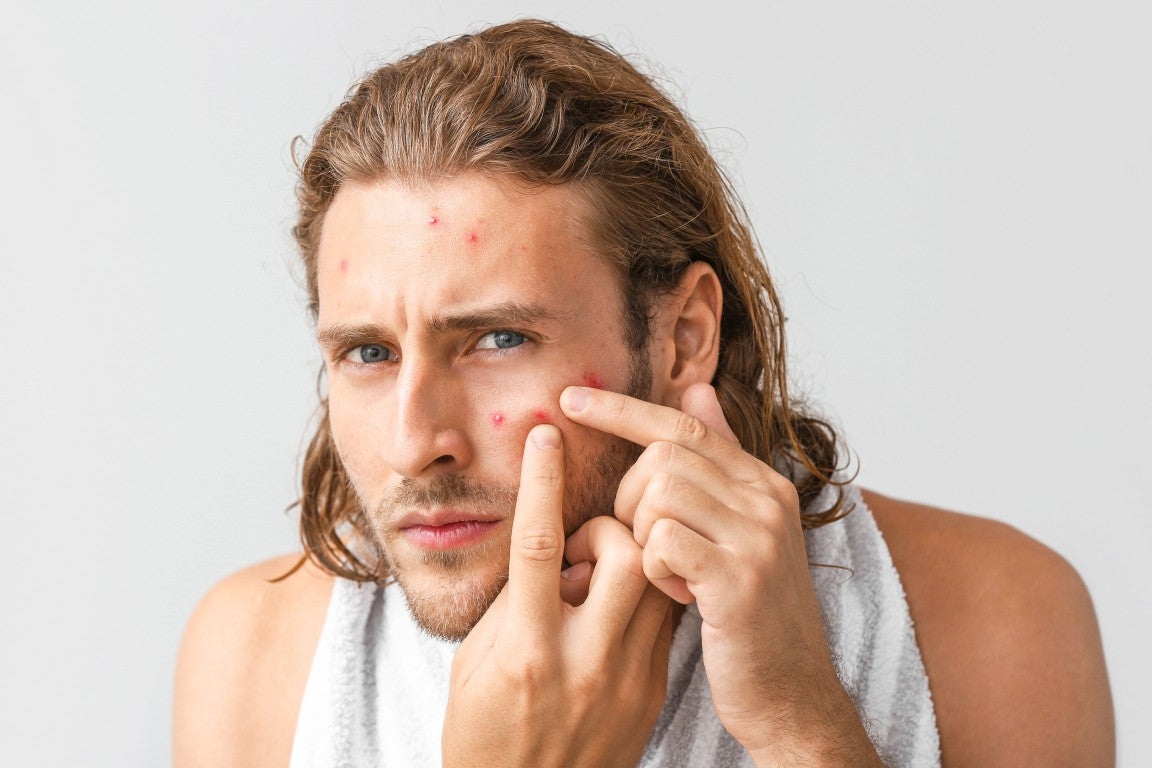 Most people typically associate acne with teenagers. However, it's a skin problem that can follow you into adulthood. 
It doesn't necessarily mean you're eating a bunch of greasy food. Acne can be hereditary, but that doesn't mean you have to live with it, especially when pimples pop up around your beard.
For all the men out there who always want to put their best foot (and face) forward, here's what you need to know about adult-onset acne.
What Causes Acne in Men?
Credit: The Fashionisto
There are several potential causes for acne in men.
Most of the time, it's a result of hormonal changes, which is why teenagers are more prone to develop pimples than everyone else.
Men who take medication affecting their testosterone levels may notice more acne popping up.
Lithium as well as corticosteroids are most likely to alter your hormone levels, resulting in a breakout.
It's also critical for men to moisturize often.
Sweating doesn't necessarily lead to pimples, but if you don't wash often enough, then sweat can trap particles in your pores, inflaming them in the process. 
Acne Breakouts in Men
Men are most likely to notice acne develop on their faces, necks, and backs.
However, most men will be primarily concerned with breakouts that occur on their face where it can't be hidden as easily.
Fortunately, there are now things like concealer, gel cleansers, and moisturizer designed to help men win the battle against acne.
Makeup isn't just for women anymore, and there are plenty of products out there where you can quickly hide any blemishes before going out in public. 
How to Prevent Acne for Men
Credit: Skincare
There are many ways for men to avoid acne. If you want to increase your odds of always having beautifully clear skin, then here are some tips you need to follow. 
Preventing Acne on Your Face
A lot of men don't have any kind of facial skincare regimen. It's critical to develop one if you aren't doing anything already, and here are some general guidelines for a good, basic daily facial wash.
Wash your face twice a day using a gentle cleanser and lukewarm water

Wash your hair regularly so that oils don't seep onto your face

Utilize serums and/or creams to moisturize your skin without drying it out

Use a soft brush as opposed to a harsh towel to dry your face

Apply sunscreen any time before you go outdoors and reapply regularly
You also want to avoid picking or popping pimples. It may seem like a good idea initially, but this only creates scars and more intense redness over time. 
Additionally, you want to look at your diet if you're still noticing breakouts.
It may be a good idea to cut back on dairy products and carbohydrates, but speak with your doctor before doing anything drastic to your diet. 
If you're currently looking for male skincare products that can help you fight your acne problems, we offer a starter kit for men looking to start their skincare journey.
Preventing Acne on Your Back
Dieting can also help a great deal when it comes to preventing pimples on your back. But you may have a harder time scrubbing and exfoliating that area. 
For your back, you want to shower regularly, especially right after an intense workout. You want to eliminate any sweat so that it doesn't trap bacteria, resulting in acne. 
On top of that, it's a good idea to wear loose-fitting clothing. Tight shirts may suffocate your pores, increasing the chances of a breakout occurring. 
How to Treat Acne for Men
In addition to taking better care of your skin, there are ways for men to treat acne for when breakouts have already happened. To start, you should try using over-the-counter cleansers, particularly those that contain benzoyl peroxide and/or salicylic acid. 
In the event you don't see any improvement with those basic substances, then you should see a dermatologist. A professional can prescribe heavier-duty treatments to try to get your skin clear again.
On top of creams, a dermatologist may also prescribe antibiotics. Anti-inflammatory medications have also proven to be useful. 
When Should You See a Dermatologist?
Credit: Tokyo Weekender
You only need to see a professional if you've tried over-the-counter products for at least eight weeks. Many people find those products work well enough. 
However, if you still suffer from acne breakouts, then you may require prescriptions that contain greater quantities of the substances that target pimples. Even after you see a dermatologist, it may take some time to find the right product for you, so it's vital to be patient. 
References:
Jaliman, Debra M.D. "What Men Should Know About Acne." WebMD, 3 Mar. 2021. https://www.webmd.com/men/guide/acne-men
Nall, Rachel. "How do you prevent pimples?" Medical News Today, 5 Apr. 2018. https://www.medicalnewstoday.com/articles/321411
Skin Care & Beauty. "When Should Men See a Dermatologist for Adult Acne." Cleveland Clinic, 2 Nov. 2018. https://health.clevelandclinic.org/when-should-men-see-a-dermatologist-for-adult-acne/