Male Stretch Marks | Causes & How to Get Rid of Them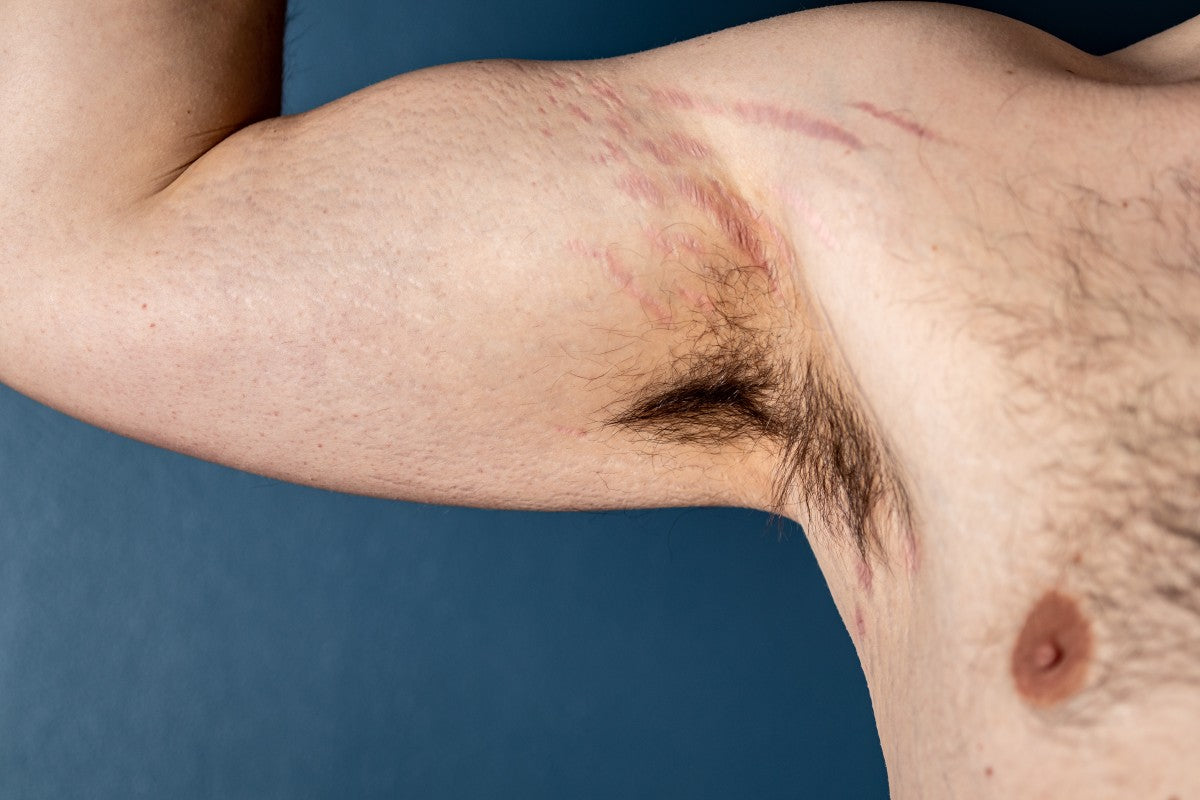 Most people try to avoid stretch marks like the plague. As such, it helps to know precisely what these markings are and what you can do to prevent them from shaping in the first place. 
Stretch Marks in Men
Stretch marks can happen to anyone. And while many believe them to be a predominantly female problem, they can occur just as easily to men, impacting your physical appearance in the process. 
What Causes Male Stretch Marks?
As the name suggests, stretch marks occur when the skin stretches outward or inward in a relatively short span of time. This process weakens elastic fibers in the skin, and it can be worsened depending on your body's level of cortisol. 
Additionally, the severity can be impacted by factors such as genetics and the degree by which stress was placed on the skin. Stretch marks most often occur during times of growth or weight loss. 
As a result, most people notice stretch marks forming during puberty and pregnancy.
How to Get Rid of Stretch Marks for Men
Sadly, there's no end-all, be-all cure for stretch marks just yet. However, there are treatments you can apply to make the markings less noticeable. 
Topical Tretinoin Cream
It's good to incorporate more Vitamin A into your skincare routine through retinoids. These are over-the-counter creams to help give skin more elasticity. 
Various studies have been conducted to prove the effectiveness of tretinoin, which is a prescription-strength variation of retinol. It's been proven to help make stretch marks show up smaller and less extreme. 
More research is necessary to determine a true causation to see precisely what all of the effects entail. Just remember before starting any new retinoid to test a small amount on the skin initially to ensure you don't have a negative reaction.
Dermabrasion
Dermabrasion involves using a handheld wand to gently scrub away dead skin cells. Microdermabrasion is a more precise method of this, and it can help immensely with stretch marks. 
Laser Therapy
Many skin problems can be treatzed with laser therapy. With this, lasers are focused on an area of the skin. Through exposure, the lasers increase collagen production and allow stretch marks to fade and blend with the surrounding skin. 
You'll likely need several sessions of laser therapy to see any results. 
Centella Asiatica
Centella asiatica is an herb found in many beauty products, including those used as scar treatments. It's highly effective at calming and repairing sensitive skin. 
This is why many books recommend using the herb during pregnancy to reduce the appearance of any stretch marks that form. More clinical research is necessary in this area, and centella asiatica can be expensive, so it may be better as a last resort. 
Plasma
Another potential treatment involves microneedling with a mechanized device featuring a cartridge containing numerous tiny needles. These needles then penetrate the top layers of the skin. 
You can combine this treatment with Platelet Rich Plasma to reduce the appearance of stretch marks. 
Can Men Prevent Stretch Marks? 
Since you can't really get rid of stretch marks entirely, it's preferable to prevent them in the first place. To start, you should have an effective skin care regimen, where you moisturize your body regularly. This not only prevents stretch marks but other skin issues, too. 
You can also do a lot of good by controlling your weight. Constant weight fluctuations can put unnecessary stress on your skin, resulting in stretch marks. 
You also want to stay hydrated as dryness can increase the severity of stretch marks. That means if you drink coffee or other caffeinated beverages, you want to balance it out with water.
And as soon as you notice a stretch mark forming, follow the above steps to prevent it from worsening. 
References:
Kang S, Kim KJ, Griffiths CEM, et al. Topical Tretinoin (Retinoic Acid) Improves Early Stretch Marks. Arch Dermatol. 1996;132(5):519–526. doi:10.1001/archderm.1996.03890290053007
Watson, Kathryn. "How to Get Rid of Stretch Marks: 11 Ingredients to Try." Healthline, 15 Dec. 2021. https://www.healthline.com/health/home-remedies-for-stretch-marks