How to Trim Eyebrows for Men | 5 Easy Steps!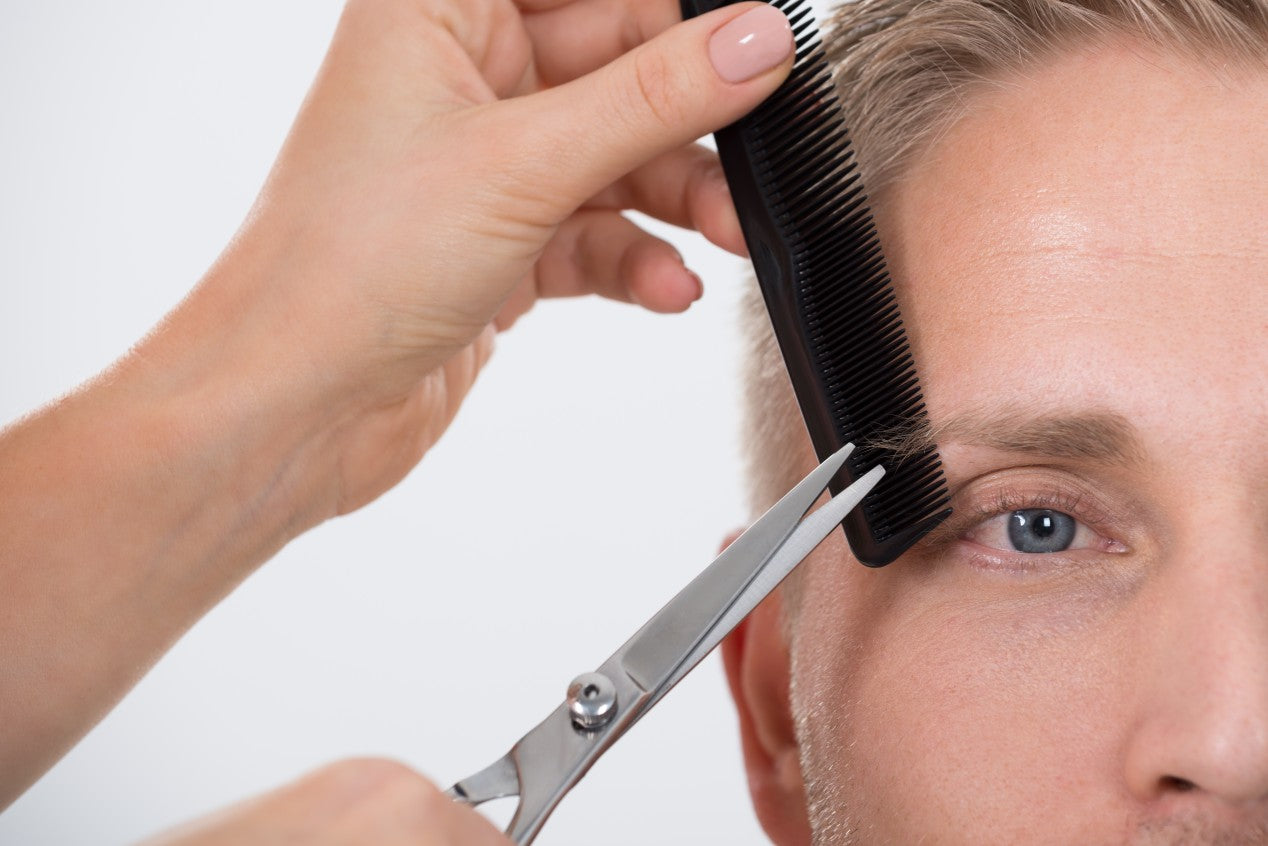 A lot of guys ensure their hair and beard are in tip-top shape. As such, not as much attention may go to the eyebrows even though they can become just as unwieldy. 
Just like how beards have different stages, the same holds true for hair elsewhere. Here are some tips for keeping your brows looking excellent all on your own.
What You'll Need to Trim Your Eyebrows
Don't worry. Trimming your eyebrows is a lot simpler than giving yourself a haircut. To get the job done, you just need the following items.
Brow scissors

Spoolie brush

Eyebrow trimmer

Tweezers
It's important to point out that you should never use any old scissors to cut your eyebrows.
You need special tools to get the job done right, so don't just pull the scissors you have in the kitchen drawer to use.
Step-by-Step Guide to Trimming Men's Eyebrows
Credit: Rocky Mountain Barber Company
Once you have everything in hand, you're ready to get off to the races. After all, you don't want to be in the middle of a trim only to find out you need to run to the store.
Step 1: Brush Your Eyebrows Upwards
Before you get started with any cutting, you want to ensure your eyebrow hair goes in the right direction. With your spoolie brush, move the hair in the direction of growth. 
Most people will find that the hair closest to the eye goes straight up. As you go further away from the eye, the hair starts to turn at a 45-degree angle. 
For a good rule of thumb, you should brush gently. Aggressive motions can result in gaps in your hair. 
Step 2: Snip the Outside Hairs Above the Brow Line
Once your eyebrows are where you want them, take your specialized scissors and snip away any hairs that come up over the brow line. This isn't the time to try to alter the shape. You're just doing a little maintenance at this point. 
At this point, you want to keep the overall eyebrow shape intact.
Step 3: Use an Eyebrow Trimmer
It may seem like your eyebrow hair grows faster than other strands, but it manifests at the same rate as everywhere else. Once you eliminate all of the errant hairs, you can focus on trimming up the main brows themselves.
This is the reason why it's good to invest in a trimmer specifically designed for eyebrows. You don't want to use the trimmer you have for your beard because it may end up taking away too much.
Remember: it's always better to trim not enough eyebrow hair than too much. You don't want to look funky until the hair has a chance to grow back out.
Step 4: Clean Up Loose Hairs
Once your eyebrows are free of any stragglers, you can look for any remaining outliers. This is when you need to bust out the tweezers. 
You should go around the area, plucking any hairs you come across. Doing it gently will help reduce any discomfort. 
Step 5: Shape Your Eyebrows
Once you've cut your eyebrows down, you can look into shaping them. There's gel specifically designed for this task, and it will help keep your brows slick for a night out on the town.
Benefits of Trimming Eyebrows for Men
Credit: The Trend Spotter
The primary benefit to gain by maintaining your eyebrows is that you look well-kempt. When going on dates with potential romantic partners, they look to see how you take care of yourself. 
You may remember to comb your hair and wear cologne, but some loose eyebrow hairs could convince your date you don't look for the finer details.
By knowing how to care for your facial hair on your own, you ensure that you can look great at a moment's notice in the event you can't visit the barber any time soon. 
Plus, you'll be delighted to hear that trimming your eyebrows won't make them come in thicker. Myths persist that's the case with facial hair, but you can rest easy knowing it's an old wives' tale.
Ultimately, with this guide you can look great and learn a valuable skill. That makes it worth pursuing all on its own.
References:
Hurley, Adam. "How to Trim Your Eyebrows, No Matter How Bushy They Are." GQ, 27 Mar. 2020. https://www.gq.com/story/how-to-trim-your-eyebrows
"How to Trim Your Eyebrows." L'Oreal. https://www.lorealparisusa.com/beauty-magazine/makeup/eye-makeup/how-to-trim-eyebrows.aspx