How Often Should Men Get Haircuts? Grooming for Guys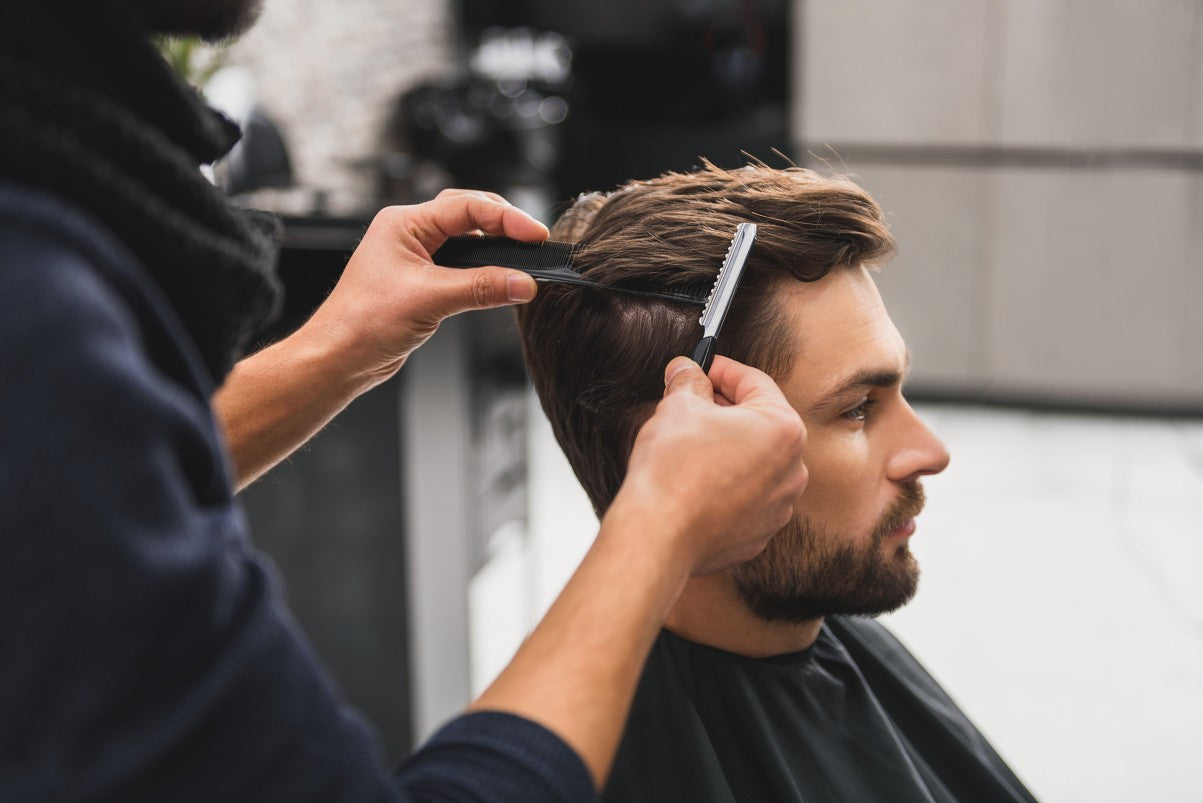 You don't want your hair getting too out of control. Regular haircuts can keep you looking fresh, which is particularly important when you have big events coming up like a date or job interview.
How Often Should a Guy Get a Haircut?
The frequency by which you should get a haircut depends on several factors. Most importantly, it depends on what you want your hair to look like. Even if you want to grow it out, it's a good idea to regularly see a barber to help shape your hair properly. 
Haircut Frequency for Bald Men
Balding is a natural part of life for many men. However, hair can still grow in some places you may want to do away with so that you can sport a proper chrome dome.
Instead of going to the barber all of the time, you'll want to shave your head once every one to three days. If your skin is particularly sensitive to shaving and irritation, then you may want to give yourself a day between shaves so that your skin can recover faster. 
Remember, after every shave, you want to moisturize your scalp adequately. And make sure to wear a hat or sunscreen on your scalp any time you go outside so that you don't accidentally burn your head.
And don't believe the rumors. Shaving doesn't make hair grow in thicker, so you shouldn't have to worry about needing to shave more often because you shave regularly.
Haircut Frequency for Short Hair
A lot of men like to keep short hair. From blurry fades to buzz cuts, you'll want to visit the barber once every one to two weeks to keep up.
This is particularly important if there's a specific style or design you want in your hair. It's a lot of time and money spent at the barbershop, but it's worth it so that your hair doesn't grow out too quickly and mess up the look you're going for. 
Plus, going to the barbershop frequently means you don't have to spend as much effort styling your hair at home and spending money on your own personal hair products. 
Haircut Frequency for Medium Hair
Medium haircuts cover a vast array of styles. While it can vary somewhat depending on what specifically you want, you generally want to get a haircut once every four to six weeks. 
You may need to go less often if your haircut has layers, shape, or texture to it. Then your hair may not look too bad if you let it grow out because you're just giving yourself more hair to play with the next time you go in for a cut.
Haircut Frequency for Long Hair
The longer you like to keep your hair, the longer you can go in between haircuts.
However, at the beginning, it's important to get a decent haircut before you start the process of growing it out. You want your hair to all start at the same length so that you don't wind up with unevenness over time. 
From there, you can let it grow out. You really only need trims when your hair starts to get a little frizzy or if you develop some split ends. 
You mostly just need to make certain that you care for your hair. Longer hair is older hair, so you want to use a gentle shampoo and conditioner that will provide moisture to your locks and keep it looking healthy longer. 
What to Tell Your Barber If You're Growing Your Hair
If you plan on growing out your hair, it's vital to inform your barber. They may not be able to give you advice on how to grow out hair faster, but they should know what they should and shouldn't do for the time being.
For starters, they need to know only to give you a trim. They may also need to think out some areas. By the end of your appointment, it may look like the barber hasn't done much, but this little maintenance will set you up for success later. 
Additionally, you'll want your barber to know to clean up around the ears and at your neckline. The barber is also a good person to ask for product advice as they'll know the best shampoo and conditioner for men with long hair.
References:
Berlinger, Max. "How Long Should a Man Go Between Haircuts?" The New York Times, 6 Apr. 2016. https://www.nytimes.com/2016/04/08/fashion/mens-style/how-long-should-a-man-go-between-haircuts.html
Hurly, Adam. "Here's the Right Way to Grow Your Hair Out." GQ, 21 May 2021. https://www.gq.com/story/how-to-long-hair-for-men