How to Use a Shaving Brush | Grooming Advice for Guys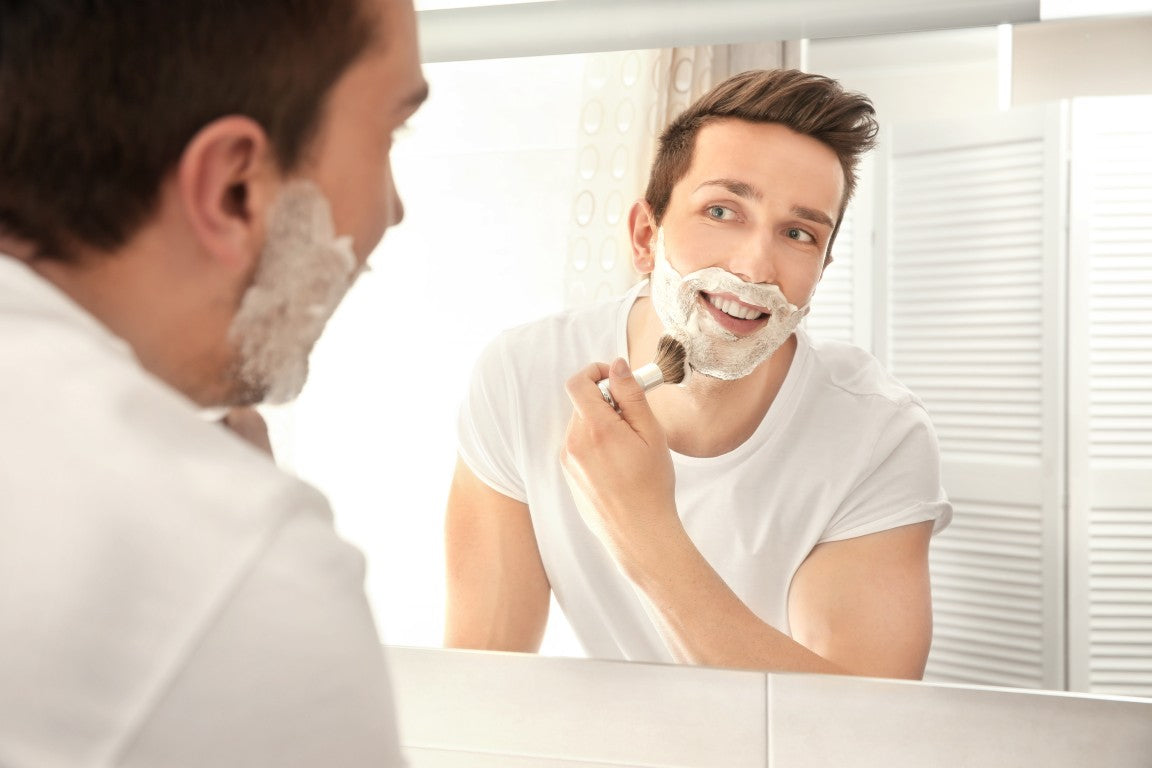 What does it take to get that ultimate shave?
That's the question so many guys ask themselves. After all, shaving's a critical aspect of virtually every man's hygiene regimen. Even if you grow your beard out, you may still want to trim it so that it doesn't become overgrown.
The right tools really make all the difference, including a sharp, high-quality razor, soothing shaving cream, aftershave, and a shaving brush. A lot of guys overlook that final tool, but it's integral to looking and feeling your best.
Why Use a Shaving Brush?
A shaving brush is a tool you use to dip into your shaving cream. It produces a fine lather and even stimulates the skin to get your whiskers to stand up straight. That way they're primed for when the razor comes.
Outside of that, the reason you would want to use a shaving brush is that the bristles are able to get underneath your facial hair regardless of what beard growth stage you're in. It allows the cream to actually reach the skin, allowing it to absorb the shaving cream, so you reap the benefits.
Additionally, a shaving brush will soften your facial hair more than your fingers alone. Your razor will be able to glide over your hairs with greater ease, resulting in a more comfortable experience.
How to Use Your Shaving Brush
First, you want to wet the brush. Run water from the faucet over the brush so that it's damp liberally. From there, add shaving cream and work it into the brush so that it turns into a fine lather.
Using circular motions, work the shaving cream around your face so that it touches every facet of your beard and mustache. Once it's applied, you can start shaving. 
When you're done, rinse the brush so that no shaving cream remains. And just like that, you're done!
It's incredibly simple, and it benefits every guy, even those with patchy beards. 
The Different Types of Shaving Brushes
Before you run to the store, it's a good idea to familiarize yourself with the different varieties of shaving brushes because they're not all equal. They all have their advantages, but one type may better suit you than another.
For starters, there's the boar hair shaving brush, which is stronger and does a better job of lifting hair off the skin's surface. This makes it easier to get shaving cream underneath the hair. The only problem is that it may feel a bit too stiff for the first few brushes. 
Next, there's the horsehair shaving brush. The bristles are softer than what you get with the boar hair brush, but it doesn't retain as much water. 
The synthetic fiber shaving brush strikes a good middle ground between stiffness. It's a solid option for people who don't want to use animal hair products for whatever reason, and it can be one of the more affordable options available. 
Finally, you have budget hair shaving brushes. They're soft, durable, and highly regarded as the best brush out there. They last for years as long as you take care of them. However, that means they're the most expensive of the bunch. 
Shaving Brush Maintenance 
After using your shaving brush, you should rinse it thoroughly with lukewarm water. You may need to run your fingers through it to ensure you get every last bit of shaving cream or soap out of there. 
Fill a glass with clean water and let your brush sit in there for a few minutes. After that, rinse it once more.
Every so often, you want to leave the brush in a glass filled with equal parts water and vinegar. This ensures a more comprehensive cleaning and rinse once more to remove any lingering vinegar.
After all that, leave your brush in its stand and allow it to air dry. It's easy enough to care for, and if you decide shaving regularly is right for you, you'll definitely want to make the investment. 
References:
Praetorius, Stephen J. "What the Hell Is the Point of a Shave Brush?" GQ, 24 Mar. 2016. https://www.gq.com/story/why-you-should-use-a-shaving-brush
Randalo, Lenny. "The Right Way to Use a Shaving Brush." Men's Journal. https://www.mensjournal.com/style/right-way-use-shaving-brush/