Why is My Skin So Dry Even When I Moisturize?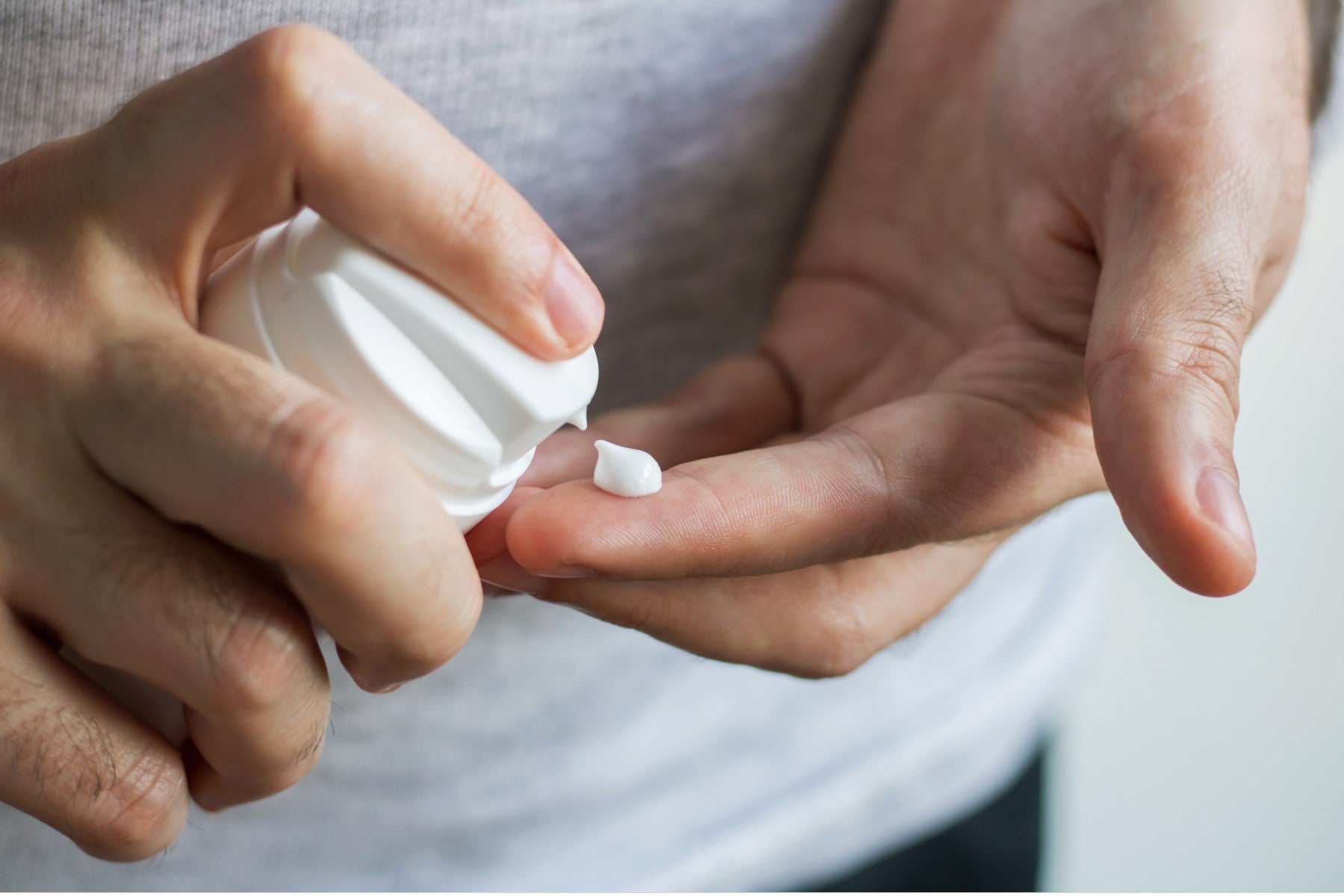 You may have noticed that sometimes, despite daily moisturizing, your skin still feels tight and dry.
As frustrating as that may be, there are a few simple things you can learn to make sure you are getting the most out of your skin routine.
Today, at Stryx, we are going to tackle common mistakes that lead to persistent dryness and what you can do to be on your way to comfortable, moisturized skin. 
Mistake #1: Using a Harsh Cleanser
Credit: Tools of Men
Cleansing is an incredibly important first step in every skincare routine.
However, it is equally as important to pay attention to the ingredients and properties of your cleanser to prevent unintentionally drying your skin out.
Cleansing milks, lotions and creams are ideal for dry skin types whereas gels and foams are great for oily skin.
Everybody's skin produces oil called sebum. While your particular skin type will determine how much sebum your skin produces, it is the substance that keeps your skin supple and is imperative to your skin health.
Some cleansers, particularly those that foam, are designed specifically to strip these oils from your skin.
This can be wonderful if you have an oily skin type but, if not, it will strip the good oils from your skin leaving your face feeling tight and uncomfortable. 
Some cleansers will have a gritty, rough texture that is meant to aid in exfoliation.
While exfoliating is great, it is possible to over exfoliate.
If your dry skin is also accompanied by sensitivity, irritation or redness, your cleanser may be too abrasive and you may need to limit your exfoliation all together to once or twice a week.
Alongside the physical properties of your cleanser, there are a few ingredients that, when used incorrectly, can leave you feeling dry.
Salicylic acid, benzoyl peroxide, alcohol and added synthetic fragrance can all be too harsh for some people to use.
If you are noticing persistent dryness and see that these ingredients are present in your cleanser, try switching to something more gentle like a cream cleanser. 
P.S. If you're wondering whether or not peanuts can cause acne, we wrote an article on that!
Mistake #2: Dead Skin Cell Buildup
Credit: Men's Style Australia
Exfoliation is a necessary step to maintaining healthy skin. Our skin is constantly regenerating and resurfacing but as we age, this process slows down.
Combine this with environmental and lifestyle factors like pollution and smoking, and your skin can really start to pile up with dead skin cells that prevent your products from getting fully absorbed.
Think of it as polishing an old and dusty table- you have to remove the layer of dust before you can apply the polish. 
There are two types of exfoliators, mechanical and chemical. Scrubs that have a rough texture and work by manually loosening and sloughing off this buildup are mechanical.
Chemical exfoliators will dissolve the buildup with, you guessed it, chemicals such as alpha hydroxy acids.
Both types work great and deciding which is the best for you will depend upon personal preference and skin type. If you have sensitive skin, you will want to avoid mechanical exfoliators. 
Once you have removed the buildup from your skin, your products are going to be able to penetrate deeper and be far more effective.
This will also aid in clearing breakouts and diminishing the appearance of fine lines. 
Mistake #3: You Aren't Drinking Enough Water
Credit: Alabama Cooperative Extension System
As you may know, skin is the body's largest organ. Though it is the largest, it is not the most essential.
This means that when our body is becoming dehydrated, it will begin to pull water from our skin and other nonessential organs in order to function.
When this happens, it can lead to dry, flaky and dull skin with an increase of visible fine lines. 
Most of us learned at one point in our lives to drink 8 glasses of water a day. While this is a great goal, most people can stay hydrated simply by drinking water when they are thirsty.
There are a few factors that may influence how much water your body needs such as health problems, regular exercise and the environment you live in.
It is important to listen to your body and speak with your doctor if you are concerned about your water intake. 
Mistake #4: Moisturizing at the Wrong Time
Credit: Forbes
Something that can feel extremely daunting to some when first learning about proper skin care is knowing exactly when to use each product.
From cleansers to toners to serums to moisturizers, it can be hard to know where to start and where to end. 
When it comes to moisturizing, you want to do it twice a day- once when you wake up and again before bed.
Your skin regenerates and heals while you sleep. Applying the proper products before your skin begins this nightly healing process will help it be the best it can be.
No matter what products your routine consists of, you should finish off with your moisturizer, gently pressing it into your skin with your palms.
Consider it the seal that holds in the rest of the great benefits of your other products such as serums. 
Mistake #5: Dehydrated Skin isn't Dry Skin! 
Like we touched on above, dehydration can cause your skin to feel dry.
However, technically speaking, dehydrated skin and dry skin are two completely different issues.
Although they share some characteristics, it's important to know which you are struggling with so you are able to successfully treat it. 
What is the Difference Between Dry Skin and Dehydrated Skin? 
Dehydrated skin has a lack of water where dry skin has a lack of sebum. Additionally, dry skin is a skin type while dehydrated skin is a skin condition.
This means that genetics are at play to cause your dry skin to not produce enough sebum but outside factors are the culprit behind your dehydrated skin.
These factors include things such as cold weather, smoking cigarettes and using the wrong skin products.
Dry skin characteristics:
Red

Scaly

Tight

irritated
Dehydrated skin characteristics:
Itchy

Dull

Sunken

Dark circles under eyes
Drinking more water and using products that help pull moisture into your skin, called humectants, will help bring hydration back to your skin. Using products specifically formulated for dry skin will help bring moisture.
Moisturizing Tips and Tricks
Now that you know what may be behind your continuing dry skin, let's look at a few ways to get your skin back on track.
Tip #1: Don't Use Too Much Moisturizer
When you aren't seeing the results you want, it can seem like a good idea to try using more moisturizer.
Unfortunately, applying more product will not make it work any better and can actually cause more problems such as blackheads and clogged pores.
Use your ring finger to dot a small amount of your moisturizer on your cheeks, forehead and chin and massage in gently.
To learn more about how much moisturizer to use, tap below: 
Tip #2: Moisturize at the Right Time
Make sure you are moisturizing in the correct way. This means morning and night and at the end of your skin care routine.
This will ensure you are getting the most out of your product and the results that you want. 
Tip #3: Use a Serum
There are a wide variety of serums out there targeting things like dark spots, fine lines and dullness.
Not only are they going to help with specific skin concerns but they also provide a great boost to your moisturizer.
Serums act as a sponge, helping pull your moisturizer even deeper into your pores so it can work better to keep you moisturized and comfortable. 
As you've now learned, there are many factors that can contribute to your skin woes.
With the information presented here and the tips provided, you are already on your way to moisturized skin, making that persistent dryness a thing of the past.
References:
https://www.ncbi.nlm.nih.gov/pmc/articles/PMC4529263/
https://www.health.harvard.edu/staying-healthy/moisturizers-do-they-work
https://www.ncbi.nlm.nih.gov/pmc/articles/PMC4885180/